Week 2 - Art Enrichment Camps for Kids Summer 2016!! Little Brushes by Pinot's Palette Offers Kids' Art Enrichment Classes!
Each week of class is based on artistic themes featuring paintings and matching crafts
Week Two: A Trip to the Zoo! June 27th – July 1st
We're Going to Do the Next-Best Thing to an Actual Trip to the Zoo…We're Going to Paint the Fuzzy Animals You Might Find in One. We'll Paint a Cute Elephant and a Cute Giraffe and Make Crafty, Interactive Paper Animals of the Same! We'll Make Short Work of a Painted Panda & Lion & Zebra. It Will be Just Like You're at the Bronx Zoo, but with Better Smells!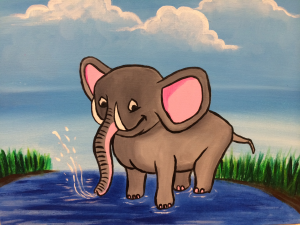 Monday Cute Elephant
Tuesday Jolly Giraffy at Dusk
Wednesday Little Lion
Thursday Ping Ping
Friday Stripes