Join Us During Spring Break and Make Some Art With The Family!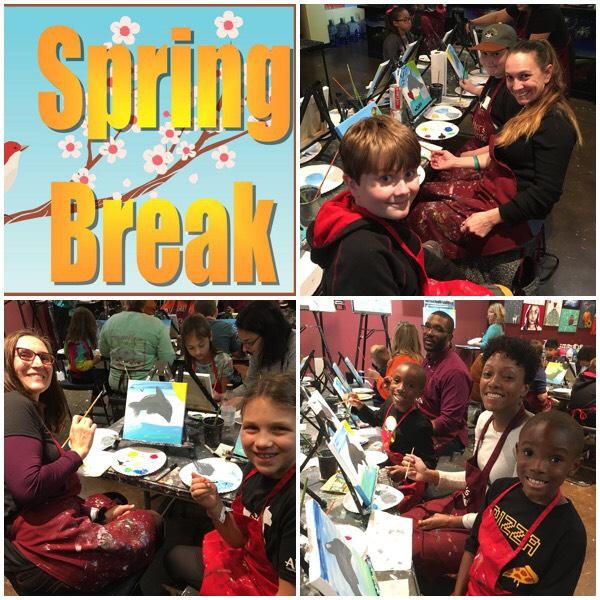 With Spring Break, right around the corner, there are tons of things going on for everyone...
Some people are planning vacations and others are just eager to be off from school and spend more time with the kids.
If you're going to be in town throughout April 16-18, stop by our studio and create some masterpieces with the family! Bring the kids in to paint and have some quality time with just you...OR come in with friends and relatives and enjoy time with them, along with your little ones, immersing yourself in a day of fun, quality-time, with a large group of loved ones, as you get creative together!
Check out what Pinot's Palette, Brier Creek, is up to this break:::
— OPEN STUDIO CLASSES (*April 16-18) —
Unlike our traditional step-by-step instructor-led art class with an art instructor on stage... Open Studio time is designed to give you more flexibility and freedom. This is your chance to decide what you'd like to paint!
***How does it work?
You have THREE options to choose from during Open Studio Hours:
(*Each option includes all the supplies you need to complete a 16x20 canvas)
Option #1: Self-Guided Instructions.
Select from our Open Studio painting selections!
With the help of self-guided instructions, complete your painting (remember that you can alter the steps and make your creation, any way you want!)
Option #2: Point and Paint. Find something on our walls and do your best to copy it!.
All materials and canvas provided but no guided paint instructions...)
Option #3: Be the Artist. We'll provide everything you need for a fun day out: the brushes, the paints , apron, and your own bartender then sit down with some music and start to paint from your own imagination... Have an idea in your head? This is the time to paint it into reality.
NOTE:
-Smaller canvases are available for those under 13 years old for $15
-Feel free to bring your own food. Beverages can be purchased from our bar.
- You can walk in to these classes, but pre-registration is preferred - we do sell out
*SIGN UP *
April 16th (12 - 4pm)
https://www..../event/320942
April 17th (12 - 4pm)
https://www..../event/320919
April 18th (12 - 4pm)
https://www..../event/320944
******
Other Family Days This Month:
April 14, 'Sea Serendipity'
Deep blue ocean scene with bright bubbles framed nicely by a coral reef. A view from below shows the chance meeting of two sea turtles who are surrounded by small fish. With a simple color scheme painters will enjoy focusing on details such as seaweed, two turtles, fish and bubbles.
*This will be painted on a LONG canvas!
*Ages 8 and up are welcome!!!
https://www..../event/312307
May 4, 'Giraffing Me Crazy'
This giraffe just dropped by to say hello and add a big splash of color to your world!
*This will be painted on a LONG canvas!
https://www..../event/315386
We hope to see you and your family during Spring Break this year! Our painting classes make a fun and creative outlet for the kids, during their time off from school!
Aside from the 'Open Studio' classes listed above, we have a calendar, filled with amazing paintings, all month long! Gather loved ones together to come in and spend time with, or come in alone to unwind after a long day! Join us with your honey for a fun date night, a girls' night out, or any other occasion! After those longs days with the kids home, you might want some time out with friends to relax with a glass of wine :)
— Check out some other the other classes on the schedule for the month:
https://www....rkcheckitout-
— We're also offering some 'Fire & Ice' themed classes (with GoT trivia), in celebration of the upcoming FINAL SEASON of the beloved HBO show:
https://www....ecialclasses-
In addition to our public classes, we're also always offering private events where you can book our studio for a special event!
**Private Parties:
https://www....ivate-parties
**Corporate Events: building events:
https://www....porate-events
**Kids' Parties:
https://www....ainting-party
**Mobile Events:
https://www....ainting-party
Share View the full April calendar | More things to do around the area for Spring Break