**** The Triangle In Springtime **** Lovely Sights To See And Exciting Things To Do
Springtime + North Carolina = Happiness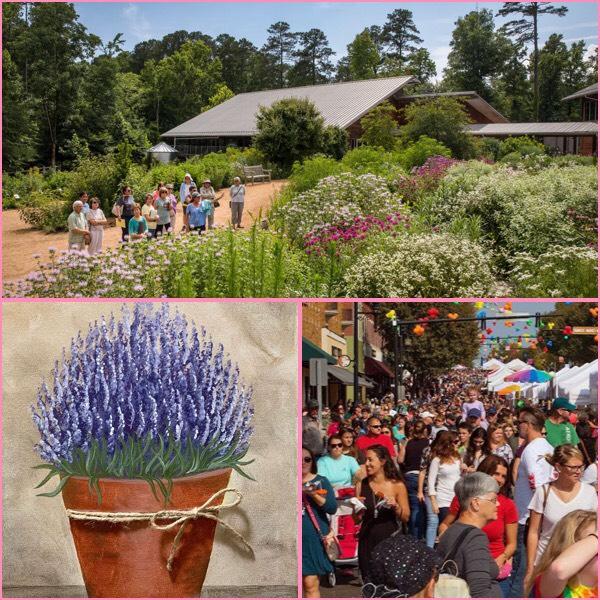 It's finally Spring in North Carolina and we've been waiting a long and cold winter for it's arrival! The days are now longer and the sun has been warming us these past few days, making us eager to go outside and do all kinds of seasonally-wonderful things! From sights to see and things to do, we've found (just some of the many) things to do in the Raleigh-Durham, Chapel Hill area, best known to the locals as 'The Triangle', and we're sharing them with you! Take some time for yourself or spend it with loved ones, get out there in this incredible weather, and see this fabulous place to live and visit in North Carolina!
Take some time to stop and smell the roses with the many botanical sights to see; Gather the family together for some of the amazing (and free) festivals our area offers this time of year! In addition to the few suggestion below, there are countless parks, trails, and lakes to spend time this Spring and Summer! From sporting events, music festivals, bbqs, and more, 'The Triangle' is filled with all the best things for you and your loved ones to do and see, any time of year!
— STUNNING OUTDOOR SIGHTS TO SEE —
*Take in the stunning flowers and other fresh, blooming beauties of Spring!
North Carolina Botanical Gardens
North Carolina Botanical Gardens, located on the UNC-Chapel Hill campus, offers 1,000-plus acres to explore. You'll find native plant borders and water gardens, a carnivorous plant collection, an extensive herb garden, a fern collection, a horticultural therapy demonstration garden and much more.
http://ncbg.unc.edu
WRAL Azalea Gardens
The picturesque WRAL Azalea Gardens, located behind the WRAL studio, were created as a public service to the community in 1959 and offer beautiful scenery for wedding and prom photos. The gardens resumed hosting weddings in April 2013.
https://www....l-gardens.com
Raleigh Rose Garden
Stroll through Raleigh Little Theatre's Raleigh Rose Garden to enjoy the display garden for all new roses, which is presented by the All American Rose Society and includes more than 50 varieties — from hybrid teas to miniatures to antiques.
https://rale.../rose-garden/
JC Raulston Arboretum
The nationally acclaimed JC Raulston Arboretum at North Carolina State University features the most diverse collection of plants adapted for landscape use in the Southeastern United States. Enjoy the award-winning perennial border, Japanese gardens, a Victorian pool, a gazebo and more.
North Carolina Museum Of Art - Ann and Jim Goodnight Museum Park
Art blends with nature in commissioned exhibits that represent collaborations among artists, designers and environmental scientists. Thomas Sayre's 1999 "Gyre" exhibit, for example, features three ellipses of iron oxide-colored concrete made with reinforced steel that contrast brightly with the surrounding green grass and blue sky.
https://ncar...isit/the_park
— FREE FESTIVALS —
Dance, sing, eat, and more at these outdoor festivities where you can spend time with loved ones, enjoying the weather!
April 6
Wake Forest Dirt Day
At this celebration of spring, learn about gardening and composting, make a craft from recycled materials with The Scrap Exchange, enjoy music and dancing, shop with vendors and plant herbs for your windowsill.
https://tria...est-dirt-day/
April 7
Family Fishing Fiesta (at Jordan Lake State Park)
This free event will give families a chance to enjoy bank fishing, plus a bunch of hands-on activities. You don't need a fishing license to fish at this event. It's free for everyone. Kids will receive fishing lessons. If they participate in a scavenger hunt they'll also receive a free tackle box. Learn how to fillet a fish!
https://tria...e-state-park/
April 13
Live and Local Spring Fest on Hillsborough Street
Live & Local Spring Fest is presented by Artsplosure in partnership with Live It Up! Hillsborough Street. This spring celebration is your chance to join your community in celebrating the unique art, music, food and beer of North Carolina. Enjoy an afternoon of performances on the Main Stage, a Kids' Zone with performances and craft activities for the youngest members of our community, as well as a food truck rodeo and craft beers.
https://tria...-spring-fest/
April 22
Earth Fair at NC State University
Celebrate Earth Day with the Wolfpack. This is an Earth-focused fair featuring exhibits, demonstrations and ideas on how you can make the world a better place. Bring a friend and come experience the breadth of sustainability, including learning about food, water, transportation, nature, wellness and so much more.
https://sust...e-earth-fair/
April 27
Spring Daze Arts and Crafts Festival
More than 170 North Carolina artists will be exhibiting and selling their work. There will also be an Earth Day celebration, entertainment, kids' activities and more.
https://tria...fts-festival/
— GET CRAFTY —
Come in to Pinot's Palette and make some lovey new artwork to hang in your home, freshening up your decor for the new season! Choose a painting with a Springtime theme or one with bright and beautiful colors so your home will feel the warmth and beauty of the season, instantly. While all of the paintings on our calendar are wonderful, we are offering some specific spring-themed artwork that are perfect to make and hang in your home (or give as a gift to s special someone) and bring the warmth and beauty of the outdoors, in!
(*) Photo, above, featuring the potted lavender is a painting we're offering on March 26th and the very essence of Springtime!
The work of art, titled, 'Les Lavendes', is one of our newest paintings that we're excited to offer this month! Having lavender in your home is not only physically and mentally healing but also beautiful. So come and relieve the stress of your day and make this gorgeous painting, a 3-dimensional element of some twine is added to give the picture, added flare!
-Sign up here:
https://www..../event/310666
We hope to you'll enjoy some of the many things to do this time of year in the area. Whether you take the day for yourself, spend time with your significant other, or have fun with your family or friends, 'The Triangle' offers so many things to do, all year long!
Remember to keep our painting and wine classes in mind, too! Come in for a super fun event, where you'll create some special, one-of-a-kind artwork that you'll LOVE making and be excited to display in your home at the end of class. Bring your friends and family in to enjoy working in a fun and creative environment, while you paint, drink, and have fun catching up with one another. Bond over an artistic experience, and make some masterpieces to always remember the fun times you had! These classes make a great place to bring your significant other for a fun date night, a girls' night out, or any other occasion!
In addition to our public classes, we're also always offering private events where you can book our studio for a special event!
**Private Parties:
https://www....ivate-parties
**Corporate Events: building events:
https://www....porate-events
**Kids' Parties:
https://www....ainting-party
**Mobile Events:
https://www....ainting-party