Hold The Door! There's A Mountain Of Trivia During These Special Classes!
We all know that J. Snow knows nothing…. Come in and see how much YOU know about this hit series!!!!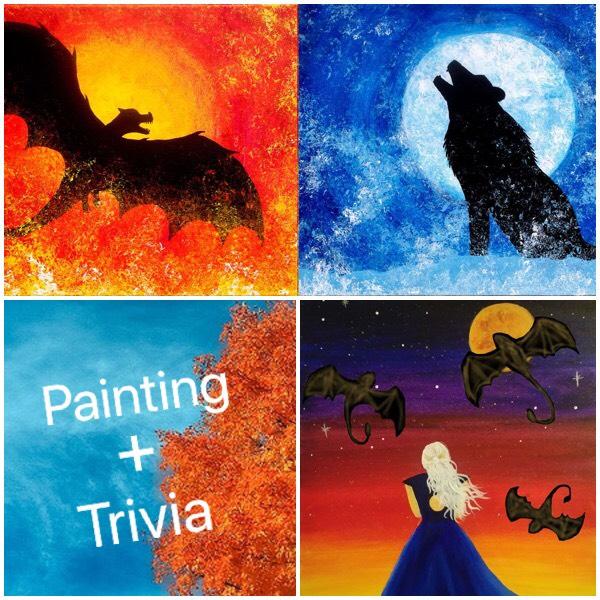 Join us for these special GoT themed classes where we're making some artwork AND having some trivia questions and prizes!!
Get in the mood to view the last season, with the first episode, airing on HBO on April 14th!!! AHHH! It'll be here, so soon!
These fun and interactive classes will include some trivia questions, along with our usual menu of delicious drinks, all of the supplies you need to paint, and an an instructor, walking you through the painting, step-by-step!
April 13
'Dragon Moon'
Paint a masterpiece fit for a Queen (of the 'Seven Kingdoms' of course). Come out and paint this fabulous work of art that one of our very own Brier Creek artists created, just for this special show that millions of people all over the world, LOVE so much!
The colorful sky is the perfect backdrop for the trio of dragons, flying above the head of their Queen mother. True fans will love to create this special, one-of-a-kind work of art, showcasing a memorable part of the books and show that we've been watching for years. Make it to hang in your home or give it to a special someone who loves the show!
https://www..../event/322662
April 14
'Fire and Ice' (DATE NIGHT)
Inspired by countless fantasy and adventure stories, 'Fire & Ice' pits the dragon vs. the wolf.
Using alternate painting techniques and vivid colors, these paintings showcase the epic struggle of good & evil, hot & cold, of course, fire & ice!
…and guess what?!
It's Date Night! Come in for our date night painting! You can paint both images on one canvas, or paint with a date or friend and put half of the painting on your canvas, and the other half on your friend's; When you put them together, you have a complete piece of art! These two separate works of art look fantastic together, or you can hang them individually! Whatever you want, goes!
We hope to see you for these fun, GoT themed classes! Gather loved ones together to come in and spend with or come in alone to relax and unwind after a long day! Join us with your honey for a fun date night, a girls' night out, or any other occasion!
***We've got a calendar, filled with awesome classes the everyone will love! Check them out, here, as they're categorized into the various styles and subjects:
https://www....rkcheckitout-
In addition to our public classes, we're also always offering private events where you can book our studio for a special event!
**Private Parties:
https://www....ivate-parties
**Corporate Events: building events:
https://www....porate-events
**Kids' Parties:
https://www....ainting-party
**Mobile Events:
https://www....ainting-party