Easter Crafts, Just In Time For The Holiday
Happy Easter!
It's time for egg hunts, bunny decor, candy, deviled eggs, family gatherings, and carrot cake... (and maybe some photos of crying babies in the arms of the Easter Bunny). :)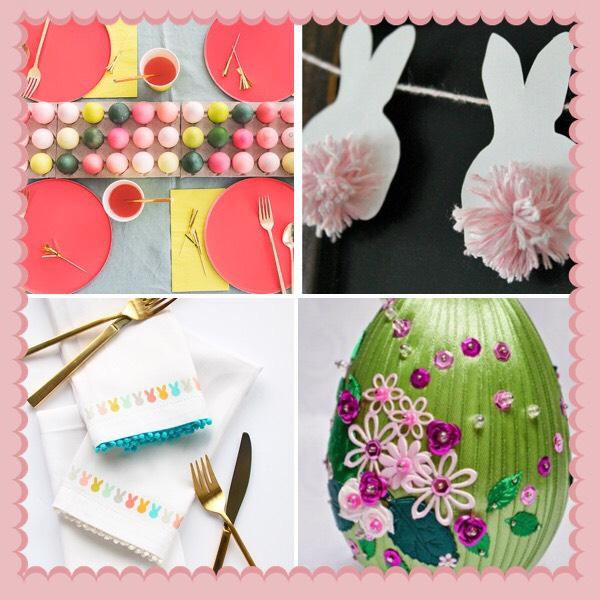 This season is wonderful for so many reasons; Aside from the Easter holiday, there's spring break, warm weather, blooming flowers, and we finally get to wear our cute Spring clothing like pastels, and open-toed shoes. In addition to the fun things going on, let's not forget about updating our home's interior decor for the new season and warmer weather. Traditionally, this tends to be the most popular time of the year for cleaning, decluttering, and redecorating; The long, cold days of winter are gone and we're ready to welcome the fresh, new season into our homes…
(*Tips for decluttering, at the bottom)
While cleaning and organizing your house is a wonderful (and productive) way to spend time, there are also some fabulous crafts and DIY decorations out there for you to enjoy!
Spend time, relaxing alone and getting into your creative space, OR, grab the kids and have them help in a family-time arts and crafts session as you make some (or all) of these easy DIY projects. You'll be in the Easter/Spring mood in no time when you take some time to get crafty and relieve some stress with these fun and practical ideas!
Cheers!
— DIY bunny napkins
http://squir...ee-printable/
— Easter egg runner tablescape
Color eggs, lined up and bringing a pop of fun and vibrancy to your meal this year! Easy to make and delicious to eat!
https://theh...l/#more-31902
— Yarn chicks and carrots
With easy-to-find supplies and simple instructions, anyone can make this adorable craft! Make a bunch and string them all together in a banner decoration!
https://www....fts-for-kids/
— Bunny tail bunting
https://www....unny-bunting/
— 10 craft ideas for styrofoam eggs
https://diy-...yrofoam-eggs/
— Sock easter bunnies!
Make these cute, soft bunnies, in all colors and sizes and use them to sit around the whole house! Make a bunch and give them out as gifts!
https://craf...ks--cms-20438
— *Salt dough eggs
Make these salt dough eggs and get in touch with your inner-artist when you decorate them any way you like! Once you have the salt dough technique down, the sky's the limit with what you can make with it!
https://www....alt-dough-egg
— A Painting
Come in and create some DIY artwork on a canvas at our studio!
While there are countless ideas for DIY craft projects, you can take your artistic abilities to another level with a painting and wine class!
Join us as we paint, drink (21+), and have fun! Bring your friends and family in to join in this creative experience with you, or look for the days when it's all ages and bring the kids in, too!
We'll provide EVERYTHING you need, including a talented instructor to walk you through the painting step-by-step, encouraging you the whole way! We stand by our promise that anyone can paint; Even if it's been decades since the last time you attempted to paint, we've got you! You'll be amazed at how you can go from a blank canvas to a masterpiece in just a 2-3 hour class! You're sure to leave the painting session with a handmade work of art and a lot of great memories, when you come to Pinot's Palette, Brier Creek!
*Spring paintings coming up in our studio:
https://www....iththefamily-
*Looking to spend some time alone or with your friends or spouse but not sure what to do with the kiddos?
We've partnered with a neighbor to assist you with this predicament!
Learn more:
https://www....meoftheirown-
*Keep in mind that in addition to our public classes, we also offer private events where you can book our studio for a special event!
**Private Parties:
https://www....ivate-parties
**Corporate Events: building events:
https://www....porate-events
**Kids' Parties:
https://www....ainting-party
**Mobile Events:
https://www....ainting-party
— BONUS
*Helpful tips for decluttering:
https://www....anyonecanuse-