Declutter Your Life With A Few Simple Tips That Anyone Can Use!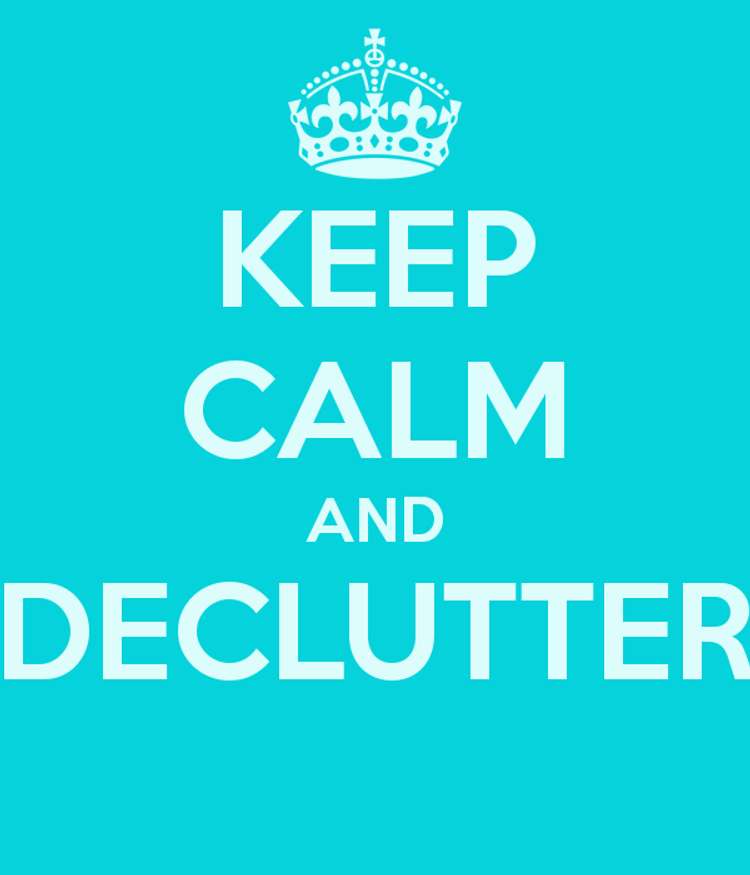 Decluttering….
It's a wonderfully beautiful idea but when it comes down to taking the time (and finding the time…) to start organizing and getting rid of our precious things, that's where the idea becomes too much of a reality.
We see these flawless homes on tv and in magazines and the photos are stunning, calling us to be more neat and tidy like they appear, but you know what?? Life happens….
Things don't get put back in their places, drawers and doors might have a few items overflowing from them, and there may or may not be some piles of clothing, shoved under our beds when company comes over. :)
But with the recent release of Marie Kondo's Netflix series, 'Tidying Up', on Netflix, the mindset of decluttering has shifted. This tiny and brilliant woman has come into our lives and changed the way we look at purging our things, and we, personally, LOVE IT!
The concept of keeping only the items that we need and that spark joy for us, and gently "Thanking" the others before we donate them is fantastic and makes decluttering feel so much easier. We've complied a few tried and true techniques for decluttering, long with some ideas from Marie Kondo, herself. Check them out and start slow, going at a comfortable pace and just do a little bit at a time!
TIPS FOR DECLUTTERING:
— Start with just 5 minutes —
It's hard to find the time to declutter and organize our things but if you just try and donate 5-10 minutes a day (or 20-30 minutes on days you ave more tie like the weekends), then you'll be able to take is slow and steady, setting yourself up for more success. It's a daunting task to really think about all of the things we have in our homes (many of them that we don't really need), and try to declutter everything in one shot.; That's the reason so many of us never even attempt to go for it, or that we try to do it all at once and fail…. Too large of a mentally-draining task is too much, so take it slow~
We're betting that once you start will a small time frame and a small space (like a single drawer), you'll begin to see the progress and feel the positive effects of decluttering; You'll be eager to continue working your way through your home in no time!
18 Five-Minute Decluttering Tips to Start Conquering Your Mess
https://zenh...ng-your-mess/
…………………………………………………………………………………………………………………………………….
— Manage Your Paper Trail —
If you can't finish the mail, don't start the mail. You can't slice chicken for dinner and sort your bills at the same time, so when you come in the front door with a stack of mail, put it in the basket, box or whatever container you have handy for this purpose. You don't have such a container? No wonder there are so many piles of mail around your house.
When you're ready, take your mail basket to wherever you deal with paperwork. First, pull out the circulars and flyers and set them aside; you'll either clip the coupons or put them in the recycling bin—later. Also set aside the catalogs. If you're shopping for something specific, save them. (Caveat: no multiples. The new catalog replaces the old one, which gets recycled.) If you're getting catalogs you never wanted in the first place, pull off the pages with the mailing label and put them aside; that's an action item for later. Then separate the rest: bills, personal correspondence, time-sensitive invitations, requests for charitable donations, membership renewals, new credit card offers and so forth.
Open the bills first, because they represent a relationship that must be honored; if you want the services, you have to pay for them. All the stuffing that says, "You've been selected to receive these free gifts" goes into the recycling bin. All you want is the bill and the return envelope.
Put any invitations aside; later on, you'll transfer those into your calendar and send your response.
If there's room in your home office, have small bins in which to stack bills, invitations and the correspondence you're keeping.
When you're done sorting, then you can read your magazines. Or get those back pages you ripped out, call the companies that sent them and tell them what you don't want—their catalogs. (You can also log on to Catalogchoice.org, a free service that will stop these unwanted mailings from being sent to you.)
…………………………………………………………………………………………………………………………………..
— Downsize EVERYTHING In Your Closet —
One of the best places to start is in your wardrobe! If we're sure of one thing its that pretty much everyone has to many clothes. We keep things that we used to fit into (hoping we'll be able to fit in them again one day); We keep clothing that we wore for special occasions but will likely never have a need for again; And we keep clothing with price tags on them (that have had those tags on them for months or years). If you haven't worn the item of clothing (or accessories) in months or years then you probably won't, so start with those things and go from there!
5 golden rules for decluttering your wardrobe
https://www....anising-tips/
The Marie Kondo Guide to folding (KonMarie)
https://goop...-mari-method/
…………………………………………………………………………………………………………………………………….
— Parting With Sentimental Items —
SAVE THIS FOR LAST!
Once you've honed in on your ability to differentiate between the things you want and the things you need, you'll be able to go through the hardest items of all, much better… Your sentimental things.
Your home is not a museum. Many people subscribe to the unwritten rule that you're obligated to keep your great-aunt's dishes, even if you don't like them, just because she used them. But maybe your great-aunt never liked them either and also felt too guilty to let them go. Things don't have to become yours simply because they belonged to a relative. You're not living their life, and you're not a bad person for giving inherited items away.
If the acquired stuff is worth money, you may feel bound to it financially: "It's real silver—I can't give it away." Yes, you can. Donate it, document what it's worth and take it off your taxes. Or give it to another family member who would really like it. Or sell it on eBay. And if you like something enough to keep it, consider it a replacement, not an addition—keep Grandma's reading lamp, but donate the one you already have.
Mementos from your own life are harder to part with because when you see them, you relive the story: To you, it's the cashmere V-neck you wore on your first date with the man who would become your husband; to anyone else, it's just an old sweater full of holes. The key to parting with items suspended in time is not to replay that story. Leave the room, come back in and see what you're really holding on to—a sweater that's seen better days. Rule of thumb: If it serves no purpose, let it go.
Marie's guide to dealing with sentimental items:
https://www....ndo-spark-joy
As you declutter and find more space in your home, you'll likely want to spruce up your house a bit! Adding in some fresh, new decor is always a great idea and there are tons of ways you can do it on a small budget!
Check out some ideas:
https://www....methisnewyear
*And remember to keep our studio in mind as a great place to some and make some new, handmade art for your walls! Customize the colors to fit in your home and watch the style fo your artwork to your home's style! Bring your loved ones in to paint with you as you spend time together in a fun and creative space, making memories and artwork along the way!
Share View our calendar and sign up for a class! | Buy a gift certificate for someone special!