Create Your Own Chalkboard AND Tote Bag In This Special Class!
Only $35 for BOTH ART PROJECTS! What a Deal!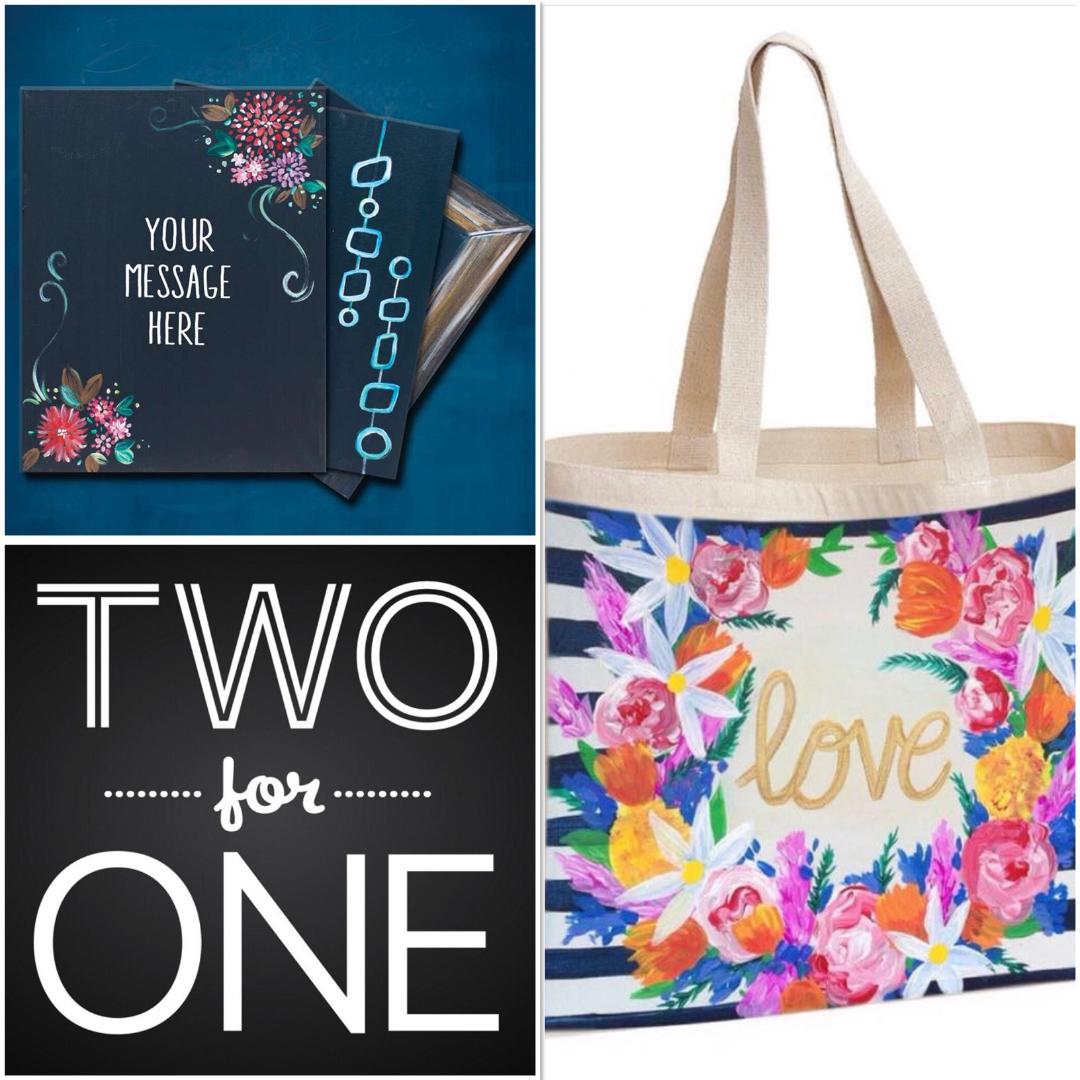 Come in on May 11th and create not one, but TWO, fabulous pieces of art!
First, we're offering a DIY Chalkboard painting, where we'll paint on a 16" x 20" canvas, decorating the borders and leaving the middle, blank, for you to use; Then we're creating a personalized canvas tote, decorated with flowers (or anything else you want to customize it with)! These are 2 amazing works of art that will put your creativity to good use, AND give you 2 practical items, in the end!
Use your chalkboard to personalize your home with a monogram or family name, add an inspirational quote, the dinner menu, or anything else you want to use it for!
Take your handpainted tote to the beach, work, or just use it as your everyday tote bag!
The best part about this class (other than you're getting a 2 for 1 deal), is that it falls on this weekend…. Mother's Day weekend!!!!
You can come in to create these items as a perfect, thoughtful, and meaningful handmade present for her on her special day, OR bring her in to make it as an early Mother's Day celebration!
Think of how much fun it would be to spend time with your mom (and other family members, including all of the moms in your life), painting, drinking wine, and having a whole lot of fun!
The gift of an experience is something that many mothers would appreciate more than a material gift…. How much do Moms LOVE to spend time with their children?! Think about the memories you'll make and the beautiful artwork you'll leave the class with when you come to a painting and wine class at Pinot's Palette!
JOIN US:
May 11th
11:30am - 1:30pm
Create an artful chalkboard you can personalize with your favorite messages all year long. These make great décor for your home or classroom, so reserve your seat today!
*Sign up:
https://www..../event/321799
In addition to this amazing class, we're offering a ton of others during this holiday weekend. Come in and create art for Mom or bring her in to make her own!
Check out what's going on:
https://www....ntsjustforher
Another great way to honor Mom this year is with a DIY Mother's Day Brunch! We've found some delicious food and drink recipes, along with some decor ideas, that you can use as a starting point:
https://www....ersdaybrunch-
We hope to see you all soon, whether for this 2 for 1 class, one of our Mother's Day weekend classes, or another one on the calendar!!!!
Remember that in addition to our public classes, we also offer private events where you can book the studio and have painting and wine party of your own!
Private Parties:
https://www....ivate-parties
Corporate Events:
https://www....porate-events