Ideas For The Perfect Mother's Day Brunch!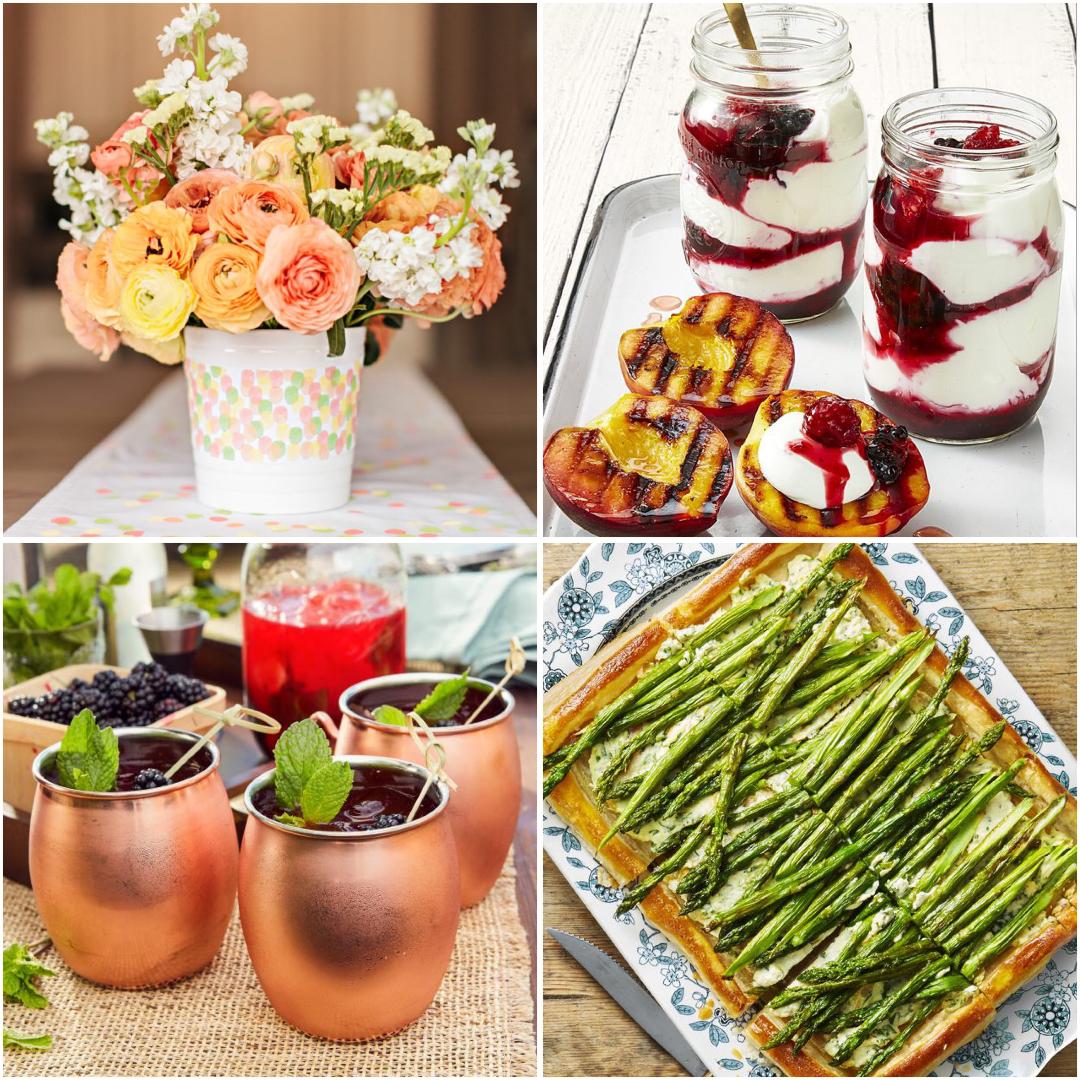 It's almost Mother's Day and we're so excited to show all of the great Moms in our lives, just how much they mean to us! If you're still looking for the perfect way to show Mom just how much you care, why not consider planning a brunch for her and all of her loved ones to enjoy?!
This early afternoon meal is a popular one for Mother's Day and there are so many incredible recipes for food and drink that are easy to make and delicious to eat. Host the event at your home (or help someone else do it), and gather all of the Moms in your life and their loved ones together to eat, drink, and be merry!
Check out some of these recipes and decor ideas that will make your brunch something really special and an event that Mom will alway remember!
--- FOOD TO SERVE ---
Roasted Asparagus and Ricotta Tart
Here's proof that frozen puff pastry can be turned into a stunning side.
(photo, above)
https://www....-tart-recipe/
Jam Parfaits with Grilled Peaches
Wow your mom with these cute-as-a-button jars loaded with fruity jam, yogurt, and peaches.
(photo, above)
https://www....aches-recipe/
Mini Hash Browns (4 ways):
Mix up the flavor offerings for this classic breakfast side. The trick to preparing them for a crowd: Individual patties that are baked instead of fried.
Smoky Red Pepper
https://www....cipe-ghk0514/
Garlicky Broccoli Cheddar
https://www....cipe-ghk0514/
Spicy Southern
https://www....cipe-ghk0514/
Zesty Herb
https://www....cipe-ghk0514/
Quick-Rise Sticky Buns
You can never really go wrong with homemade sticky buns, especially when they're packed with caramelized pecans and topped with a sugary glaze.
https://www....cipe-ghk0414/
Spinach and Prosciutto Frittata Muffins
Go the unexpected route by serving the brunch classic in bite-sized portions.
https://www....ffins-recipe/
Raspberry Lemon Pound Cake
Let's face it: This berry pound cake will steal the show.
https://www....-cake-recipe/
--- DRINKS ---
Lazy Sunday Mimosa
Give the classic Champagne brunch drink a pretty-in-pink spin by using a mix of blood orange and pineapple juices — and decorating the glasses with sanding sugar.
https://www....ecipe-1910030
Blackberry Mint Mule
Fresh ginger and blackberries make this take on the classic Moscow mule extra festive.
(photo, above)
https://www....-mule-3589674
Grapefruit Margarita
If your mom has a little sass and a little class, these Grapefruit Margaritas from Confections of a Foodie Bride will be right up her alley. They're easy to make too–all you need is some tequila, orange juice, fresh squeezed lime, grapefruit juice, and simple syrup.
http://www.t...archives/4278
--- DIY DECOR ---
Mother's Day Flower Banner
Whether you hang it on the wall, from the ceiling, or display it as a table centerpiece, this cheery flower banner is a decor must-have for Mother's Day. Use fresh flowers to add a lovely but subtle floral fragrance to your brunch
https://stud...lower-banner/
Floral Ice Bucket
This seriously beautiful floral *ice* bucket is all sorts of fancy. Not only will it keep your choice of drink cool, it'll blend in seamlessly with the rest of your charming decor. Pro tip: When making your ice bucket, opt for plastic and galvanized buckets rather than glass, which is more likely to break
https://suga...e-bucket.html
Polka Dot Decor
This fresh spring color palette was actually inspired by melon hues like watermelon, honeydew, and cantaloupe. As pretty as those colorful speckled runners and pot decorations are, they're actually made of fingerprints. If you've got kids, the decorations will make an excellent craft activity to help celebrate grandma or their mom, too.
(photo, above)
https://thet...tvmothersday/
We've been talking about our fantastic Mother's Day classes for a while now and if you've attended these special events in years' past, you know just how fun they are! In addition to your amazing Mother's Day brunch, why not bring mom in for a painting and wine class during Mother's Day weekend?! There are so many great ways to utilize our classes, from coming in to make a hand-painted gift for Mom, OR bringing her in to create one of her own! We have some wonderful paintings on the schedule for the weekend so check them out and see which ones are best for you and Mom!
https://www....ntsjustforher