Celebrate MOM On May 12th! We Have Some Special Events, Just For Her!
"We are born of love; Love is our mother." — Rumi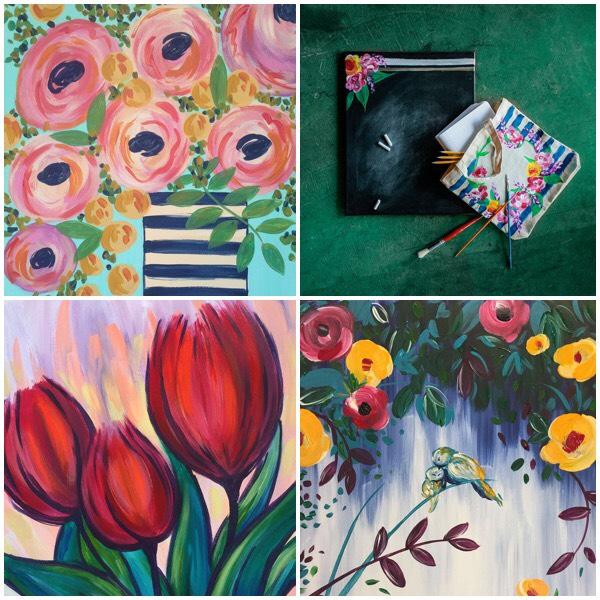 Mother's Day is just weeks away and it's time to tart planning Mom's special day!
A usual, we're celebrating BIG TIME, here at Pinot's Palette, Tustin.
This year, bring mom (or grandma, aunt, step mom, bffs, sisters, or any of the other amazing "Moms" in your life) in for a painting and wine class!
Our calendar is filled with amazing paintings, allowing you to come in before the big day and make a gift for mom, bring her in on the holiday weekend and celebrate WITH her, or come in after Mothers Day is over for a class!
However you choose to celebrate Mom, we're here to help make the experience, wonderful. There's nothing like a handmade gift from the heart… except the gift of an experience. Whether you make mom a lovely work of art as her special gift, OR bring her in to spend time with you and her loved ones, as a way to celebrate all that she means to you, a painting and wine class is a fun and unique idea
MAKE A GIFT FOR MOM!
*Check out some of the paintings we're offering before Mother's Day weekend (May 10-12), and grab your friends or family to join you in one of these classes!
Remember that you can customize the artwork in any way you want, matching the colors to your mom's preference, or personalizing it in another way, and give it to her on her special holiday to make her smile!
Here are some painting she's really enjoy to receive as a gift!
4/25 'Spring Finches'
Bright, bold spring colors, and sweet little love birds will brighten your day.
(*Bonus: $4 glasses of house wine!)
https://www..../event/299989
5/1 'Conceptual Dragonfly'
This conceptual Dragonfly is easy to customize with fun controlled splatters
This is a NEW painting, created on a LONG canvas!
https://www..../event/321860
5/4 'Watercolor Poppies'
Splash in chaotic beauty with watercolor abstraction, putting fun and freedom into these florals!
A stunning new painting that is a lot of fun to make!
https://www..../event/316418
5/9 'Blanco Beach'
Blanco Beach captures your love of the sea and brings it home with its vibrant colors and rustic charm.
A new painting that is perfect for anyone who LOVES the beach!
(*Bonus: $4 glasses of house wine!)
https://www..../event/316416
…………………………………………………………………………………………………………………………….
CELEBRATE MOM ON MOTHER'S DAY WEEKEND
*Bring mom in for a special painting and wine event where an instructor will walk you through the painting, step-by-step, as you drink wine, listen to music, and bond over this special memory-making activity! Leave the class with a handmade masterpiece and a lot of wonderful memories to go along with it!
Friday, May 10
'Cosmic Pathway'
You can't help but look up when you are walking this Cosmic Pathway
https://www..../event/321861
Saturday, May 11
'Create Your Own Chalkboard'
Create an artful chalkboard you can personalize with your favorite messages all year long.
These make great décor for your home or classroom, so reserve your seat today!
https://www..../event/321799
'Heaven's Blossom'
"Spring is nature's way of saying "Let's Party!"
- Robin Williams
Come party and celebrate the coming of spring with this beautiful blossoming painting.
https://www..../event/321810
'Rosie Posies'
This vase of flowers is inspired by modern yet soft home décor, which will be so fun to paint!
Let your own creativity flourish and customize your colors to fit your style!
https://www..../event/311971
Sunday, May 12 *Mother's Day*
'Tulip Trio'
Spring is almost here and these blushing tulips are ready to make their debut.
https://www..../event/314027
'Tropical Haven'
This painting represents the figurative "shelter" provided by a mother's love. It combines modern simplicity with classical, painterly techniques to create a decorative piece that can fit a range of personal décor styles.
https://www..../event/314041
…………………………………………………………………………………………………………………………….
*** GIFT CERTIFICATES MKE A GREAT GIFT!
If you're mom lives in another city or you already have plans for Mother's Day, you can plan a painting and wine class trip, another time! One of our Gift Certificates makes a wonderful gift; Give one to Mom on her day and plan a day and time that works well for you both! We have over 160 Pinot's Palette locations in the US, so if Mom is in another state and you can't be together for Mother's Day, send her a gift certificate and she can use it at a location, near her. She'll be thinking of you as she paints and enjoy some time, getting creative, and the artwork that she makes will always remind her of that special time and how much she loves you!
— Check out this full list of our US studios:
https://www....com/locations
— Buy A Gift Certificate:
https://www....-certificates