Painting Celebrations in Tustin
We offer both virtual and in-studio private parties that you can customize a paint and sip party for any occasion, from office team building parties to birthday parties or fundraisers to bachelorette parties and family get-togethers.
Plan a party
How it works »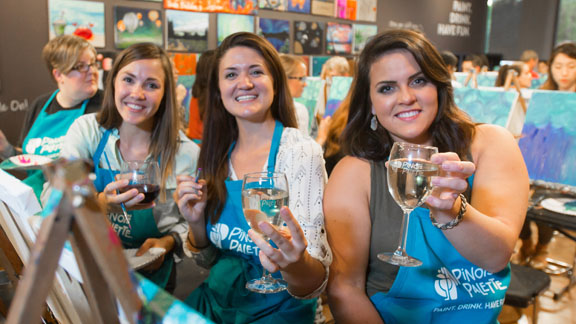 Paint and Sip Celebrations
Host the best party ever! Your guests don't need art experience to have a good time. One of our local artists will guide the group through every step of the painting. Our events can go at your pace and be tailored to your groups needs!
Join us for a fun party and best of all- you get to Pick the Painting! Attendees can sip on their favorite beverage, socialize and listen to music while awakening their inner artist. We're here to make your events special for everyone. And we're used to accommodating unique scenarios! Feel free to email us or give us a call so we can create the right experience for your group.
Paint And Sip Party Types
Host your next private party with us! Our parties are designed for collaboration and creativity. We "bring art to the masses". No experience needed. Can't draw a stick figure? Doesn't matter because we don't draw stick figures. We help you release the creativity that resides inside each and every one of us. Because they're easily customized, private painting parties are perfect for lots of occasions
Choose A Painting
Not sure what you want to paint? Browse our painting library to find something that fits the occasion. Or, ask us to design a painting just for you! Our artists can create almost anything in the style and colors that you and your guests prefer.
How It Works

Reserve
a date
Once we confirm a date and time, you can book the party with a $100 refundable deposit. Our virtual private parties can be between 8 people (our minimum) to 500 painters!

Customize
Your Event
Enjoy a personalized painting event when you plan a private party with Pinot's Palette and best of all- you get to Pick the Painting! We'll work together to figure out all the details.

Show Up &
Party
All you need to do is unpack your art kit and click on the zoom link that we provide- we'll do everything else!
How Can We Help?
We want this to be the best paint party ever! Feel free to call or email us to talk about your ideas and any unique needs your group may have.