Celebrate The 4th and 5th of May With Us!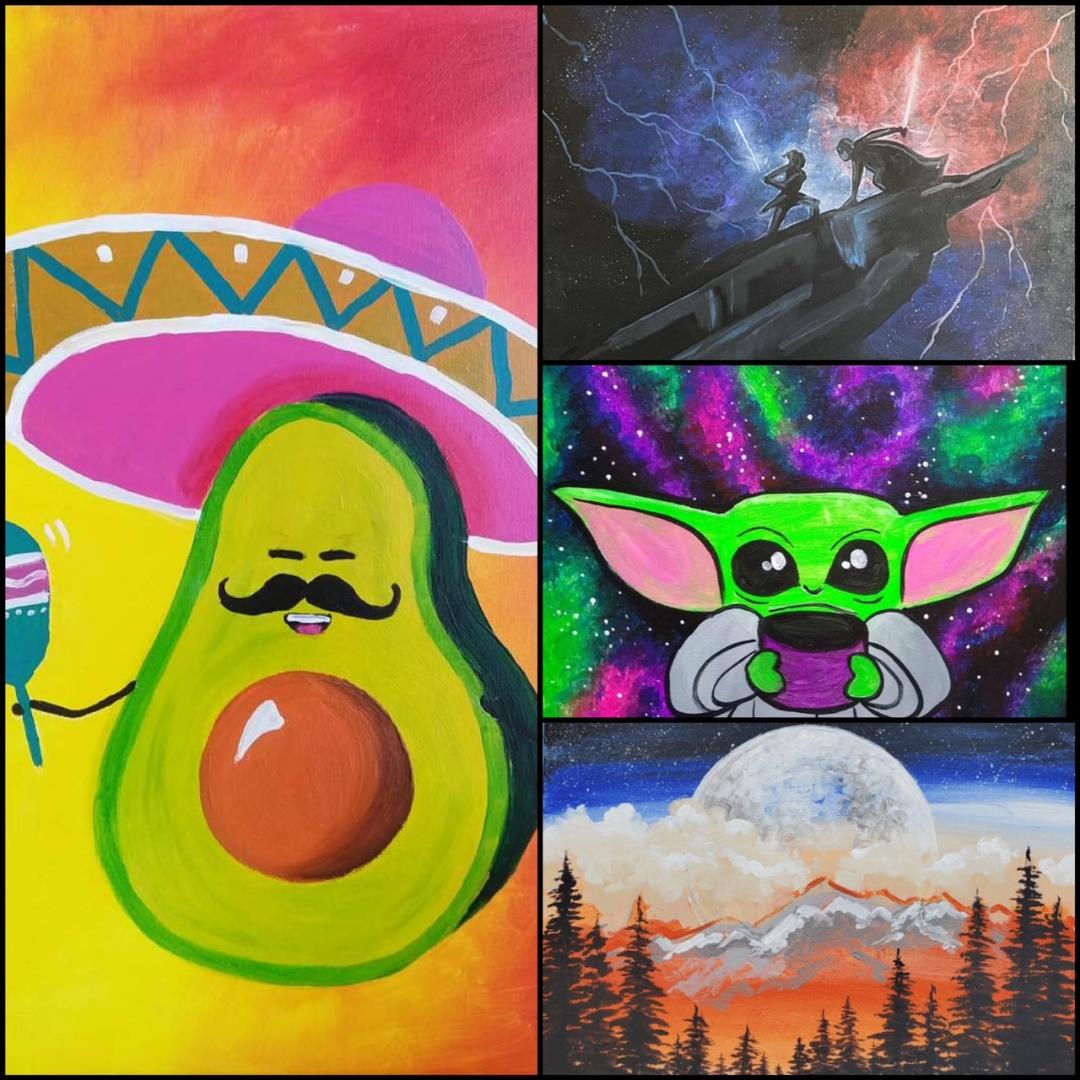 *** MAY THE FOURTH ***
Get in touch with your inner Star Wars fan and create one of these fun paintings on this fan favorite holiday!
A long time ago, in a galaxy not so far away, a fandom was born. Now, every year on May 4, Star Wars fans don lightsabers and stormtrooper costumes to attend Star Wars movie marathons, themed parties and trivia nights, and utter to one another this message of well wishes: May the 4th be with you.
This is the way.
-- May 3rd --
'Full Moon On The Rise'
That's no moon! Use your imagination to take Full Moon on the Rise out of this world!
https://www..../event/607920
-- May The Fourth --
'What Child Is This?'
This cute baby yoda is eating soup, or perhaps begging for money- what do you think is in his cup?
https://www..../event/607251
'I Love You. I Know'
Why travel solo when you can escape the dark side of life with the one you love?
https://www..../event/607255
-- May 5th --
'When Fates Collide'
When good and bad collide things can get pretty epic!
https://www..../event/607252
** Here are some awesome ways to celebrate Star Wars Day:
https://www....star-wars-day
Having a celebration of your own or painting from home with one of our virtual classes?!
Try some of these 'Star Wars' cocktails inspired by the hit film franchise.
-- Dark Side --
Step over to the dark side with this recipe for a cold dark brew. This easy-to-make long drink features an intense kick of Dark Matter Spiced Rum mixed with cold brew coffee for a refreshing cocktail.
(Ingredients):
50ml Dark Matter Spiced Rum
100ml coffee left to cool
15ml sugar syrup
15ml fresh lime juice
lime peel to garnish
(Method):
Stir all ingredients in a mixing glass with ice.
Pour into an ice-filled highball glass.
Garnish with a twist of lime.
-- Drink Me, You Will --
This short and stout Yoda-inspired cocktail shares the Jedi master's beautiful green skin tone.
(Ingredients):
60ml coconut rum
60ml midori
90ml pineapple juice
(Method):
Pour all the ingredients into a cocktail shaker filled with ice and shake well.
Strain mix into glass over ice.
Optional (Garnish with two lime wedges on the end of a cocktail stick to look like Yoda's ears sticking up)
-- Blue Milk --
This alcoholic blue milk cocktail is inspired by the blue bantha milk that Luke Skywalker drank on Tatooine in Star Wars: Episode IV: A New Hope.
(Ingredients):
45 ml silver tequila. (We recommend Jose Cuervo Especial Silver)
30ml blue curaçao liqueur
15ml white chocolate liqueur
15ml milk
(Method):
Pour all the ingredients into a cocktail shaker filled with ice and shake well.
Strain into an ice-filled tumbler.
*** CINCO DE MAYO FUN ***
Cinco de Mayo, or the fifth of May, is a holiday that celebrates the date of the Mexican army's May 5, 1862 victory over France at the Battle of Puebla during the Franco-Mexican War. The day, which falls on Thursday, May 5 in 2022, is also known as Battle of Puebla Day. While it is a relatively minor holiday in Mexico, in the United States, Cinco de Mayo has evolved into a commemoration of Mexican culture and heritage, particularly in areas with large Mexican-American populations.
** Come Paint With Us:
'Avo Great Day'
You can almost hear the maracas and the music while you paint this cute Avocado wearing a sombrero! Have a margarita and AVO GREAT DAY :)
https://www..../event/607256
** The BEST Taco Recipes:
Beef:
https://hous...er-taco-meat/
Barbacoa:
https://gyps...arbacoa-pork/
Shrimp:
https://gyps...-mango-salsa/
Fish:
https://gyps...a-fish-tacos/
Vegetarian:
https://www....potato-tacos/
*** HAPPY MOTHER'S DAY ***
Make some art with Mom with Mother's Day weekend! May 8th is Mother's Day and we're celebratinga ll weekend long with lots of excellent classes!
You can also paint from anywhere with our Virtual Private Parties OR Paint At Home Kits!
Here's everything you need to know about Mother's Day:
https://www....-mothers-day-
Book a virtual party:
https://www....ivate-parties
Paint From Home:
https://www....paint-at-home
More creative DIY gift ideas:
100 Cheap & Easy DIY Mother's Day Gifts
https://www....rs-day-gifts/