Get Creative With Mom The Mother's Day!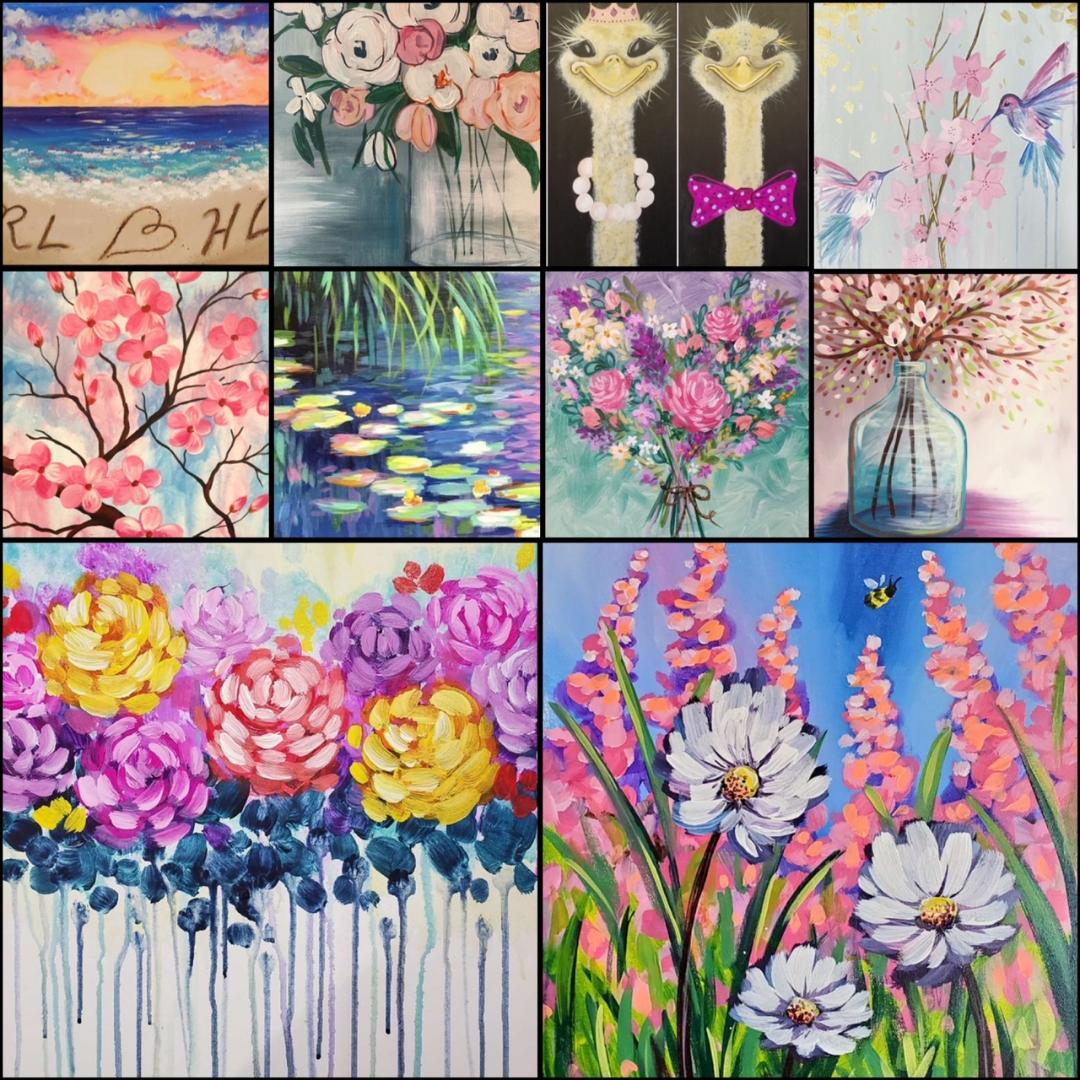 Mother's Day is Sunday May 8th and will be here before you know it! Pinot's Palette is the spot to be to celebrate any of the Moms in your life in a unique and creative way. Come together to make some art and bond over the experience, keeping your masterpiece as a reminder of the fun time you had!
——— JOIN US On Mother's Day Weekend ——
Come on in to the studio with any of the mothers in your life and make some artwork everyone is sure to love! This handmade work of art will always be a great souvenir from the time you had together on Mother's Day 2022!
Here's what's coming up:
Friday, MAY 6th
(1) Open Studio -
https://www..../event/607992
(2) Peonies In Mod -
https://www..../event/599790
(3) Stretch The Ostrich -
https://www..../event/599795
**Fun For TWO People! You can't help but smile at this adorable bird. Paint one or make it a date night! Customize the neck tie, tiara or pearls and make it your own!
Saturday, MAY 7th
(1) Heartfelt Bouquet -
https://www..../event/599786
(2) Fresh Cut Flowers -
https://www..../event/599787
(3) Motions Of Harmony -
https://www..../event/599788
**Paint This One VIRTUALLY:
https://www..../event/614135
(4) Sunset Beach Date Night -
https://www..../event/599789
(5) Monet's Water Lilies -
https://www..../event/599791
Sunday, MAY 8th
(1) Blushing Bouquet -
https://www..../event/599792
(2) Springtime Meadow -
https://www..../event/599796
(3) Hydrangeas In Mod -
https://www..../event/599797
(4) Blushing Branch -
https://www..../event/599798
—— CREATE A PAINTING FOR MOM ——
There's something so unique and special about a handmade gift. You're sure to get any of the Moms in your life to remember those cherished homemade gifts from your childhood; If anyone in your life will appreciate something made with your own two hands, it's your mom, grandmother, aunt, or anyone in your family, so get to it! :)
We personally suggest floral paintings, as they're a lot of fun to make, very popular among guests of all types, and will look stunning in any space! :)
—— PAINT VIRTUALLY ——
If you're looking for a way to celebrate Mom from the comfort of your own home, you can paint virtually!
That's right, we offer Paint-From-Home Kits where you select the painting of your choice, can easily grab all of the supplies you need from the studio, and paint at a time that's convenient for you!
This is especially fun if you're with a group of people celebrating Mother's Day and are looking for an activity to do!
*** The gift of a gift certificate ***
If your loved one lives out of town or you already have plans for Mom's special day, why not paint another time with the help of a gift certificate? We have over 100 locations across the US so you can send a certificate to someone you love and they can paint from a location near them!
*View Other Locations:
https://www....com/locations
*Buy One For Mom:
Share See our FULL calendar | Enjoy some info about the history of Mother's Day