Give Thanks With A 'Thankful Garland'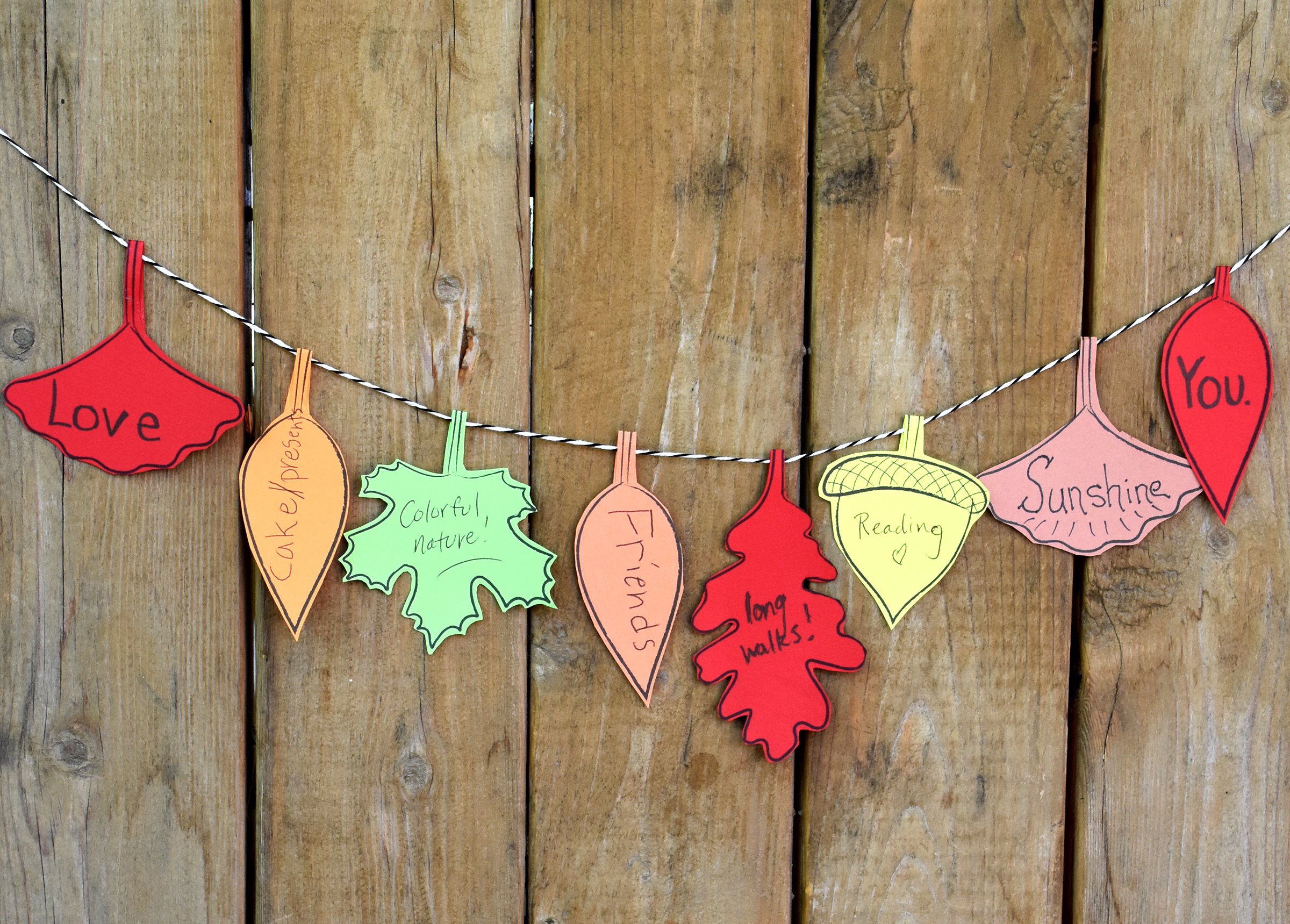 It's almost Thanksgiving! That glorious time of year when we happily (and guilt- free) eat ALL THE THINGS!!
It's a day filled with food, friends, family, football, an annual parade, and so much more, which is why so many of us LOVE this time of year!
With all of the delicious food and fun, comes something else on this special day... thankfulness. This is the time of year when we are reminded to be especially thankful for all that we have. From our friends and family, our home and jobs, and so much more, it's good to remember how lucky we are.
This year, we want to offer an idea that is sure to make a spectacular addition to your Autumn decor: a 'Thankful Garland".
Made with a few, simple supplies and easily customizable to any colors and style your prefer, this garland is perfect for everyone!
The complete tutorial is linked, below, but you can make this easy craft even easier! If you love the idea but are super swamped with shopping, cooking, and more, you can still create this meaningful decoration for your home. Grab a pre-made Fall garland from a craft store, like Michael's, some clothespins and even some leaf cut-outs, and you've got yourself a quick and easy, yet equally as beautiful, garland!
The idea is that there are blank leaves that can be added into the string of garland, allowing everyone to contribute. Your family members or each guest at Thanksgiving can take a leaf and write what they're thankful for, then clip it to the garland. This is a wonderful craft to create at the beginning of November with family members in the home, writing their thankful list; Have additional thankful leaves added to it by your Thanksgiving guests, to really fill out the garland, making it complete!
Customize the wreath's colors to match your home or Autumn decor, and add the accents of your choice- leaves, berries, flowers, and more! Have the kids help out for an extra touch of family fun and creative quality time.
After you've thrown some creativity into your garland project, bring your craftiness into our studio for a painting class!!! We have so many excellent classes coming up and we hope you'll join us for one of them! From Fall-themed artwork to landscapes, and even some winter-themed ones, we've got something for everyone!
If you're looking for a great way to spend time with the kids during their school break or over the holiday weekend, come paint with us here at Pinot's Palette, South Hill. Maybe your family is coming in from out of town and you're looking for an exciting way to spend an evening out. Perhaps you're in desperate need of a girls' night out or a date night with your significant other....
That's where we come in! Spend a few hours with us, painting and drinking some wine, listening to music and being walked through the painting step by step, by one of our fabulous artists. You'll enjoy trying something new and will leave the class with a souvenir masterpiece that you'll cherish forever!
Interested in creating from home?? Our TAKE HOME PAINT KITS and VUIRTUAL CLASSES are just the things for you!
Learn More:
(Painting Kits):
https://www....rls-night-in-
(Virtual Classes)/ Provate Parties:
https://www....ies-all-about
Check out more information for our class schedule, on the link below, and we hope to see you soon!
Enjoy your time with friends and family this Thanksgiving, and remember to show everyone how thankful you are with an incredible garland! What a fun and meaningful tradition to carry on, for years to come!