Celebrating Female Artists This Month
We're celebrating the achievements of female artists this month and beyond!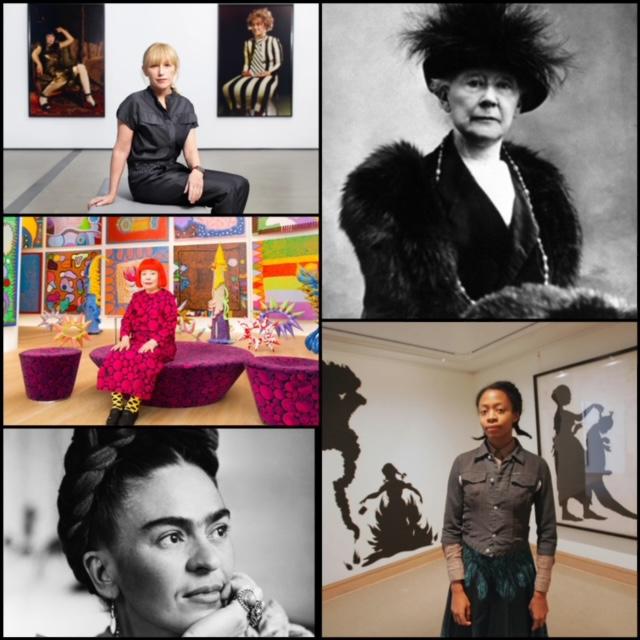 March is 'Women's History Month', making it the perfect time to shine a spotlight on female artists. We're here to introduce you to some fabulous women artists throughout history, as well as some contemporary women artists who are making waves in the art world today.
Female artists have made significant contributions to the art world throughout history, challenging traditional gender roles and paving the way for future generations of women in the arts.
From Frida Kahlo's bold and unapologetic self-portraits to Yayoi Kusama's avant-garde installations, female artists have pushed the boundaries of what's possible and have expanded the definition of what art can be.
Despite facing discrimination and marginalization in a once male-dominated field, female artists have persevered and created works that continue to inspire and resonate with audiences today.
Through their art, these creative women have explored important themes such as identity, representation, and social justice, shining a light on issues that have historically been overlooked or ignored.
By honoring their legacies and inspiring future generations of women to pursue their passions and make their mark on the world.
Some Of Our Favorite Artwork From Female Artists:
***HISTORIC ARTISTS***
Judy Chicago - "The Dinner Party"
This monumental installation artwork, created in the 1970s, features a triangular table with place settings for 39 historical and mythical women. Each place setting is decorated with a unique design and motif.
(View it here):
https://www....dinner_party/
Frida Kahlo- "Self-Portrait with Thorn Necklace and Hummingbird"
This iconic self-portrait, painted by the Mexican artist in 1940, features Kahlo wearing a necklace made of thorns and a hummingbird perched on her shoulder. The painting is a powerful representation of Kahlo's pain and resilience in the face of physical and emotional challenges.
(View it here):
https://www....mmingbird.jsp
Mary Cassatt - "The Child's Bath"
This painting depicts a mother bathing her young child in a tub. The mother is partially obscured by the tub, which dominates the foreground of the painting, while the child's face is visible in the upper right corner. The painting is notable for its use of light and shadow to create depth and atmosphere.
(View it here):
https://www....-child-s-bath
Georgia O'Keeffe - "Black Iris"
This close-up painting of an iris blossom, created by O'Keeffe in 1926, is a prime example of her unique style and vision. O'Keeffe often painted large-scale, highly detailed images of flowers and other natural objects, emphasizing their abstract qualities and suggesting a spiritual connection to the natural world.
***MODERN ARTISTS***
Yayoi Kusama
This Japanese artist is known for her immersive, interactive installations featuring polka dots, mirrors, and other elements. Her work often explores themes of identity, infinity, and the cosmos.
https://hirs...yayoi-kusama/
Kara Walker
This American artist is known for her large-scale silhouettes and installations that explore themes of race, gender, and power. Her work often addresses the history of slavery and its ongoing impact on contemporary society.
https://walk...s/kara-walker
Cindy Sherman
This American photographer is known for her self-portraits in which she transforms herself into different characters, exploring themes of identity, gender, and representation. Her work often challenges traditional ideas of beauty and femininity.
https://www..../artists/5392
Jenny Holzer
This American artist is known for her text-based installations and public artworks that address social and political issues. Her work often features provocative and thought-provoking statements that challenge the viewer's assumptions and beliefs.
https://www....y-holzer-1307
Njideka Akunyili Crosby
This Nigerian-born, American-based artist is known for her large-scale mixed media paintings that explore themes of identity, cultural hybridity, and the immigrant experience. Her work often combines elements of traditional Nigerian art with Western art history and popular culture.
https://www....licrosby.com/
Share Celebrate WHM With A Girls' Night Out | Come Paint With Us!