Celebrate 'Women's History Month' WIth A Girls' Night Out!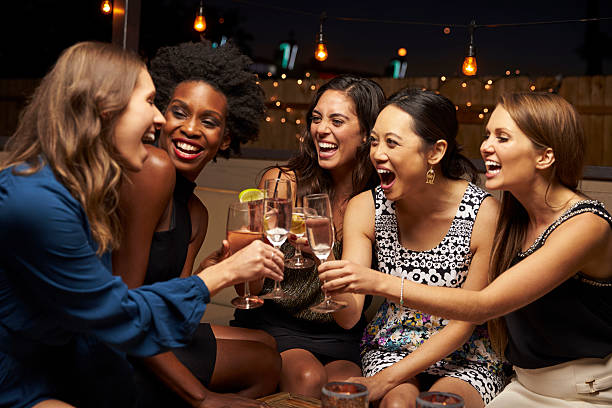 Every year, March is designated Women's History Month by presidential proclamation. The month is set aside to honor women's contributions in American history.
Celebrate this month with your best girlfriends and female family members and make a few nights of March a 'Girls' Night Out'!
The Benefits Of A Girls' Night Out:
(1) GIVES YOU THE CONNECTION YOU NEED
Let's just face it. Guys just don't need to connect like we do. They are perfectly happy watching TV or playing a video game without any meaningful conversation. On the other hand, girls need that connection of verbally sharing all the good and bad things going on in their lives. A girls' night out is the perfect way to gain that connection.
(2) GIVES YOU YOUR GIRL TIME FIX
Girl time is like no other time. While you love your guy and your family, no one really gets you like your girlfriends do. A girls' night out allows you to talk nonstop and get your fix on girl time. There are just some things that you can't share with your guy. There are some things that your family certainly won't get but the girls in your circle of friends really do.
(3) LETS YOU VENT
Venting is so helpful for women. It allows you a way to get whatever is bothering you off of your chest. A girls' night out is a great way to have a nice vent session. You can vent; your friends can vent. Unlike venting to your guy, your girlfriends aren't going to try to fix it quickly so the discussion is over.
(4) GETS YOU GREAT ADVICE
While girls are more than happy to sit and listen to a friend vent, they are also great to help you hash through a problem. Your girlfriends can listen with empathy and will give you heartfelt advice. They are happy to brainstorm with you as long as it takes to help you come up with solutions. Chances are, by the time your girls' night out is over, you will know exactly how to handle a problem you are facing. You can do the same thing for your friends when they are facing troubles, too.
(5) GIVES YOU AN AMAZINGLY FUN EVENING
A girls' night out is so fun. Yes, you can have fun with your guy, your family or your children. But there is something unique about the kind of fun you have on a girls' night out. It is just a time to relax. You can talk and laugh to your heart's content. I recently went out with a friend and later thought how I had forgotten how much fun a girls' night out was.
Join us for a painting an wine class with your bffs:
((Some fun ones to paint with the girls))...
3/11 'Aspen Trees At Sunrise' -
https://www..../event/664601
3/11 'This Kiss' -
https://www..../event/675096
3/12 'Van Gogh's Gladioli' -
https://www..../event/664622
3/13 'Sunflowers In A Glass' -
https://www..../event/665627
3/19 'Waterlillies, Monet Style' -
https://www..../event/665628
3/25 'County Meadow Foxglove' -
https://www..../event/670954
3/26 'Abstract Floral' -
https://www..../event/675097
3/31 'Starry Night Sunflower' -
https://www..../event/675077
((Black Light Classes))
These are some of our most-popular classes, as it's a unique experince that anyone will love! We're turning out the lights and painting under the glow of the black lights as your artwork, shines along with you!
3/10 'Swimming Octopus' -
https://www..../event/675089
3/15 'Majestic Moonlight' -
https://www..../event/675070
3/25 'Serene Solstice' -
https://www..../event/675093
Share More about Women's History Month | See Our FULL calendar of classes