What Are Our Painting Classes All About?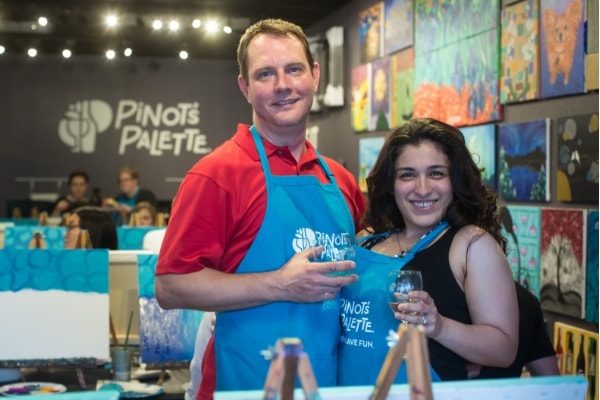 The paint and sip experience is a ot of fun, relaxing, and pretty easy-breezy...but even so, it's nice to know what to expect; This is especially true if you're coordinating a large group for one of our private events (*Like if you're trying to convince your boss to sign your department up for a paint and sip team-building day! - Lots of fun, by the way).
From our in-person classes to virtual ones, it's nice to know what to expect from our style of classes before attending one if this is your first time!
With the way the world has been running this past year, you might also be wonderinf what our studio's current status is, and how we've adjusted to life during the pandemic.
Paint and sip events combine a professionally-led painting class with a high-energy environment and a few drinks… and of course we're working with limited capacity right now to best meet the safety guidelines. Wine is the most popular drink of choice, but many of our guests opt for beer or just a tasty non-alcoholic beverage!
So come on down to Pinot's Palette, Naperville, and Paint. Drink. Have Fun. — Or do all of those from the comfort of your own home!
— Here's what to expect —
YOU DON'T NEED TO BRING ANYTHING.
Classes are paid in advance, and we provide 100% of your painting supplies, protective smocks, wine glasses, & corkscrews, so you don't have to show up with anything!
**This is ALSO the case with out virtual classes and the Take Home Paint Kits (*Be sure to read the fine print, sine we're offering some discounts if you already have some of the supplies at home!).
THERE'S A PAINT-FREE SPACE FOR YOUR FOOD AND DRINKS.
Don't worry about dripping paint on your hummus platter! Your studio will have a counter or table to accommodate food, bottles, plates, etc. if you're using the space for a private event!
(*Learn all about our private celebrations and corporate events at the bottom of the page).
Your painting table will have enough space for wine glasses and snack plates, and people get up throughout the class to go back for seconds. Your instructor will also provide you with intermittent breaks so you can top off without missing a brushstroke.
THESE ARE (typically) ADULT PAINTING CLASSES.
The overwhelming majority of our attendees are over 25 years old. Painters have to be at least 13 to come to a class at most locations, and we don't allow unaccompanied minors. Our studio is designed to be fresh, creative spaces where adults can have a drink and unwind, BUT we do offering 'Family Days' and 'Little Brushes' classes where the kids can paint, too!!!
CLASSES ARE 2-3 HOURS LONG SO GET COMFY.
Class length depends on the painting your studio chooses. Plan for a full evening! We suggest wearing some comfy clothing or at least some that you don't mind getting paint on, should that happen. While it doesn't happen too often, if acrylic paint gets on your clothing and dries, it is beyond difficult (mostly-impossible) to remove so don't wear your favorite shirt or brand new jeans! :)
IT'S NICE TO SHOW UP 30 MINUTES EARLY.
Most painters show up early to get their food and beverages set up, and enjoy a bit of downtime with their friends before the painting officially begins. We do start right on time!
IT'S EASY TO HEAR OUR ARTISTS' INSTRUCTIONS.
You don't need to know a single thing about painting prior to showing up. Our instructors will talk you through everything you need to know, from how to mix paint colors to what sort of brush strokes to use. Want to customize your painting? They'll help you with that, too.
Our studio is designed with a few details in mind, like keeping the painting space small and intimate, and allowing our instructors' voices to be heard over music and chatter. We promise to make it easy to hear and follow our artists' instructions.
Remember that our 'Virtual Classes' are a fabulous way to do the painting classes without having to leave your home! You can paint from anywhere, anytime and enjoy all that we offer in the studio from the comfort of your own space with the ones you love most!
-- All about out Virtual Classes:
https://www....orialclasses-
-- All about out Take Home Kits:
https://www....homepaintkits