Have You Tried Our Amazing Video Tutorial Classes?!
Join Us For One Of Our Live Virtual Classes!
They're so much fun, excellent quality, and allow you to feel like you're in our studio, taking a class (from the comfort of your own home!)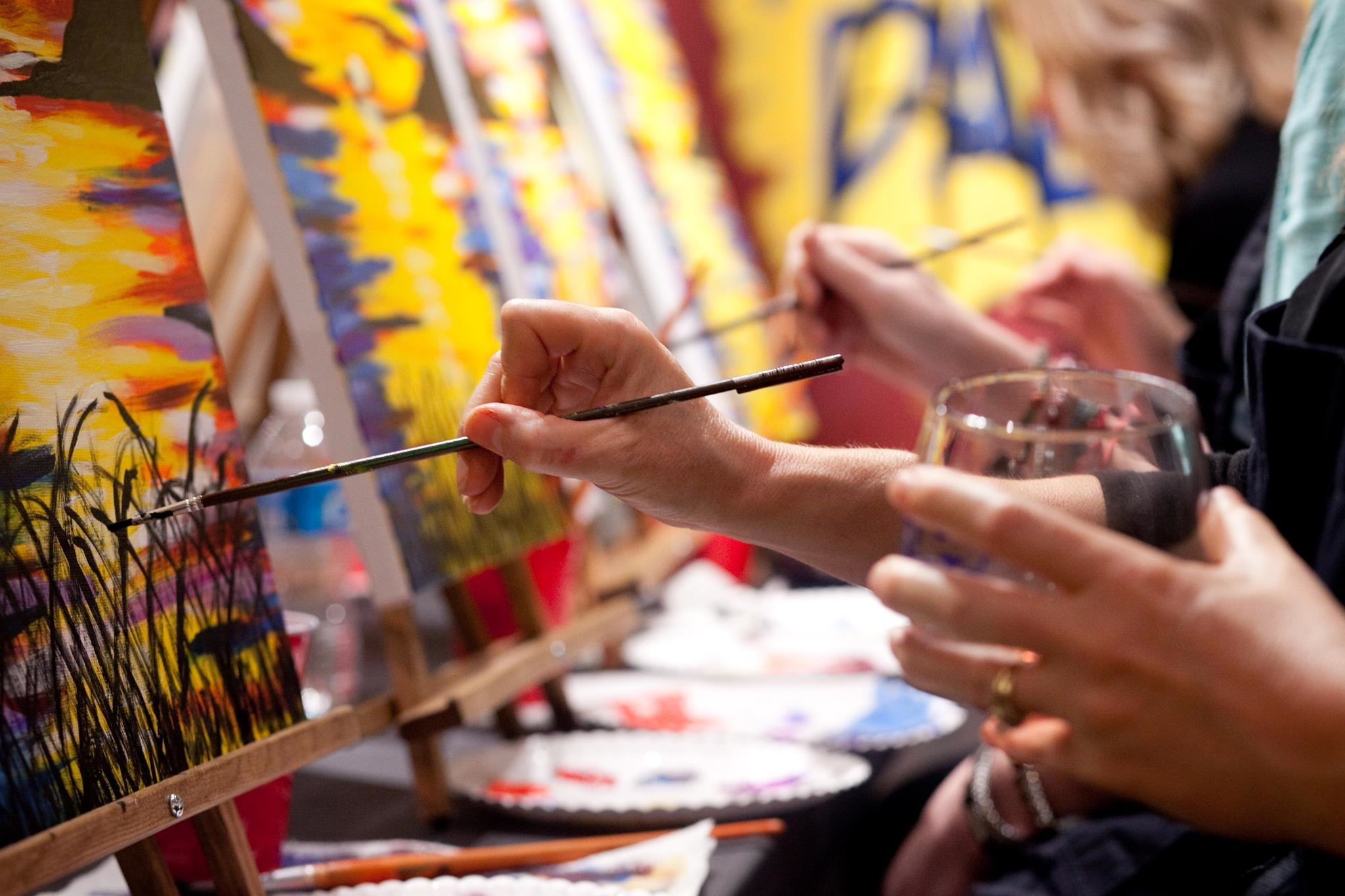 If you haven't tried one of our amazing live classes with video tutorial, you're missing out! These virtual classes are so much fun and the best part is they can be done from anywhere! Wherever you can stream the internet, you can take a class on any device you have!
Invite friends and family over to paint with you, paint with loved ones in your separate homes, or just hang at the house and paint anytime you want!
Painting (and other creative activities) is a wonderful way to relax and unwind and in 2020, who couldn't use more of that?!
You can serve your favorite wine, enjoy some snacks, put on some music, and have a paint party in your own living room with Pinot's Palette!
Our video tutorials are great quality, easy to use, and give you the same end-result as an in-studio class would, without having to leave your house. You can paint in your pajamas with the whole family as you get in touch with your inner-artist and make some memories.
We have a great selection, all week long, so there's sure to be something for everyone.
Our Live Interactive Virtual Classes Are Easy And Convenient!
These classes are NOT held in the studio, but anywhere you are! You can take these virtual classes with the live session where you can ask questions, OR watch them for up to 4 days after.
We provide you with a safe, no-interaction pickup environment, where you can stop by to grab your supplies in the hallway outside of the studio on the day of your class. (*Also, if you need to pick supplies up before the class, just email us and we'll accommodate you!).
We also offer discounts if you already have your own brushes or other art supplies!
You'll have so much fun watching the instructor walk you through the steps, and can interact with them as you go if you have any questions. Hang out with friends, family, or enjoy a fun date night with these virtual classes. They're they same as our in-studio classes (which we're still offering with limited seating) so you'll get a to out of the experience and have a fabulous masterpiece to show off at the end of class!
Remember, if you experience technical issues during the live class or are unable to attend, a recording of the class will be available for four days following the event.
Awesome!
*Date Nights, Girls' Nights, and Family Fun are ALL excellent ways to utilize these classes!
Learn more:
https://www....pinotspalette
*You can also consider us for a Private Event like a birthday party, club meeting, fundraiser, or work event (like a team-building paint party).
You can learn more here:
https://www....rivateparties
TAKE HOME KITS
WE also offer take home kits that the kids (and even adults) will LOVE! These kits come with everything you need to make a painting, including the step-by-step instructions!
Paint whenever you feel like it and make it a fun activity for the kids OR the whole family!
IN-STUDIO CLASSES
YES! We're still open, with limited seating of course, but so excited to welcome you all back to the studio! We've taken all of the necessary safety precautions, including keeping the studio EXTRA clean and disinfected.
If you see a painting on the calendar that you LOVE, come in with friends to paint for a night and have lots of fun!!!