Date Nights, Girls' Nights, & Family Fun With Pinot's Palette!
FUN FUN FUN FOR EVERYONE!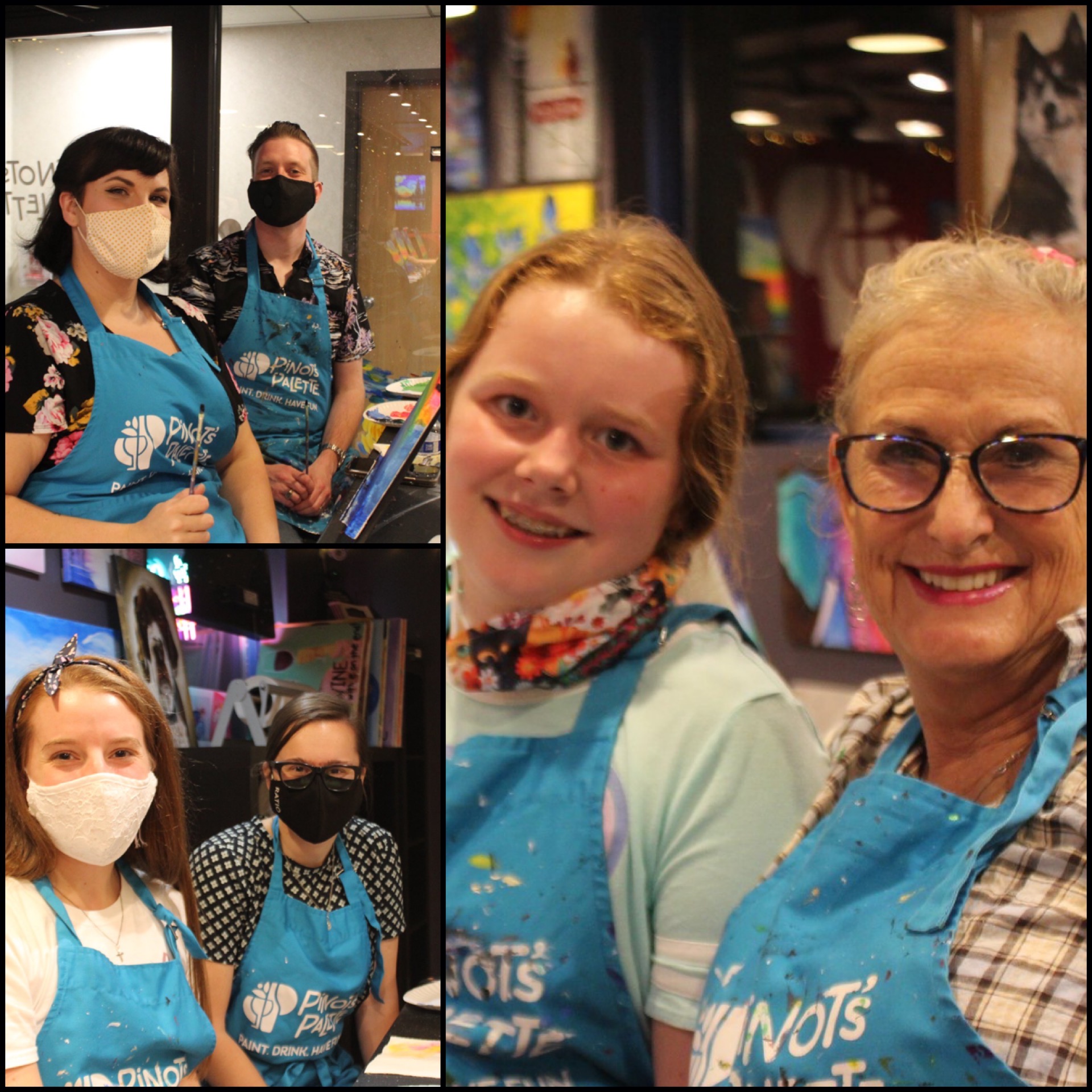 There are lots of fun ways to spend time with loved ones, whether you're trying to get out of the house for a bit OR looking for home-bound activities. Luckily, at Pinot's Palette, we're offering a wide variety of classes for you to enjoy right now! From our limited-seating in-studio classes, to our live virtual classes, and even some awesome take-home kits, we've got it all!
Join us for a class (in-person or virtually) and turnt eh average date night, girls' night, or family night into something extra special!
Paint, enjoy some wine and snacks, and bond over the shared experience of a creative activity where you'll create a masterpiece to always treasure!
DATE NIGHT
Try something new and creative for your next Date Night and make a painting to always treasure the time spent together. While ANY of our paintings are great for a night out (or in) with your significant other, we DO offer 2-person (2-canvas) 'Date Night masterpieces for you and your special someone to create, so look out for them :)
Landscapes, trees, and floral paintings are also excellent ones to make on your individual canvases and hang up together to make a large multi-canvas work of art, so any of those pieces on the calendar make the perfect selection!
GIRLS' NIGHT
Gather your ladies together to reconnect with a painting and wine class! Whether you choose to come into the studio to see one another, enjoy some wine, and paint in-person, OR try a virtual class. Make a party out of it with a theme that fits the painting, some yummy snacks, and remember to take lots of pics!
**Join Us:
9/2 'Aspens Aglow' — In-Studio Class
Reminiscing on a beautiful walk in the Rocky Mountains. With a cool breeze in your hair and a crispness made for sweater weather.
https://www..../event/433874
GIRLS' NIGHT IN
9/2 'Aspens Aglow' — Virtual Class
**Join Us:
https://www..../event/469492
OR
9/9 'Freshly Picked Roses' - In-Studio Class
There's nothing like a bouquet of freshly picked roses to give to that special someone. Give the gift of forever flowers to the one you love or create this painting for your own home--either way it's a win!
https://www..../event/433856
9/9 'Freshly Picked Roses' — Virtual Class
https://www..../event/469377
FAMILY NIGHT
With the school year starting back up, things tend to get pretty chaotic. It's nice to take some time for the family to gather together and enjoy time with each other every once in a while. With our virtual classes, you can pick the painting you want to make, then paint it at the time that works for you. The date and time of the live classes are listed on out website, but the recording of the class will continue to be available for days after the live class, giving you the flexibility to paint when you want!
The take-home paint kits are also great ways for family (especially the kids) to paint together.
They come in s lot of selections, include everything you need to paint, and everyone can make their own painting while spending time together!
**Join Us:
9/5 'Poppy'
Create your own version of Poppy or customize the painting to create any of your favorite Trolls characters.
IN-STUDIO
https://www..../event/469731
VIRTUAL CLASS
https://www..../event/478026
OR
9/5 'Sunrise Wish' (VIRTUAL CLASS)
How stunning would this topical painting be as a large-art installment?! Each member of the family could make this and hang them all together to create a bold and stunning masterpiece for the living room or dining area. Awesome!
https://www..../event/478027
AND SO MUCH MORE!
There are so many great ways to utilize our classes! From getting in touch with your inner-artist while taking a class alone, to having fun with friends, and even hosting a private event for a large group, we do it all!
All about our private parties:
https://www....rivateparties