DIY Halloween Party Ideas You & Your Guests Will LOVE!
Time to get SPOOKY!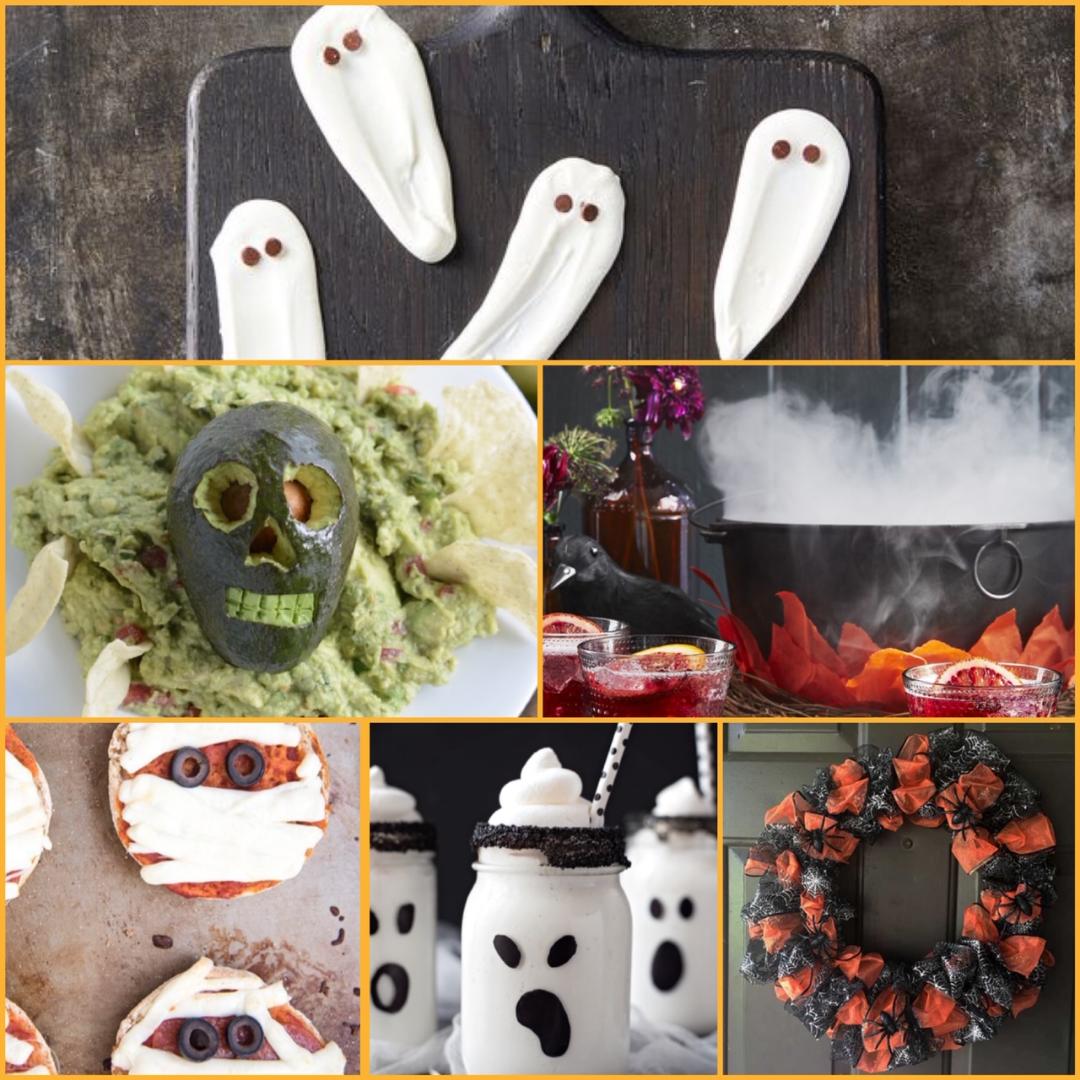 Halloween is such a fun holiday! There's fun decorations, candy, and of course the whole getting to dress up thing…
We're big fans of this time of year and all of the spooktacular things it offers, one, being parties!
While there's no shortage of party ideas out there, we've found some of out favorites to share with you today.
From themed food and drinks, to fun activities for you and your guests to do, and even some fun and festive decorations, we've got your covered.
This collection of ideas will work for kids and adults, and is sure to promise you and your guests a great party!
-- -- FOOD -- --
* Fossil Cookies
Impress your party guests with these creepy bug cookies.
https://www....okies-recipe/
* White Chocolate Ghosts
These delicious white chocolate ghosts are as pale as a…you know.
https://www....hosts-recipe/
* Mummy Brie
Wrap a puff pastry around round brie for an instant mummified look.
https://www....-brie-recipe/
* Veggie Skeleton
The kids will have so much fun eating this guy's "bones" that they'll totally forget they are eating raw vegetables.
https://fabu...leton-recipe/
* Deviled Egg Spider Eggs
Black olive spiders lie in waiting atop delicious deviled eggs. We don't blame them.
http://www.s...-spider-eggs/
* Mummy Mini Pizzas
With just four ingredients, these mini pizzas are perfect "I forgot about the school's Halloween party" fare.
https://lmld...-mini-pizzas/
* Holy Skull-y Guacamole
After all the candy and scary sweets, your guests might want some real food. Cue the guac.
https://www....-y-guacamole/
* Candy Corn and White Chocolate Cookies
If you're wondering what to do with all the leftover Halloween candy corn, just throw it into these buttery, melt-in-your-mouth cookies.
https://www....atch-cookies/
* Monster Party Bark
Melt a few chocolate bars with some pretzels, candy eyes and coconut flakes for a salty sweet snack that will be ready in only three minutes
https://www....or-halloween/
* Frankenstein Rice Krispie Treats
For a dessert that's spooky, but not ooky, whip up a batch of these cute monster krispies. Covered marshmallow bolts, googly candy eyes and a tinge of green food coloring give a movie monster makeover to a classic treat
https://pret...ispie-treats/
-- -- DRINKS -- --
* Halloween Vodka Jello Shots
After you finish making breakfast muffins, use your mini muffin tin to create these vodka jello shots.
https://real...-jello-shots/
* Black Magic Punch
This bewitching brew works well with any dark, sweet juice (Pomegranate is our favorite!).
https://www....punch-recipe/
* Boo-nilla Ghost Milkshakes
Delicious vanilla treats turned into adorable ghosts that are perfect for Halloween!
https://lill...t-milkshakes/
* Salted Caramel Apple Martini
All the gooey goodness of this favorite fall treat, but with a splash of booze.
http://www.f...pple-martini/
* Halloween Vodka Jello Shots
After you finish making breakfast muffins, use your mini muffin tin to create these vodka jello shots.
https://real...-jello-shots/
*Halloween Drinks For KIDS
https://spac...nks-for-kids/
-- -- GAMES -- --
* Scavenger Hunt
Have fun, searching for things on the list and trying to win the game!
https://www....enger-hunt-2/
* Choose The Candy
Supplies Needed: Large bag of candy and stickers
Play: Open a large bag of candy and put stickers on the bottom on some of the candy (at least equal to the number of teams you have). One team member must pick a piece of candy, check for a sticker, and if there isn't a sticker eat the piece of candy. They must keep picking candy pieces until they've found a sticker.
* Mummy Wrap
A classic Halloween party game that's fun for anyone of any age to play!
https://suga...mmy-game-idea
* Trick or Treat Fear Factor
A Halloween twist on the popular tv show, 'Fear Factor'; In this version, guests either get a trick (gross food) or treat (good food). This is a fun and interesting Halloween game for teenagers and adults.
https://www....-fear-factor/
-- -- DECOR -- --
* Bat Branches
Let simple strands of black ribbon take flight as decorative nocturnal critters for your Halloween party.
https://inmy...ome-tour.html
* Ghost Windsock
https://chic...ost-windsock/
*Bubbling Witch's Cauldron
Make your party punch come to life with this spooky setup. First, tuck battery-operated LED lights into a grapevine wreath, style tissue paper flames on top, and then add a cauldron. For added heat, fill your pot with dry ice and your favorite Halloween concoction.
Shop:
https://www....[src|[ch|[lt|
* DIY Dollar Store Wreath
For under $10, you can make this amazing Halloween wreath that your trick-or-treaters AND party guests will LOVE!
https://www....oween-wreath/
* Skull Candle Holder
Light up your mantel or table with this metallic skull candle holder that's equal parts elegant and spooky.
https://abea...lder-diy.html
* Hanging Cage Prop
Give your neighbors a light fright with these outdoor "cages," simply made from stacked plastic laundry baskets. For the full spooky effect, stash a few skeletons inside.
https://www....lloween-prop/
**There are so many great ways to decorate for a Halloween party and if you already decorate your home for the holiday, you're almost there! Add in some inexpensive and simple decorations in the party areas and maybe at your front door and you're all set! We're huge fans of streamers and balloons, as you can buy them at the dollar store and use them in a lot of different ways!
((Check out these DIY Halloween Decor Ideas)):
https://craz...ration-ideas/
While it's always fun to shop for and make some decorations, why not take it up a notch and get your inner-artist involved?
Why not try out A PAINTING CLASS AT PINOT'S PALETTE!
Our calendar is filled with some excellent Fall & Halloween themed classes this month, so you can come in with friends and family to make a stunning, handmade work of art to use at your party… or anywhere! Have a pre-party celebration with loved ones as you spend time together, making memories and masterpieces in a fun and creative environment, doing sometime unique and exciting!
Here are some of our upcoming classes:
https://www....ouspaintings-