Decorate For Fall & Halloween With These Fabulous Paintings!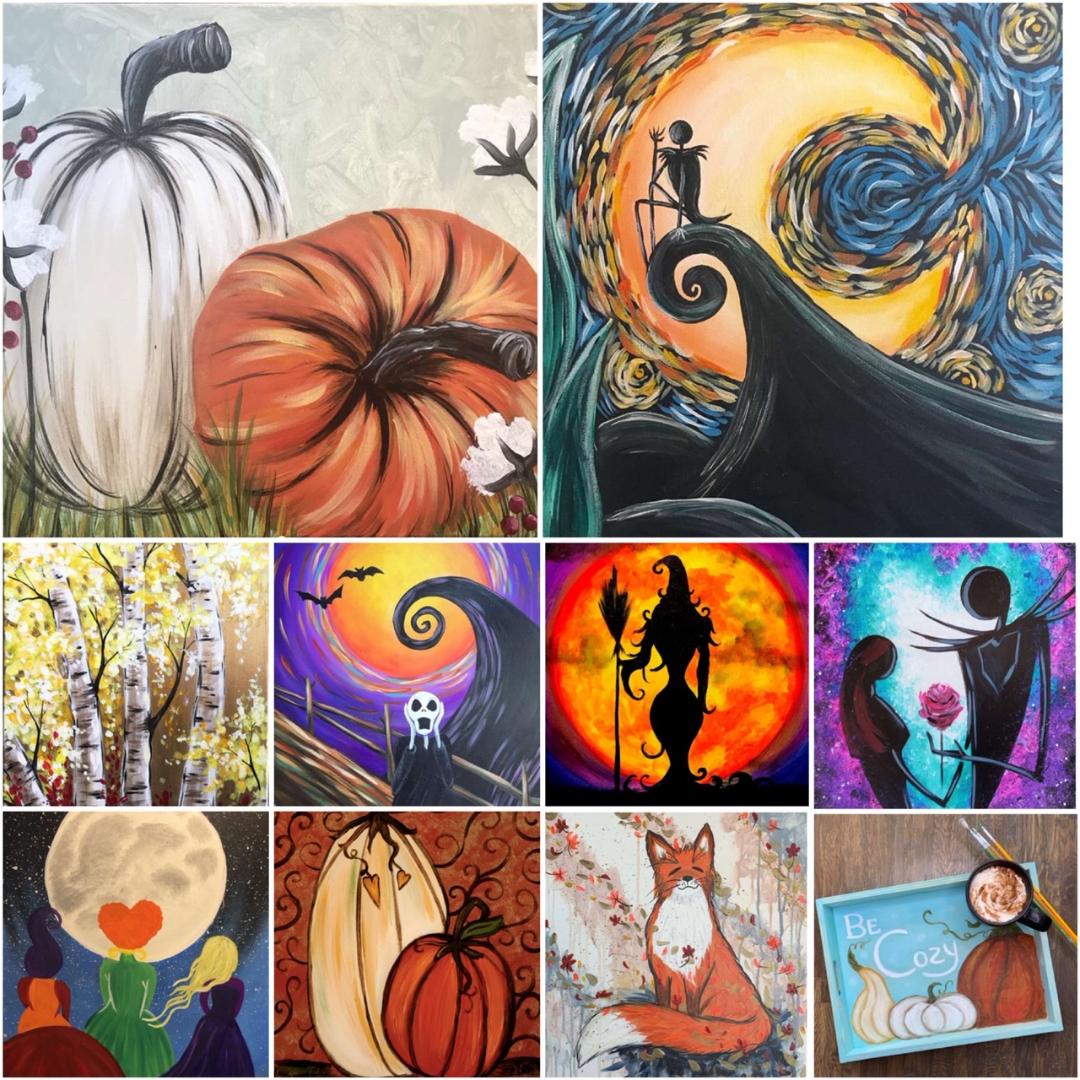 It's so much fun to decorate for Fall! For many people, it's their favorite season of all, and for good reason! It's the time of year that means fuzzy sweaters and boots, warm drinks, changing leaves, and all of the happiest holidays are on their way! What's even better than putting out festive decor around the house, is displaying some of your very own artwork!
We're always offering specialty classes when there's a change of season, as well as upcoming holidays, and our customers love it! There's nothing like immersing yourself in the fun and festivities of the holidays to take your celebrating up a notch! You can always count on us to provide you and your loved ones with a great time, as you make some artwork of your very own!
Check out our upcoming Fall and Halloween themed artwork (we've got A LOT on the calendar) and enjoy getting to know your inner-artist, while you make some memories and artwork for your home!
— HANDMADE FALL DECOR —
10/5 'Rustic Pumpkin Patch'
This fun, Autumn themed painting will be the perfect thing to hang up in your home for these Fall months!
This is a new painting!
https://www..../event/361546
10/5 'Cool Autumn Morning'
Look past this gray, dreary morning when painting this mystical autumn painting with its beautiful orange and gold leaves.
https://www..../event/351653
10/9 'Be Cozy' - WOODEN TEA TRAY
Warm up and Be Cozy with a warm cup of pumpkin spice latte and enjoy the season while you entertain guests.
https://www..../event/364631
10/15 'Autumn Colors'
Keep the beautiful colors of Autumn alive all year 'round
https://www..../event/364404
10/19 'Sunlight Delight'
Ready to bring a little metal to your petals? In this dazzling Sunflower painting, we add highlights in metallic copper to bring a little extra metal to these petals! Sunflowers to dazzle your room and metallic paint to dazzle the viewers.
**Special: Your first mimosa is complimentary!
https://www..../event/366788
10/19 'Elegant Autumn'
Adorn your walls with the elegance of autumn!
https://www..../event/361331
10/22 'A Change In Seasons'
Seasons change and so do we, <3
https://www..../event/364406
10/26 'Spirit Of Fall'
A fox warms himself in the autumn sun as the brisk wind dances leaves around him.
*This is a brand new painting and a lot of fun to make!
https://www..../event/364643
10/28 'Pumpkin Spice'
Cool crisp air, leaves changing colors, the smell of cinnamon and pumpkins, and cozy scarfs... Nothing is better than fall weather!
*This is one of our most popular paintings!!!
https://www..../event/364637
— SPOOKTACULAR HALLOWEEN ARTWORK —
10/4 'Here For A Gourd Time'
Halloween might not be around for a long time, but this jack-o-lantern is here for a gourd time!
https://www..../event/349055
10/5 'Boo Buddies' - FAMILY DAY!
Ready for Halloween? These friends are!
**You can paint on a canvas, or upgrade to a canvas tote bag for $5 in this special class!
https://www..../event/364400
10/11 'Hallow-Queen' - BLACK LIGHT CLASS
Feel the chill in the air? The Queen has arrived, approach her if you dare.
https://www..../event/364431
10/12 'Starry Nightmare'
A fun painting that combines a scary Halloween picture with the famous artist, "Van Gogh".
https://www..../event/349056
10/18 'Van Gogh's Starry Night: Halloween'
"There is magic in the night when the pumpkins glow by moonlight."
https://www..../event/349057
10/19 'Haunted Moon'
Nothing beats a haunted moonlit night on All Hallows Eve! In this scary painting, a dark forest is illuminated by the suddenly emerging face of the full moon.
https://www..../event/362011
10/19 'Nightmare Romance'
Some love is simply forever. Celebrate your romance with this painting featuring one of our favorite iconic couples
https://www..../event/366769
10/24 'The Pumpkin Carving King'
Kick off Fall with this Halloween theme painting, show it off to your friends and family during the upcoming holiday season! It even glows like a jack-o-lantern under a Black Light! ;)
https://www..../event/349058
10/24 'Halloween Scream'
"I am the shadow on the moon at night, filling your dreams to the brim with fright." — Oogie Boogie
https://www..../event/357126
10/30 'Coven In The Moonlight'
Three witches staring at the moon. Easily customizable to feature your favorite witchy women.
https://www..../event/365430
We hope to see you soon for some of the Fall and Halloween themed classes on our calendar!
In addition to our public classes on the calendar, we also offer private events! It's all the fun of our regular classes but with the painting and guest list of your choice! From fun with friends, to team-building creativity with your co-workers, kids' parties, and more, we've got it all!
Celebrations:
https://www....ivate-parties
Team Building Events:
https://www....porate-events
Kids Painting Parties:
https://www....ainting-party
Mobile Events:
https://www....ainting-party