Holiday Painting Parties For Everyone!!!
Happy Holidays!!! We have a lot to be thankful for, even in this crazy year of 2020, and we're SO READY for the holiday season! Let's Party!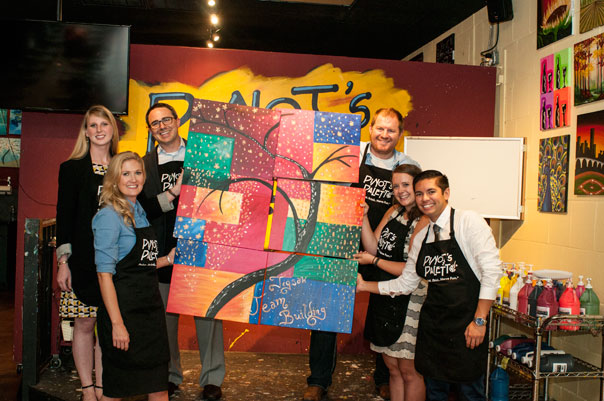 It's Party Time!
The holiday season is here and with December 25th fast approaching, it's really time to start planing that holiday party.
In the year of 2020, things are going to look different that holidays of the past, but that doesn't mean that we can't still enjoy ourselves.
We have ALL adapted in many ways these past months and have been getting through something that we could have never planned for. Be proud of yourself and all that you've done to get by; It hasn't been easy.. and for that reason especially, it's time to relax and celebrate all of the good things a little.
With every person, business, and service having to change the way they do things, there are tons of options out there for virtual events, food service, and more! Take advantage of the new ways of doing things, and seeing them in a positive way.
Pinot's Palette has been no exception to the rules since March.
We have adapted our classes to virtual learning and even some take-home paint kits. All has gone well, and really we have thrived in many ways; It's YOU, our loyal customers who have been there for us, helping us through these times, as we hope we've help you and your loved ones to relax and unwind with some art classes, too!
This season, keep Pinot's Palette in mind for your holiday parties and gatherings (in-person or virtual). From studio sessions where you physically get to see friends, family, & coworkers, to virtual events where you can stay safely apart OR gather together in the location of you choice, we have some great variety in our party styles and can't wait to work with you this year!
You can reach out to us and book your event, selecting the date and time, as well as the painting, guest list, and there specifics, and then we're here to help with the rest.
Join us at our Raleigh location where you and your guests will eat, drink, paint, and be merry as you reconnect and bond over a fun and creative experience. Make some artwork that you will always cherish and can take with you after the party to hang up at home!
If you're into the virtual style of events right now (which many people are), you're in luck! We offer private events in this form as well and our virtual classes have been huge hit! You can do these classes from anywhere; Some people book these parties and gather in a common space like someone's home or the office and participate, while others choose to give out the links in a conference platform style of class where everyone can see and hear one another and paint together from a distance.
Paint Kits:
Much like the virtual parties where you'll pick up the supplies from us and watch the class online, these kits have been a big hit too!
We pack up all of the supplies and you'll receive a link to watch the step-by-step instructions at the time and place (and pace) of your choosing! Our virtual classes have a live instructor walking you through the painting in real time, but these re-recorded vital recordings are just as easy to follow along with (and come at a lower price tag, too!).
All About Our Take-Home Kits:
https://www....ryonetoenjoy-
BONUS IDEA:
We've had some parties include some special surprises in the paint kits that we send out for parties, and when the guests get their supplies, they'll also receive a gift certificates for wine, or anything else that you want to add in! You can add a fun holiday hat or sweater or t-shirt that everyone can wear to the virtual party, making it that much more personal and fun!
You can purchase the items of your choice and send them to the studio and we can easily include them in the kits!
Who doesn't love surprises?!
*** Book Your Party Today! ***
Corporate/Team-Building Events:
https://www....porate-events
Friends and family, no matter what form you see them in this year, are the best things in life and it's always this time of year when we appreciate them the most.
If you're looking for ways to see one another in person or virtually, you can consider Pinot's Palette for your private holiday party this year, too! Remember, you get to choose the date and time, as well as the painting AND guest list; See all of your loved ones in one spot as you paint and enjoy time with one another, making memories and masterpieces you'll cherish forever!
Celebrations:
https://www....ivate-parties
Kids' Parties:
https://www....ainting-party
Share View our public calendar | Buy some certificates this season!