Paint Kits For Everyone To Enjoy!!!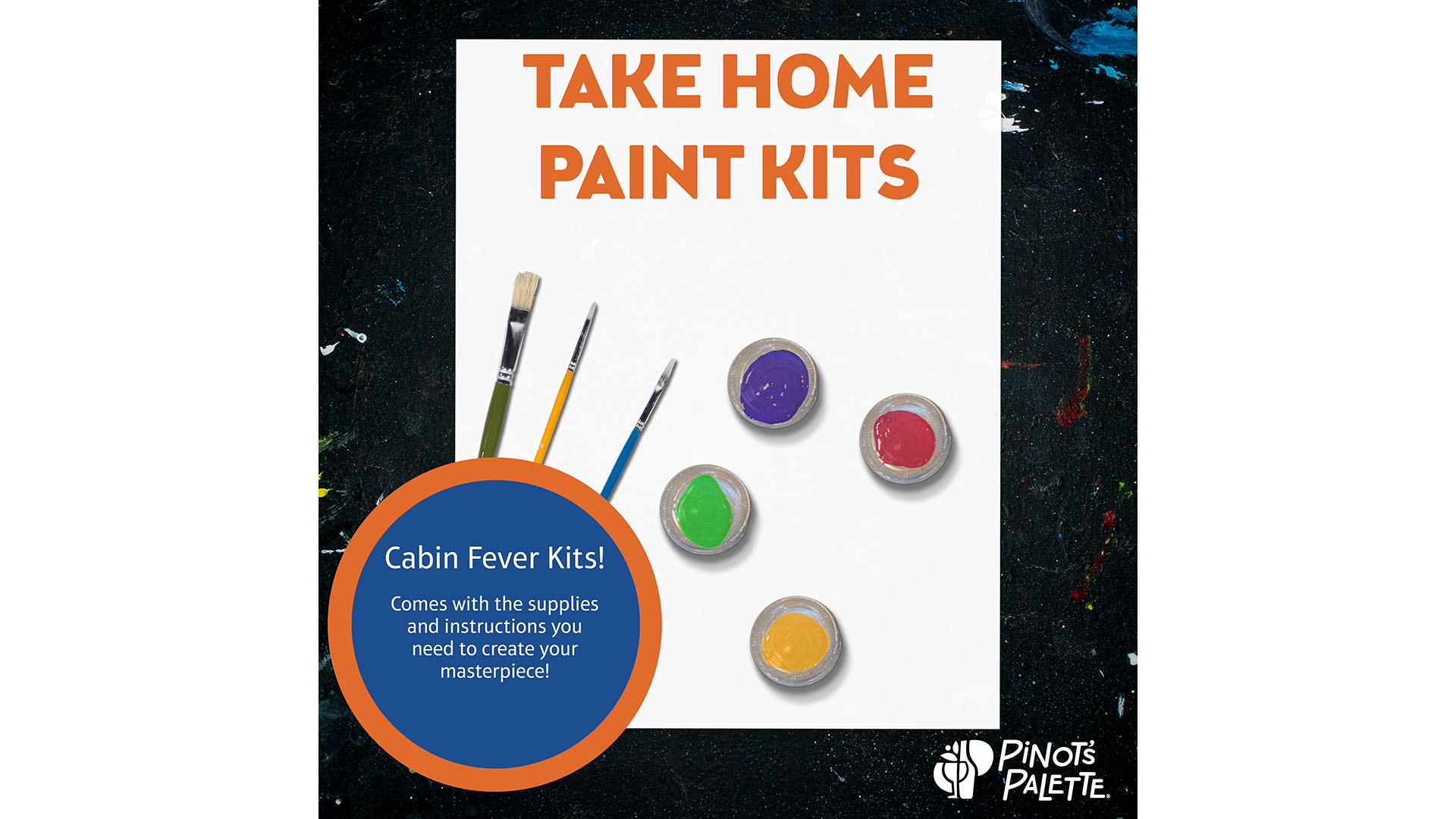 If you've been continuing to paint with us during the pandemic, you know all of the styles of classes we're offering right now! From in-studio (limited seating), to live virtual classes, and even some paint at home kits with a pre-recorded video), we've got something for everyone.
We're all about our pre-made paint kits that you can use to make art from ANYWHERE! You can gather friends and family together to enjoy some quality time and make some masterpieces while you're at it.
Everyone can get together in one space to paint, enjoy some food and drinks, and of course one another's company; OR, you can all paint together, virtually, from your own homes as you stay socially-distance but working on the same project.
Our kits have been a really popular activity for large groups to do; We've had customers purchase them and do a fun girls' weekend at the beach and some have done a class at their homes. With so many places, still closed, and limited customers in the majority of open business, it's likely difficult to find something fun that you and your loved ones can do together. There are many people who are still staying home as much as possible, avoiding unnecessary trips out and especially large crowds. While it's great that we're all doing our part to keep numbers down, it can get really boring at home, doing the same things, day in and day out.
With our take home kits, you get a unique and creative activity to do, without having to put much effort into throwing it together. We'll pack up the materials for you to pick up from the studio, Give you the link for the recorded instructions, and you do the rest!
You can sit and paint anytime that works for you (unlike our in-person classes that are at a specific day and time); You can put out your favorite snacks and wine for yourself and others to enjoy and then paint the night away!
Paint together with loved ones in one space as you all enjoy one another's company and
From our regular paintings to mini square canvases, to long ones, and even a 2-piece painting with two canvases (great for date-nights), we've got something for everyone!
You can also check out the many choices that are available in our shop, here:
https://www....iercreek/shop
If you have your own brushes, you can select this option at check out and it will discount the class by $2.00!
Getting Your Supplies:
To provide a safe, no interaction pick up environment, your kits can be picked up from Pinot's Palette Wednesday-Sunday 2PM-4PM or by appointment. Call 919-391-0258 to arrange additional times.
If you would like to pick up your supplies on a different day, please email us at and we will do our best to accommodate your request.
Your 'Take Home Paint Kit' will contain:
- A Canvas
- Brushes
- Video Tutorial on how to create the painting
- Paint
- Water Cup
- Paper Plate (to use as a palette)
Happy Holidays!
We'll be having LOTS of festive holiday and winter-themed artwork to offer in our painting kits so consider us for your holiday event this year!
If you're not able to have the usual holiday party, whether its for business or pleasure, we're here to assist in a new style of fun!
You'll select the date and time, as well as the painting and guest list of your choice and we'll help you make it all possible! Stress less about your holiday plans and let us assist you with all your needs as you and your loved ones paint, drink, and have fun!
From in-person to virtual and even our pre-recorded classes mentioned above, you and your friends, family, or coworkers will have a holly jolly season with Pinot's Palette!