Book Your Holiday Painting Party With Pinot's Palette!
* Paint, Drink, and Be Merry! *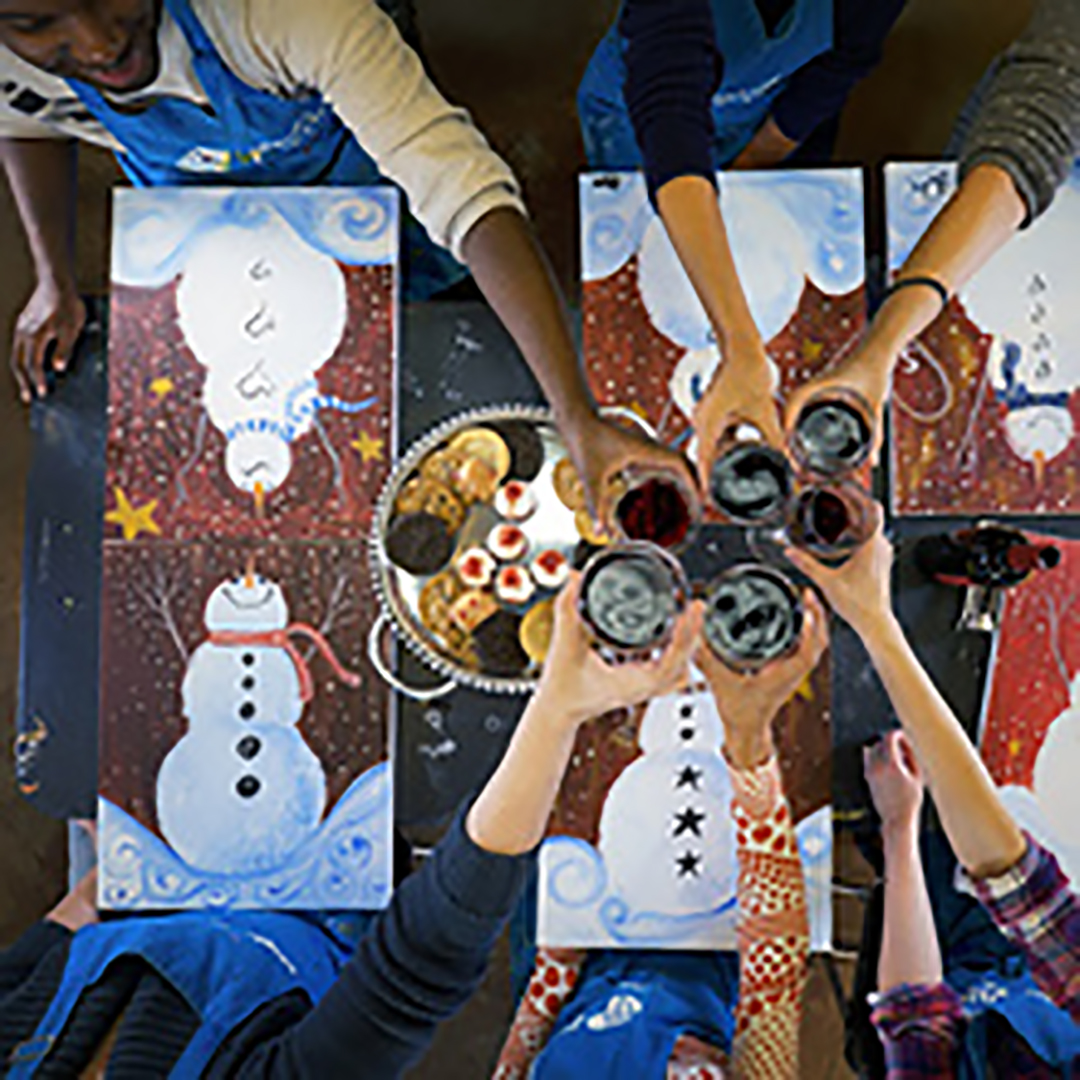 It's already the middle of October! Can you believe it? It always seems like things move so fast this time of year; The minute Halloween is over, the stores will be filled with all the Christmas things; Along comes Thanksgiving, followed by Black Friday, and we all knows how quickly the biggest shopping day of the year can escalate things.
Before you know it, it's December and your 'To-Do' list is a mile long! Between shopping, baking, wrapping, decorating, and other holiday traditions, life can get a bit hectic...
Which is why we'd like to mention that NOW is actually a great time to start planning your annual holiday party!
While there are lots of great options out there for this your event, we'd love to tell you why you should book your party with us!
At Pinot's Palette, we're here to help you make the party-planning process as easy as we can; From booking to setting everything up, and all of the details in between, we're here for you and your group!
Painting, enjoying some wine and music, making masterpieces, and celebrating the holidays all at once? Sounds good to us!
But if you haven't been to one of our classes, or maybe you've attended one but aren't quite sure what our private parties are all about, we're here for you! We'll explain what they're all about and why we think they might be the right fit for you and your team!
The Reasons You Should Book Your Holiday Party With Us:
-- It's Something Different.
Potluck parties, nice dinners out, or maybe a game of White Elephant or Secret Santa are all fun, traditional work parties, BUT with a painting and wine party, you're taking your party up a notch! Bonding with friends, family, or co-workers in a creative environment, while you paint and enjoy some food and wine is always great fun!
Come in and make some art, whether you've painted before or not, and remember to have fun with it! Don't get caught up in the details or trying to make your painting turn out like anyone else's; Just relax, have fun, and express yourself on the canvas!
It's been proven than painting is good for your health, as it's a relaxing and mindless activity that calms, soothes, and encourages creativity. Experience all of that with your loved ones and it's sure to be a day to remember!
-- It's A Creative And Fun Way To Spend Time With Friends and Coworkers.
Hang out with friends and family as you make some great artwork and memories; You never know what you'll discover! Maybe you'll learn that Grandma used to paint when she was younger, and get to watch her find her inner-artist again! However you and your group choose to enjoy our painting parties, the best part is that everyone will have a wonderful work of art to take home as a souvenir!
As far as work parties go, we offer team-building styles of classes where everyone works together to make the artwork. Think of how beautiful and meaningful a large, multi-canvas, collaborative painting would look in the lobby of your building or on one of the walls in the office!
**All about our team-building events:
https://www....rivateparties
-- You Can Pick The Date and Time That Works For You
Unlike our public classes, where you have to show up at the date and time that we have the class scheduled for, YOU are in charge of selecting the details that work best for you and your guests. **Be sure to book with us, ASAP, however, as our private parties tend to start filling up fast this time of year! To ensure that you get your pick of date and time, contact us and get the process of booking your event, started! Whether you're bringing friends and family in to paint and spend time together, during the time of year when loved ones should be together the most, OR, if you're looking for a fun and unique way to host a holiday event for your office, look no further than Pinots Palette!
Book your private party here:
https://www....ivate-parties
Book your corporate event here:
https://www....porate-events
-- You Get To Select The Painting Of Your Choice
If you've ever been to one of our classes or seen our calendar, you know that our staff selects the paintings for each day. We pick the artwork that fits best for the time of the year, works in relation to the season, upcoming holidays, and popularity of the paintings. Sometimes, however, there may be a painting that you love, scheduled for a day you're unable to attend; This is where booking a private party, comes in extra handy! If there's a painting that you really want to make but can't come to the public class, you can select it for your private party!
When you book your party, the painting that you and your guests will make for the event is up to you! Check out our library, filled with thousands of amazing paintings and get some ideas for what you and your group would like to make!
***We Have Some Wonderful CHRISTMAS & WINTER-THEMED Paintings!
*View our paintings:
https://www....nting-library
-- You're In Charge Of The Guest List
The best part about a private painting party is that you get to select the people who you want to share in this experience with. Unlike our public classes, where you're painting with other people who have signed up, you'll be surrounded by ONLY people that you know! These parties are such a great way to spend time with friends, family, or your co-workers in a fun and creative setting; You'll learn more about one another through painting, sipping wine, and great conversation. You will also get to see the one-of-a-kind paintings, each member of your party makes, and it will be so fun to see how everyone's looks different from each other's. The best part of the class (in our opinion), is the end where you get to see everyone's finished masterpiece and observe how unique and interesting they all are in their own way.
*And MORE!
From the food and decorations, to the music, mingling time, and anything else you want to work into your event, we're here to help!
Most of the time, our guests will arrange to have food at their private events. You can have everyone bring in a dish, potluck style, to help with the work load for the party planners; This is also great way to have a bunch of different food, all coming from your guests who can give a little piece of themselves in a delicious way; This is a great conversation-starter for an office party, as people can learn more about one another as they talk about the food they enjoy making and swap recipes.
Many people do choose to go an even easier route, and have the food catered by a local restaurant. It's nice to hand some of the work load off to someone else, when you can. :)
In addition to food, we do see people who like to bring in some games like holiday-themed trivia, gifts to do a gift exchange, or tokens of appreciation to hand out to their employees or loved ones; Keep in mind that you can plan your party, any way you want and just let us know what you're thinking and we'll help you to make it happen.
*Team Building Activities and Office Holiday Ice Breakers:
https://farm...s-for-adults/
If you're looking to book your holiday party, in or around the Raleigh-Durham area, come see us for all of your holiday needs! From private and corporate parties, to spending a fun and unique night out with friends and family, and even purchasing gift certificates, we're your one-stop shop for everything this season!
We hope you and your group will consider a fun and exciting, unique and creative, and above all, memory-making activity like Pinot's Palette this season! Painting is a great stress reliever, a great way to spend time, and will lend itself to some excellent conversations about who in the office (or in the family) is a fabulous artist, that you never knew!
Make some memories and masterpieces this holiday season, or any time of year, with Pinot's Palette, Brier Creek!
Cheers!
Share Check out our full class calendar! | Buy Some Gift Certificates!