Host Your Next Corporate Event With Us!!!
Why not try Pinot's Palette for a unique and creative experience at your next corporate function???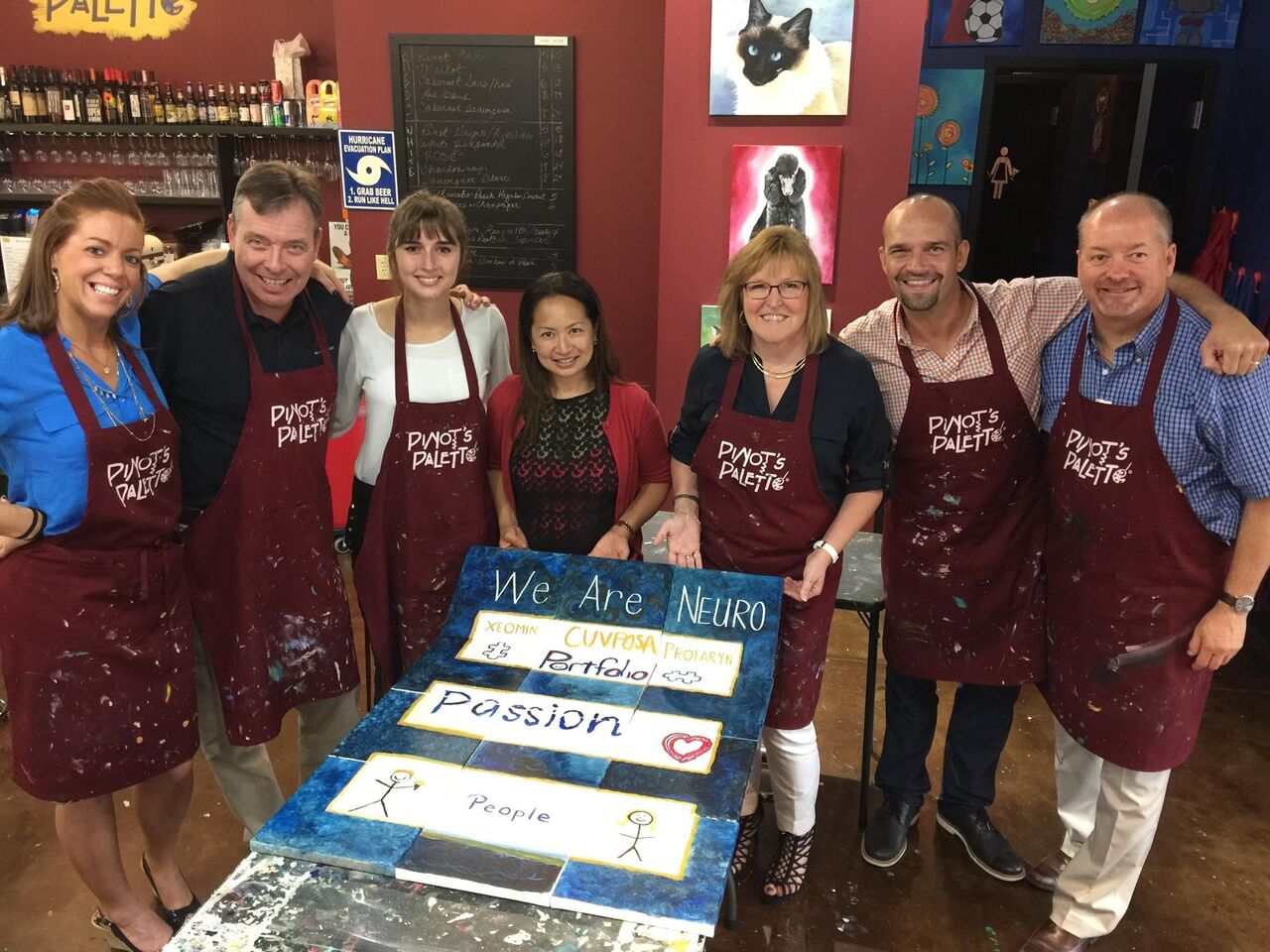 Tired of the same old office holiday party? Are you over the same team building exercises and bonding techniques? Are you looking for something different and exciting to help loosen everyone up and break your coworkers out of their shells?! Well, look no further... we are here to help!
When you hold your event at Pinot's Palette, you get so much more out of the class than just a painting to take with you at the end! We offer a wide variety of different styles of private parties and the sky's the limit with how you want to host yours!
Whether you're looking for a way for your employees to come together to communicate and learn more about one another or you want to think outside of the box in planning your holiday party.... or Maybe you want to celebrate some huge sales goals being reached, or are trying to impress some new clients..... Whatever the reason for planning your event, it's sure to "wow" everyone and leave them saying, "My job is the coolest!!!"
We offer our standard style of painting class where every individual gets a 16"x20" canvas and paints along with the artist's instructions, step by step. Individuals can change their paintings to make them their own, using their own color choices, style, adding things into their masterpiece, etc.... this is always a great option, but if you're looking for something pertaining to a corporate/team building event, we have other options, as well:
For more of a bonding and socializing experience, you can try one of these options:
-Collaborative Painting:
All members work together on a large canvas or a collection of large canvases, to create one large piece of artwork that everyone came together and helped to create!
-Puzzle Painting:
Another way your team members can work together and constantly communicate to create a very large painting, made up of multiple, individual canvases! Each person (or group of people, depending on the way you'd like to go...) will paint a section of the overall painting and at the end of the class, all of the canvases get pushed together to form one whole painting!
(*This tends to be one of our most popular corporate selections, especially if you have a large, blank wall in the office that needs some artwork!) There's something so incredible about individuals working together to each create one small piece of an overall product... much like how they all contribute in their own way at work, but it all comes together to help their company in one way or another!
-Mystery Painting:
Another fun one! In this scenario, the boss or person in charge of planning the event may select the painting but no one knows what the final product will look like until they are finally finished at the end of class!
-Musical Painting:
Much like musical chairs, you sit in a seat for a direction or two, then the artist asks everyone to stand up and move to another seat of their choice or can even utilize the music as guests walk around and have to sit when the music stops! This is another fun way to have a collaboration-style painting class where multiple people work on one canvas to create a final masterpiece in the end.
*this is another one that the party planner can decide upon before arrival and keep secret until the first move!
Whichever style of painting class you choose to host, they're all a lot of fun and it's undoubtedly a unique way to spend time with your colleagues. From bonding and forming ties with your office mates to helping impress a few new clients, Pinot's Palette is the PERFECT place to do it!
**Contact us through email on our private party page on the link below (call the studio, as well if you prefer), and we can help you get started with the party planning!
If you want your event catered by your favorite food places, we can absolutely work with you! Just let us know and we'll be sure to have a table set up with food and drinks for you
NOTE:
*All catering is ordered and handled by your company, separate from your Pinot's Palette event, but we can offer suggestions for local and most-used catering services or local restaurants and will set up in preparation for your food!)
**Feel free to do a potluck-style gathering or bring in your own however you'd like if you want to some snacks during your party!