We Love Landscapes!!!
Landscape paintings are one of the oldest forms of art! It's a subject, widely painted throughout history, by countless, famous artists! Our landscape paintings are always a customer favorite, here at Pinot's Palette, too..... come and join us for one and see what the craze is all about!!!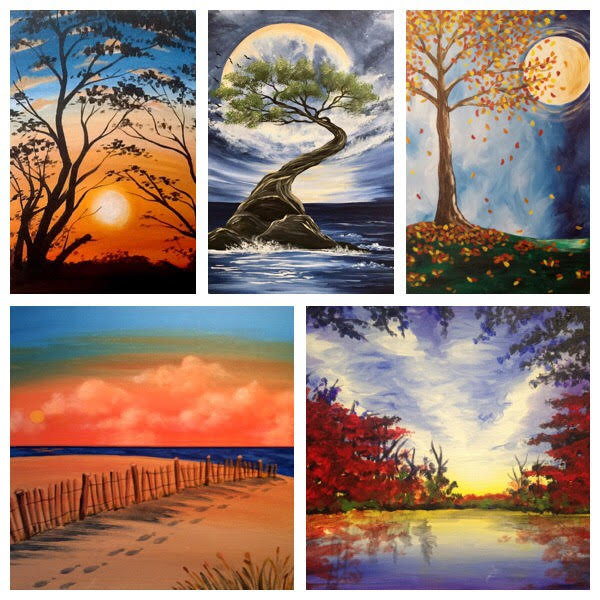 Our customers seem to absolutely love to paint landscapes. Land art tends to be a very relaxed subject to create on canvas. Since the painting is of nature, there's no exact shape to create when making the picture. You can mess up the colors a little and no one will notice; you can have trees that are too curvy or thick, and it's always ok since they're natural objects; Trees, bushes, flowers, etc come in all shapes and sizes so it completely believable if you to make them imperfect!
A beautifully colored sky with simply textured ground and trees, throughout the artwork, are the main components of most of landscape pictures. People seem to have the most fun when they can relax and be free and open, while painting; Recreating a scenic picture is the way to do that! Trees tend to look tricky, but once we show you the best ways to approach them, you'll LOVE painting them!
Where did this timeless painting idea start? Who created the first landscapes? What are the most famous landscape paintings and by which artists?!
The earliest "pure landscapes" with no human figures are frescos from Minoan Greece of around 1500 BCE...
"The tradition of landscape painting, in any form, was born from centuries of evolved painting styles, beginning with the tinted walls of the ancient Greeks. Adorning their walls with beautiful gardens and rolling hills was initially common but eventually these scenes became the backdrop for religious stories. Not until the Italian Renaissance in the sixteenth century was this technique revived, brought to height by Leonardo DaVinci's portraits" (he was well-known for adding landscapes into the background of his paintings of human subjects...).
Some of the most well-known landscape paintings, known world-wide include:
*Van Gogh:
'Starry Night Over the Rhône- 1888
'The Starry Night' - 1889
'Wheat Field with Cypresses'- 1889
--Check out some of van Gogh's landscape paintings:
http://www.v...ndscapes.html
*Claude Monèt:
'Impression, Sunrise'- 1872
'The Waterlily Pond' - 1899
Some of the most well-known landscape artists include:
Rembrandt
Vincent Van Gogh
Claude Monet
Paul Cèzanne
Georges Seurat
Georgia O'Keefe
Wassily Kandinsky
Pierre-Auguste Renoir
...(And so many more!!)
Read more about them here: 'A Brief History of Landscape Paintings'
https://www....dev/14848/amp
List of famous landscape paintings:
http://m.ran...ngs/reference
****Come in to our studio and paint a landscape of your very own!!! We have so many to choose from, and we have tons of seasonal pictures throughout the next few months, as well!!
Check out the link below to view our entire calendar, and pay special attention to the landscape classes we have coming up! These include:
September:
9/21- 'Seul Reflection'
*thirsty Thursday!! (1/2 off bottles of wine)
9/22- 'Hilltop Sunset'
*photo, shown above
9/26- 'United We Stand'
**Painting it Forward event... raising money for the victims of Hurricane Harvey
See more and Sign up HERE:
https://www....tingitforward
9/29- 'Scarlet Autumn'
*photo, shown above
9/30- 'Aurora Through The Trees'
October:
10/1- 'Firefly Wishes'
10/4- 'Amazing Red and Gold
*wine down Wednesdays ($30 only!)
10/5- 'A Fall Walk On The Beach'
*thirst Thursdays (1/2 off bottles of wine)
*photo, shown above
10/5- 'The North Remembers'
*Game of Thrones trivia night!
10/7- 'Lone Cypress Tree'
*photo, shown above
10/13- 'Fire and Mist'
10/14- 'A Walk Through Color'
*a beautiful, impressionist painting that our customers love (it's full of color!)
10/18- 'The Love of Fall'
10/20- 'Autumn Equinox'
*this is a gorgeous and unique, reflective landscape!
10/24- 'Harvest Moon'
*photo, shown above
10/25- 'Twilight Dreams'
*we'll be painting on a LONG canvas!!!
10/27- 'Crimson Pathway'
*a customer favorite!
10/28- 'Misty Mountains'
Be sure to view our whole calendar for all dates and times... Some of our November calendar is up and ready for registrations :) ((*continue to check out the calendar, as we add dates throughout the next month or so for November and December!)
We hope to see you there!! Remember if this is your first time painting, a landscape is a great way to start! Bring friends and family out, too and have an experience you'll remember forever, at Pinot's Palette, Brier Creek!