So Many Specials At Pinot's Palette! Come Out And Enjoy Them All!
Drink Specials & Discounted Classes For Everyone!!! YAY!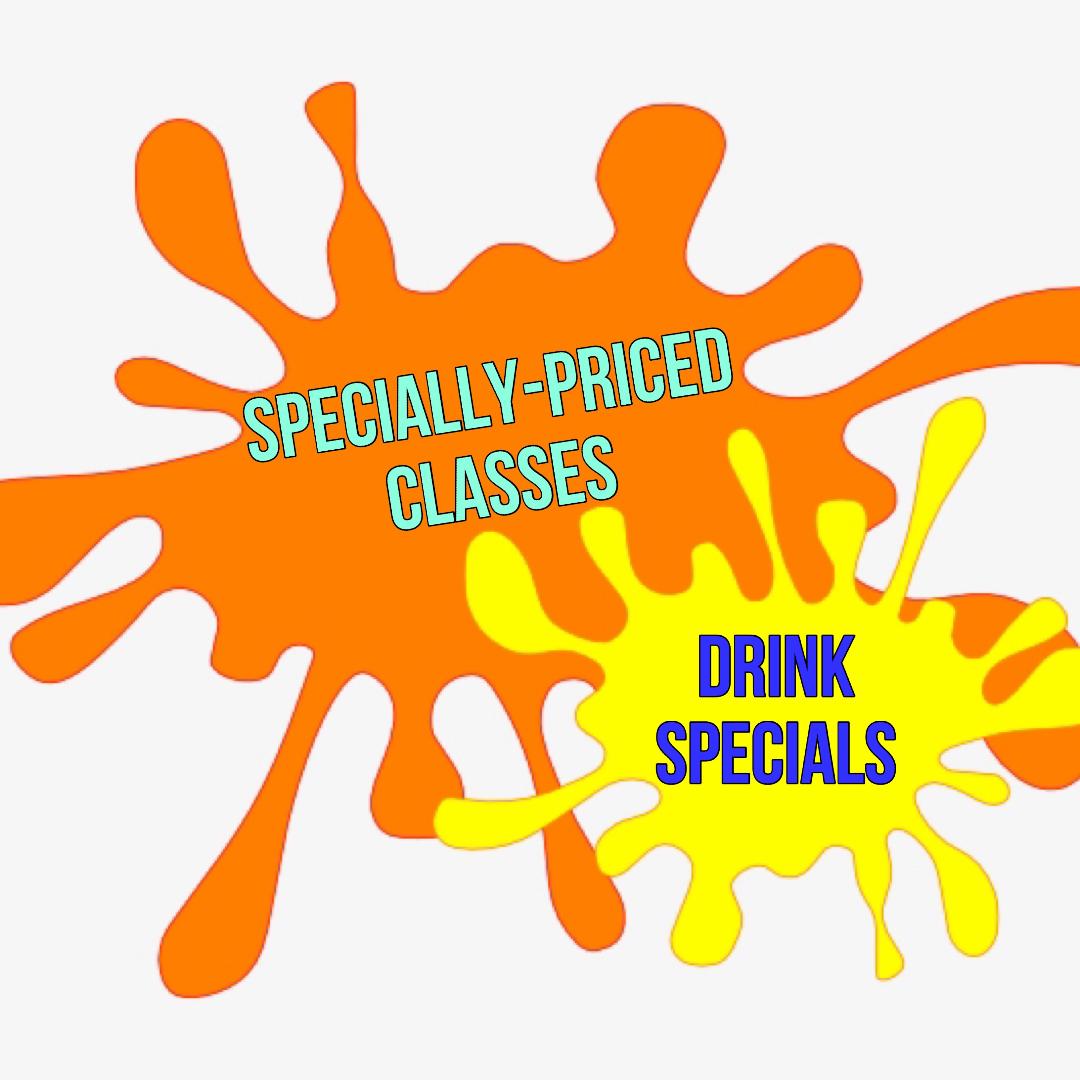 From specially-priced classes to drink specials, complimentary drinks, and more, we've got some great deals for you and your friends!
But first... remember that fabulous sale we've been talking about the past few weeks? It's Buy 3 seats, get the 4th one FREE and it's going on throughout the last few days of August. Just enter code: SUMMERVIBES at checkout! Take advantage of this special and invite all of your friends and family to join you for a class throughout the remaining days of the month; The More, The Merrier!
****Check out some of the specials we're offering during the rest of August and all of September (and be sure to check it often, as we're always adding new classes as the weeks go by!).
Here's What's Coming Up:
— $30 Tuesdays —
**Coming Up:
9/3 'Colorful Cow'
Featuring the Pantone's color of 2019, Living Coral, this cute colorful cow will be a cheery addition to your gallery.
https://www..../event/351937
9/10 'Poppies En Vogue'
Plum tones and silver accents make this a modern masterpiece.
https://www..../event/352420
9/24 'Autumn's Heirlooms'
"Autumn paints in colors that summer has never seen". This little trio of Cinderella pumpkins sets a charming scene that only fall can set!
https://www..../event/357057
— 'Freestyle Afternoons'& 'Freestyle Evenings' —
(formerly, 'Open Studio' Classes)
Unlike our traditional step-by-step instructor-led art class with an art instructor on stage... Open Studio time is designed to give you more flexibility and freedom. This is your chance to decide what you'd like to paint
((More about what this style of classes are all about)):
https://www....ssesallabout-
**Coming Up:
8/29
https://www..../event/348066
9/3
https://www..../event/348067
9/4
https://www..../event/356759
9/5
https://www..../event/348068
9/10
https://www..../event/348063
9/12
https://www..../event/348064
9/15
https://www..../event/357046
*More dates on our full calendar (link at the bottom of the page)
— 'Mimosa Mornings' & 'Mimosa Sundays' —
Enjoy a relaxing Sunday with a complimentary mimosa and then enjoy bottomless mimosas for the rest of the class for just $12! What a delicious Sunday Funday!
**Coming Up:
8/31 'Bubble Bliss'
Happiness is a long, hot bubble bath. Relax and feel the bliss
Special: It's 'Mimosa Morning'! Your first mimosa is complimentary!
https://www..../event/348055
9/22 'Classy And Sassy'
With her lovely flowered sun hat, Sassy is ready for the garden party.
*This is a NEW painting!
Special: Your class includes a Mimosa. Upgrade to bottomless mimosas for $12
https://www..../event/354306
— Family Days —
Come out and paint with the whole family (ages 8+). There's nothing like bonding over a fun and creative experience
**Coming Up:
8/31 'Curious Loggerhead Sea Turtle'
This curious Loggerhead sea turtle is ready to meet you. His impressionistic style makes him easy, cool and fun to paint.
https://www..../event/348308
9/29 'Foxy Winter Delight'
An adorable furry friend discovering the magic of winter.
https://www..../event/341673
We hope to see you soon for some of these specials! Who doesn't love to save money, while getting creative, enjoying some wine, and making memories with loved ones?! In addition to our public classes on the calendar, we also offer private events! It's all the fun of our regular classes but with the painting and guest list of your choice! From fun with friends, to team-building creativity with your co-workers, kids' parties, and more, we've got it all!
Celebrations:
https://www....ivate-parties
Team Building Events:
https://www....porate-events
Kids Painting Parties:
https://www....ainting-party
Mobile Events:
https://www....ainting-party
Share You can see our full calendar here! | Buy a Gift Certificate!