What Are Our 'Freestyle' Classes All About?!
Come out and get creative on your own time, in your own way with these special classes!!!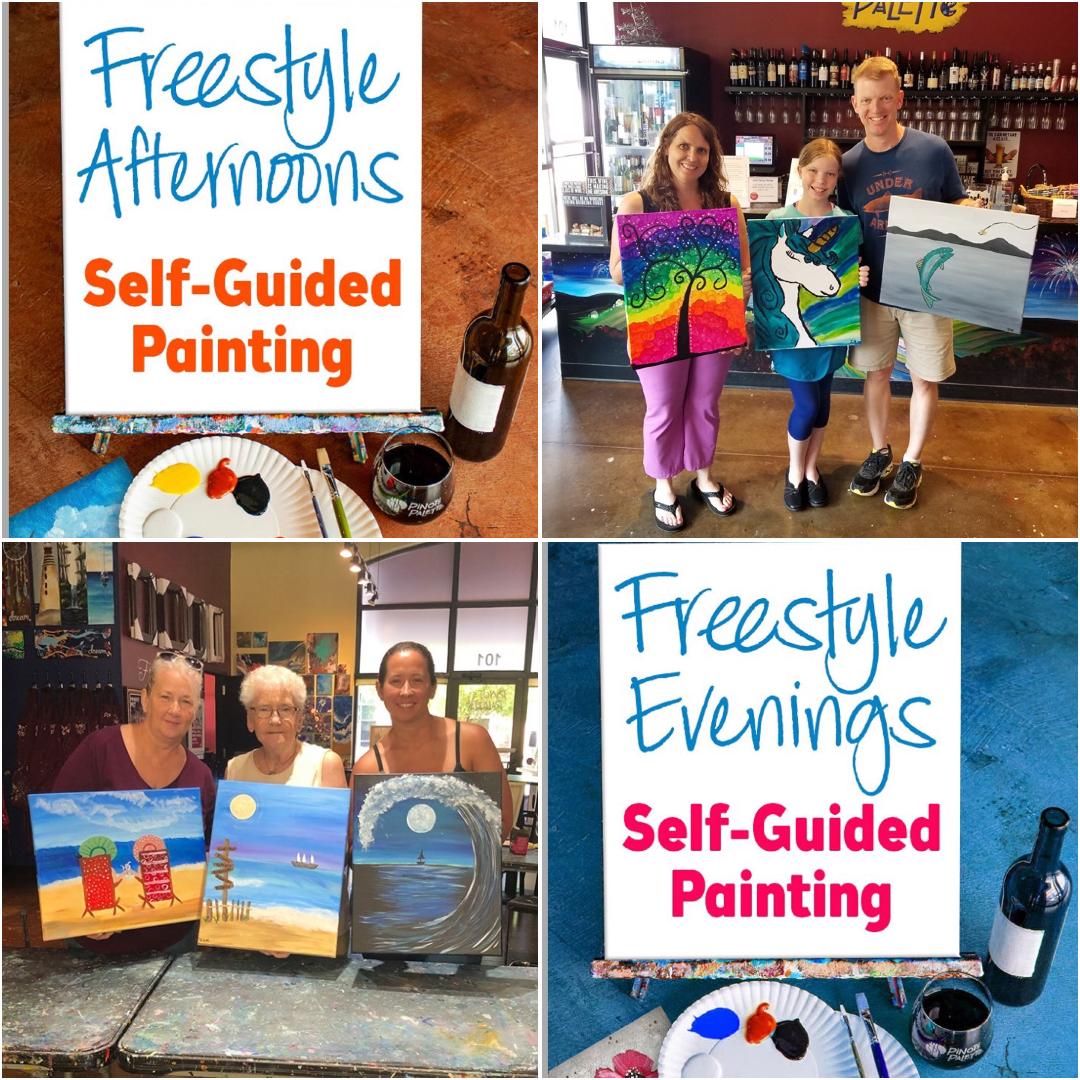 More than likely, you've seen our 'Open Studio' classes listed on the calendar throughout the years; We've been offering them for a while now and they've been very popular with our customers.
Starting in September, you'll notice that our 'Open Studio' classes are changing to something called 'Freestyle Afternoons' (sometimes, 'Freestyle Evenings').
Don't worry… these re-named classes are the exact same concept as our 'Open Studio' events.
While we know there are many of you who love this unique style of painting and wine class (and have been attending them for years), we also know there are many of you who are wondering exactly what are 'Freestyle' classes??
We're here to go over the basic info about these fun, carefree, and creative events. We hope to see you all soon at some of these upcoming classes!
***** So, What Are Our 'Freestyle' Classes All About? *****
In our 'Freestyle' classes, the way you make your art, and the time you take to create it is up to you!
The great thing about these classes is that you're working on the painting of your choice (not the one on the schedule for the day), in a time frame that you need (rather than being limited to the 2 hours of our usual classes), and you can talk as much as you want with your friends (no instructor will be interrupting your conversation with directions)!
** Just like our standard, guided classes, we'll provide you with the paint, canvas, brushes, and an apron to keep you clean (and wine and beer for sale, too!).
** You have 3 Options to choose from during 'Freestyle' Hours...
Each option includes all the supplies you need to complete a 16x20 Canvas.
((*Note: Smaller canvases are available for those under 13 years old for $15))
Option 1. Self-Guided Instructions.
Select from our Open Studio painting selections; and then with the help of self-guided instructions complete your painting
Option 2. Point and Paint.
Find something on our walls and do your best to copy it (all materials and canvas provided but no guided paint instructions...)
Option 3. aBe the Artist.
We'll provide everything you need for a fun day out: the brushes, the paints , apron, and your own bartender then sit down with some music and start to paint from your own imagination... Have an idea in your head? This is the time to paint it into reality.
If you've been to one of our regular classes, you know that there's an instructor who walks you through the step-by-step directions of the painting selection for the evening. It's a part of our promise that "anyone can paint, as we know our talented and encouraging artists are there to guide you slowly, help you each step of the way, and talk you through each technique.
While there won't be an artist at the front of the room, walking everyone through the same painting during the 'Freestyle' classes, there will be an artist (or two) on hand to provide plenty of help!!!
Our staff will be there, ready to assist you with anything you need, as usual; From pouring drinks and pumping paint, to showing you techniques and the ways to create your painting, we have a great team who will be there to help you out!
When you see 'Freestyle' classes on our calendar that means you can either register in advance or just walk-in during the time specified.
*((NOTE: We DO SUGGEST pre-registration for these events, as we do tend to sell out.))
We typically offer these classes during the week days and evenings so it's a great thing to come and do after work, or when you're looking for a way to fill the middle of your day!
Come in with friends and family to spend time together as you paint, drink, and have fun in a great environment with some excellent music; Come in for a date night or girls' night out, or just alone to relax and unwind after a long day! There's nothing like a creative experience and a glass of "liquid creativity" to help you de-stress and enjoy your time!
Feel free to bring your own food so you can enjoy some snacks while you paint! Beverages can be purchased from our bar, and we have some new delicious beers, along with our regular menu. Learn more…
New drinks:
https://www....satourstudio-
** You'll notice that our calendar lists options for both, 'Freestyle Afternoons', AND 'Freestyle Evenings' (*These are the same classes, except that some are held earlier in the day than the others, just like the titles imply).
Typically, our 'Freestyle Afternoons' are from 12(noon)-4pm; Arrive anytime AFTER 12PM and Finish painting by 4PM.
Our 'Freestyle Evenings' are usually from 5pm-9pm; Arrive anytime AFTER 5PM and Finish painting by 9PM.