Join Us For A Painting and Wine Class! Bring Your Friends Along To Make It An Event To Remember!
Curly Hair, Don't Care!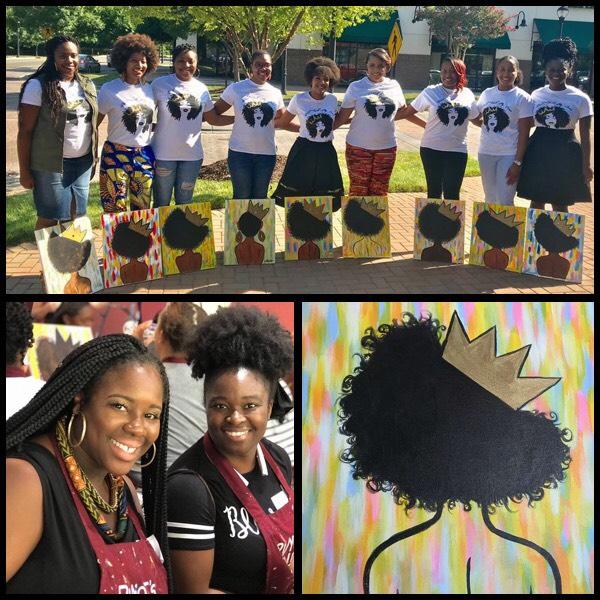 You never know what to expect in one of our classes!
We've seen surprise parties, sing-alongs when a favorite some comes on, and even a few marriage proposals! Our customers come in with large groups of loved ones, ready to have a great time together, bonding over a new experience; Some of our customers come in with smaller groups for a more intimate setting, spending quality time together; And some come in alone, ready to meet some great new people and make some fantastic art!
We've seen all types of people at various painting skill-levels and one thing always rings true: They leave the class, having made some great memories and a stunning, handmade work of art!
During a recent class, we had the honor of spending the afternoon with a lovely group of ladies who's topic of conversation for the afternoon was on 'hair politics in the workplace'. The class created a painting, titled, 'Queen Of Curls', one of our newer and very popular paintings depicting a strong and beautiful woman, sporting a voluptuous head of dark hair with a crown on top. The painting is customizable, allowing the painters to alter the hair color type and style, and tailor the body shape and surrounding colors to their likeness; However, obvious from the original design and title of the painting, this work of art was made to pay homage to the strong and fierce African American women of the world, representing their fabulous, dark and curly hair, and idealizing them as 'Queens'. We've offered this painting several times (the first was during Black History Month in February) and it has been a hit, each time! Be sure to look for it on our calendar in the future and come in to create this incredible work of art, yourself! This specific event included amazing food donated by sponsors and wonderful gift baskets, also generously donated. The women even had custom-made t-shirts that matched the painting, perfectly!
All in all, this class turned out to be an educational day, spent with incredible women during a fun-filled and inspirational afternoon!
For anyone who might be asking, 'What is the world is 'Hair Politics'?:
'Hair politics' is just as it sounds; It's the politics of hair…. African American hair, that is.
It encompasses everything from the in's and out's of African American hair, and goes well into theories and explanations about how and why the way black women wear their hair. Their hair styles, the products they use, the length, and how much time is spent on it each day, all adds up to so much more than how it looks. In addition to how it 'looks' the politics of hair is much more about how hair contributes to how someone is 'perceived'. Short or long, straight or curly, silky or frizzy, dyed or natural… Sometimes it's about preference to the hair-owner, and much of the time, about what is preferred or acceptable to everyone else.
Now, can it be said that any hair style, worn by any woman or man of any race, assists in offering us a visual account of who they are? .....Of course it can!
When we see someone for the first time, without knowing them, the only thing we can base who they are as a person on is the way they look. Unfair, yes… but it's old as time and just the way of the world. The women in this group, might have been specifically discussing the ins and outs of African American women's hair, but it all relates. We were honored to have learned so much about the growly-popular topic and expand our knowledge on it, creating a need for us to search for more information not he subject.
There are so many more cultural icons and other media-driven information to help us to understand things that we used to not, making it a better world to live in, and a better time to be alive. Indulge in some online articles (just Google 'What is hair politics?'), check out some books or movies, and what this interesting and absolutely, culturally-important, topic is all about.
Books, Movies, and Online Sources:
*****
"In the Marvel movie Black Panther, natural hair is used as a social identifier that defines characters. The queen and the older women wear elaborate dreadlocks, the warriors are bald and bold. Nakia, a secret agent and a love interest of the king, wears Bantu knots, an artistic African hairstyle. Shuri, a young tech genius, wears braids, which are popular among younger black women. The film also uses black hair symbolically to show the rejection of both patriarchal and racial expectations shaping the standards of beauty. In a particularly powerful scene, Okoye, a warrior and army general, rips off her wig and throws it at an adversary during a fight. In doing so, she rejects such accessories, which are often used to soften the blackness of women by hiding their natural hair."
*****
Do yourself a favor and check out a documentary called, "Good Hair," which won a jury prize at the Sundance film festival in 2009.
The movie, made by Chris Rock, explores the lengths black women go to get long, straightened locks, from a $1,000 weave on a teacher's salary to schoolgirls having their hair chemically relaxed.
In the face of cultural pressure, the thinking goes, conformists relax their hair, and rebels have the courage not to. In some corners, relaxing one's hair is even seen as wishing to be white.
*****
'Nappily Ever After'
A novel and also a film on Netflix. Looks amazing with inspirational courage strength and being happy with who you are.
What happens when you toss tradition out the window and really start living for yourself?
Synopsis: Venus Johnston has a great job, a beautiful home, and a loving live-in boyfriend named Clint, who happens to be a drop-dead gorgeous doctor. She also has a weekly beauty-parlor date with Tina, who keeps Venus's long, processed hair slick and straight. But when Clint--who's been reluctant to commit over the past four years--brings home a puppy instead of an engagement ring, Venus decides to give it all up. She trades in her long hair for a dramatically short, natural cut and sends Clint packing.
It's a bold declaration of independence--one that has effects she never could have imagined. Reactions from friends and coworkers range from concern to contempt to outright condemnation. And when Clint moves on and starts dating a voluptuous, long-haired beauty, Venus is forced to question what she really wants out of life. With wit, resilience, and a lot of determination, she finally learns what true happiness is--on her own terms. Told with style, savvy, and humor, Nappily Ever After is a novel that marks the debut of a fresh new voice in fiction.
Buy the book:
https://www....dp/0609808982
*****
-Check out this excellent article from the New York Times, delving further in-depth to the topic:
https://www....n/27SKIN.html
-Also, please enjoy this well-written, informative, and amazing paper, written by a student at Minnesota State University. The student actually polls African American students and talks with them about their perspective on the topic of hair in the African American community, including their own experiences.
https://corn...3&context=jur
Make Art, Make Conversation, Make Memories!
Aside from learning more about a popular and steadily-growing topic from this blog entry, we want you to leave with some greater knowledge...that of the many, amazing classes we offer!
You can plan a private party with us for anything you want to celebrate! It doesn't have to be a birthday, wedding shower, retirement, or any other type of typical reason to celebrate. We've seen private parties for book clubs, craft-makers, and other common interest groups!
We even had a group of 'Muderinos' come in to celebrate their love of murders and mysteries!
View more information about booking a private event and what this unique group did for their party, here:
https://www....privateparty-
In addition to our private parties, we've hosted dozens of corporate events, mobile parties, and hundreds of public classes! You can get all of the information you need on our website, or on the links (bottom of the page) to the pages that directly correspond with the type of class you want to sign up for! All of our classes are a lot of fun and beneficial in many ways! In all of our classes we offer a fun and creative environment to make art in! We have a wide selection of wine and beer, some great playlists for you to enjoy as you paint (when you book a private party with us, YOU get to pick the music!), will supply you will the items you need to paint, and more! One of out talented instructors will walk you through the class, step-by-step (except for our 'Open Studio' classes), and the only thing that differs from class to class is the people you're surrounded by and the style of party you have!
We hope to see you soon for a class at our studio, whether it's for a private party or any other type of class. If you're looking for something fun to do in or around the Raleigh-Durham area, we make the perfect event for everything from a fun and unique date night, an awesome girls' night out experience, and remember that we even offer private events! When you view our classes on our website, you'll be viewing our schedule for our public classes, but you can also book a painting party with the guest list of your choice! Come in to celebrate a birthday, bridal shower, reunion, retirement, and more with friends and family, sharing their artistic sides, together. Make memories that will last a lifetime with a souvenir to treasure forever with one our classes.
*Learn more about our private parties, here:
https://www....ivate-parties
We also play host to tons of corporate events, too! Why not book your next work party or team building event with us? We offer several styles of paintings that incorporate team building strategies, encouraging the whole office to work together, creating a stunning world of art!
*Read more about corporate events, here:
https://www....porate-events
Finally, in addition to out studio parties, we offer mobile events, off-site! You choose the location and we'll come to you with all of the supplies!
*Learn more about out mobile events, here:
https://www....ainting-party