Brand New Artwork, Just For YOU!
August is here and with it comes some brand new artwork in the studio!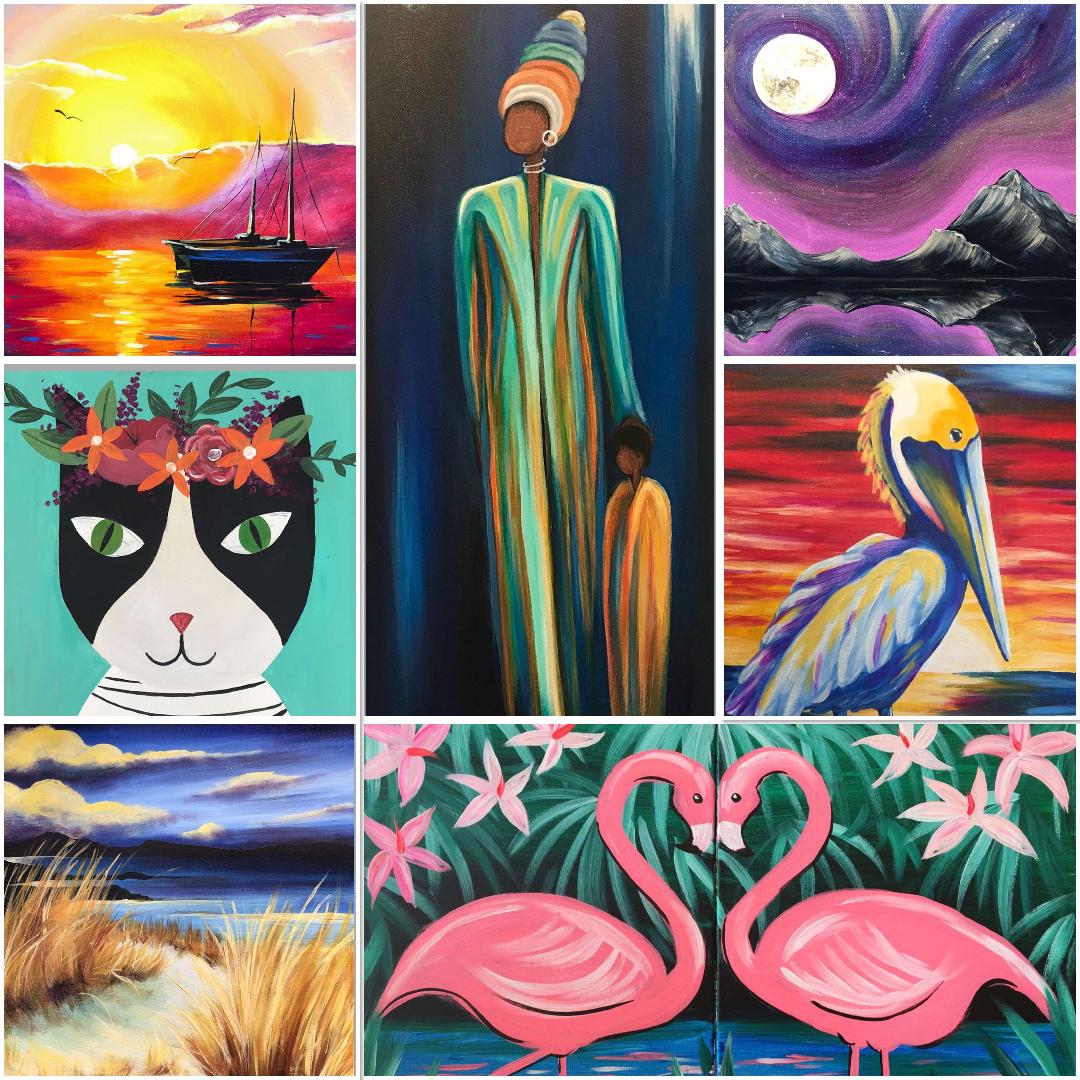 Pinot's Palette artists throughout the nation have been coming up with some fabulous new paintings for all of the studios to use in their classes. We've been loving the creative, new masterpieces and are eager to share them with our customers so you can come in and create them for your own! Hang them in your house, give them out as gifts, or just use each class to build more and more painting techniques as you go….
However you choose to utilize our classes, you're sure to have a great sense of accomplishment at the end of one of our 2-3 hour events! Invite all of your loved ones to come in and paint and drink wine with you ALL August long for our Summer Sale!
Buy 3 seats, Get the 4th one FREE when you enter code" SUMMERVIBES at checkout!
Learn more:
https://www....mer-longsale-
Here's what's coming up this month::
8/2 'Just After Sunset'
A stunning sky at sunset with dark and dramatic silhouettes
https://www..../event/339189
8/4 'Proud Mama' LONG CANVAS
Colorful woman and child with a cultural flare. Be sure to sign ASAP, as this is sure to be a popular one!
https://www..../event/345884
8/7 'Kodiak Journeys'
This bold design is a perfect addition to any rustic decor. Neutral colors and a lot of fun detail!
https://www..../event/341128
8/9 'I Love You. I Know.' DATE NIGHT!
While this is not a brand new painting, this IS the first time we're offering this popular artwork as a 'Date Night' painting!
Why travel solo when you can escape the dark side of life with the one you love? Come in and create this famous movie scene!
https://www..../event/346721
8/10 'Aurora Over The Mountains'
On rare occasions, the Aurora Borealis appears alongside the moon. The result is magical.
https://www..../event/345894
8/11 'Seas The Day'
A light and airy painting of a boat on the water to soften and calm any room
https://www..../event/346645
8/14 'Dream'
This painting has been offered one other time in our studio, but it's popularity inspired us to create it on a LONG canvas!
These whimsical, colorful branches look like they're straight out of a fairy tale, and they remind us to never let go of our dreams!
https://www..../event/345914
8/17 'Peek-Al-Paca' FAMILY DAY!
Join us to paint this adorable alpaca with the whole family!
https://www..../event/345897
8/17 'Flirty Flamingos' DATE NIGHT!
Show your love and paint this bright, bold pair of flamingos! Two Canvases= One Painting. Make it a Date Night!
https://www..../event/345895
8/17 'Paradise Bay'
A beautiful, warm, and vibrant Paradise Bay seascape.
https://www..../event/345910
8/23 'Pelican At Sunset'
Resting from a day of fishing as the sun sets. The best way to end any day...sunsets never get old!
https://www..../event/345909
8/24 'The Cat's Meow' FAMILY DAY!
https://www..../event/342775
8/25 'Dreams Of Lunar Streams' LONG PAINTING
A fantastical childhood adventure is portrayed in this surreal landscape, featuring the silhouette of a young boy traveling by boat in a stream that leads him to an unexpected source.
https://www..../event/345912
8/31 'Neon Retro Beach' BLACK LIGHT PAINTING!
A blacklight pantning class with a very retro (80s style) design!
https://www..../event/348309
8/31 'Sunset On The Dunes'
A beautiful, dramatic sunset on the dunes.
https://www..../event/348310
We'll see you soon and remember to bring your friends and family! The more, the merrier!
Keep in mind that we offer private parties, in addition to our public events, listed on the calendar!
Celebrations:
https://www....ivate-parties
Corporate/Team-Building Events:
https://www....porate-events
Mobile Parties:
https://www....ainting-party
Kids' Parties:
https://www....ainting-party