Paint. Drink. Have.......Babies??
We've been experiencing quite the baby boom here at Pinot's Palette, Brier Creek! Not 1... or 2.... but 3 of our artists have been pregnant over these past few months and we couldn't be happier to share the news!
*Photo, below shows all 3 artists, pregnant, together!
(*left to right) Stephanie, Karleigh, and Sara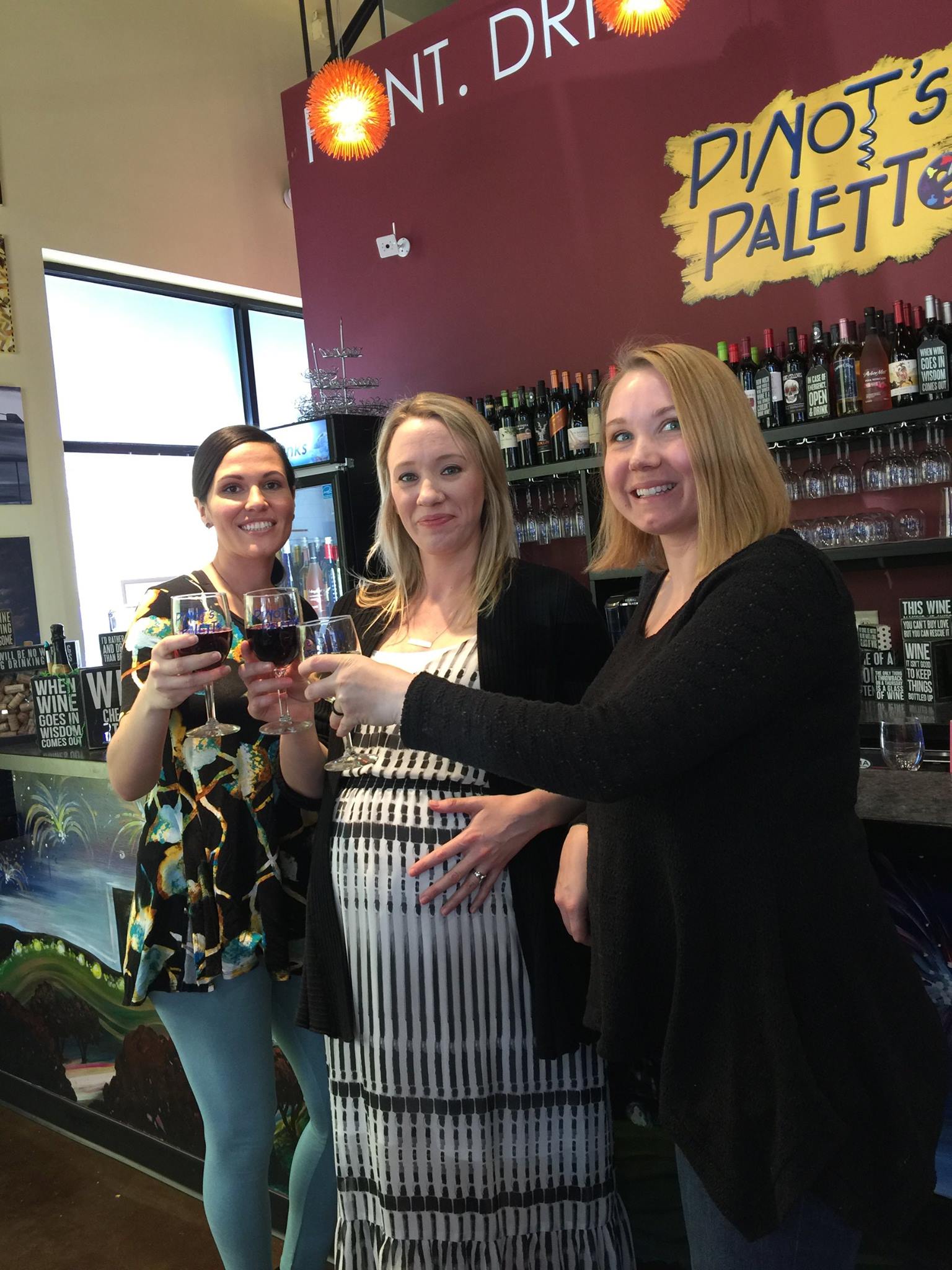 *Photo on main page, shows all 3 babies together!
(*Left to right) Paxton, Niko, and Izzy!
Three of our artists have recently welcomed their babies into the world!! We are so proud to have photos to show off and to have so much baby love coming through our studio lately!
The first to deliver of our three artists, was Karleigh! She gave birth to her baby boy, Niko, in April. We had an amazing baby shower at Pinot's Palette for her-- **Check out some detailed info about hosting a baby shower private event in our studio HERE:
https://www....nd/babyshower
Our second artist, Sara, was next in line, welcoming baby, 'Izel Samantha' into the world on May 27! We were so in love with her incredibly stunning body-painted photos, we had to share! Many of us have seen or heard of the idea of getting a baby bump painted for a unique and gorgeous photo idea, but leave it to a very creative artist to take it to the next level! Not only was her lovely bump decorated, but her face, arms, and upper body were colorful, as well. This was such a great photoshoot idea and such a perfect way to remember her pregnancy and play up her creative side. Pinot's artist Molly Chopin and Pinot Alum Alexa Eliana were the amazing talents that painted Sara.
Our third artist, Stephanie, is the newest member of 'Team Mommy', as she recently had her baby, Paxton! We are proud to share the photo, on the first page, with you, of all three babies, who are already BFF's!!!
___________________________________________________________________________________________________
We love babies as much as everyone else, and what's a better way to host a shower, than at a paint studio?!
Read more about booking a baby shower, or other private event, here:
https://www....rtybabyshower
Check us out on the link below to stop in for a class or even to book a private party or baby shower!
Share Sign up for a painting class with our studio today! | Book A Baby Shower Today!