Create A Memorable Baby Gift With Us!
Throughout the past few months, we've had quite the baby boom, here at Pinot's Palette in Brier Creek! Two of our artist have recently given birth, while the third one is due in August.... It's been an exciting time around here!!!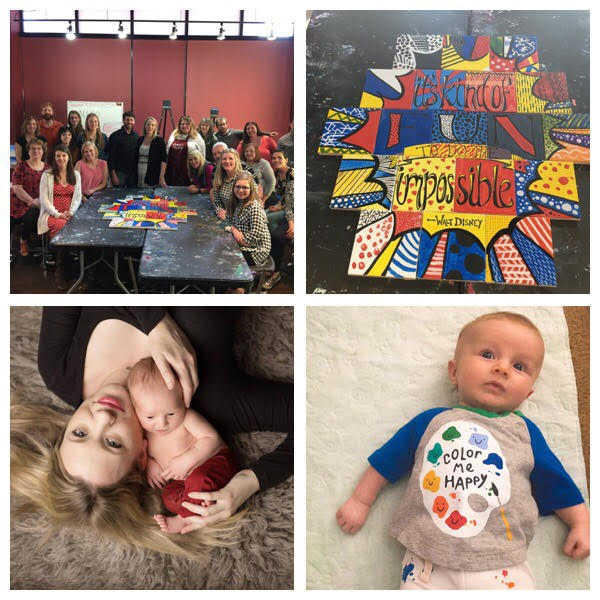 We were honored to host a baby shower for our very talented artist (and new mommy), Karleigh!
(*Karleigh and baby boy, Nikko, pictured, above).
Friends and family came together to create this adorable and very unique artwork, in the form of a jigsaw puzzle painting. This style of painting class is just one of the many pieces you can create at our studio when you book an event with us! The Walt Disney inspired painting made a perfect addition to Karleigh's baby's nursery and the best part: all of her loved ones added a piece to the overall painting, making it incredibly special.
This is a work of art that will truly be treasured for all time, and something that can be done in a variety of ways!
At Karleigh's party, each person painted a piece of the puzzle, using a color scheme that worked with the nursery (and having it pre-sketched to the design and words of choice...). Once everyone added their creative touch to their mini canvases, they pushed them together to reveal the final masterpiece!
It turned out so adorable and is a truly unique piece of artwork for the nursery! ((Let's see thousands of other people order THAT decor out of a Pottery Barn Kids catalog....)) :)
The amazing thing is that YOU, TOO can host a baby shower in the same way! This puzzle-style of painting also works well for a variety of special events.... think: bridal shower, wedding shower, anniversary gift, retirement gift....etc. The list of ideas and occasions is endless!
When you check out the private party page, you can see all of the options we have available. If the puzzle painting isn't your style, we have other fun ways to create artwork, as well! From collaborative, large paintings to mystery paintings and musical paintings... we've got a lot of fun ways to celebrate creatively!!!
(*Information on all of our private party paintings can be found on the link, below)
For more information on our private parties or to book one, click on the link, below!
You can check out another baby shower painting, along with more information HERE---https://www.pinotspalette.com/briercreek/blog/pinot-state-of-mind/babyshower
Share Reserve a private party with us!!! | See all of our lovey artist mommies!