Paint Your Pet For A Good Cause!!!
Coming up on January 27, at Pinot's Palette, Brier Creek, you can paint a caricature of your pet and help homeless animals in the process!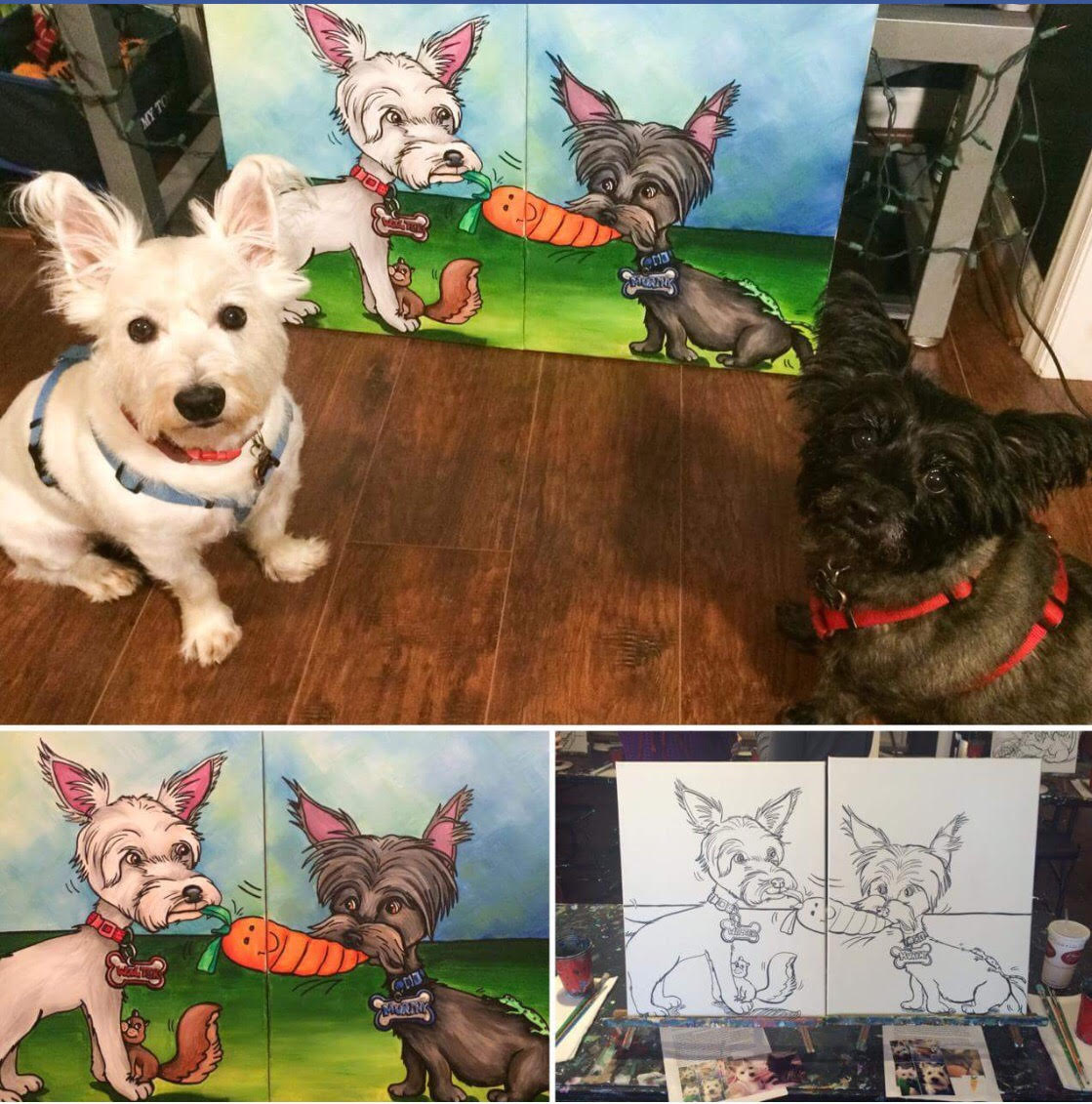 Capture your Furry Friend's personality in a humorous and whimsical way! You will be taught to paint your pets caricature based what our artist creates from the photos and personality questionnaire you submit on your pet. Each caricature is unique and personalized to your pet!
Once you sign up, you'll send us a photo of your pet, along with a questionnaire that tells us about you pet's personalities and favorite things! Our team of talented artists will create a sketch of your beloved animal, and have it waiting for you to paint when you come in the day of the class.
***SIGN UP ASAP, as the deadline for registration ends on January 12!
We'll provide the paints and plenty of help with mixing the colors that match your pet and helping you with your background options, too! Unlike our typical painting and wine classes, this class is extra special! Aside from painting something that means so much to you, you'll be truly creating a one-of-a-kind work of art that you'll be proud to show off and cherish forever! Where our classes are usually everyone painting the same picture that our instructor is teaching for the class, this time, everyone's painting will come out completely unlike anyone else's!
It's always fun to walk around and see the creativity and individuality that our customers put into their pet portraits! Pet caricature sketches always come out silly, fun, unique, and adorable as they capture the best parts about your pets and allow you to make them come alive with color, texture, and additional, personal touches you add to them!
It's not always easy to get a great photo of your pet… We've found a few helpful tips for taking great photos of them, and wanted to share so you can get that perfect pic of your fur baby and send it in to us, ASAP!
https://www....otsofyourpets
PAINT IT FORWARD!
One thing all Pinot's Palette studios do, is 'Paint It Forward'. Pinot's Palette has a program where we host classes, and donate proceeds from the class to a charity or nonprofit organization. We work with groups, mainly local, but also across the nation, to help aid in financial relief, in any way we can. We always encourage our customers to come in to a class, pay to paint, as they would a normal class, and then we donate to the organization in need.
WHEN YOU SIGN UP FOR THIS CARICATURE CLASS,
YOU WILL BE HELPING HOMELESS PETS, IN NEED:
Not only will this class be an exciting and memorable experience, but one that will help the quality of life for some loving and precious shelter pets, too.
$42 from each painter will go directly to a non-profit organization called, 'Saving Grace'!
'Saving Grace' is a non-profit, 501-C3 organization, based in Wake Forest, NC with a mission of helping homeless animals find permanent and loving homes. Dogs are selected from shelters in NC where lack of space keeps them from being put up for adoption. When dogs enter 'Saving Grace', they are evaluated for temperament and suitability as a family pet. 'Saving Grace' dogs do not live in kennel runs; they have access to fresh air and space to run and play with other dogs. 'Saving Grace' strives to ensure the best match with a potential new family. Prior to adoption, 'Saving Grace' dogs receive all necessary medical care. 'Saving Grace' relies on private donations and adoption fees to support it's mission with no State assistance.
**REMEMBER that the registration for this class ENDS ON JANUARY 12!!!
Please include your phone number in your reservation. Once your reservation is received you will be sent a questionnaire to be filled out. Reservations/questionnaires must be received no later than Friday, January 12.
*Since this is a charity event, no discount codes will be allowed for this class.
Share https://www.pinotspalette.com/briercreek/event/208714 | http://savinggracenc.org