Holiday Artwork That Will Make Your Home Merry & Bright
Join us for a class where you'll make some hand-painted decor to use for years to come!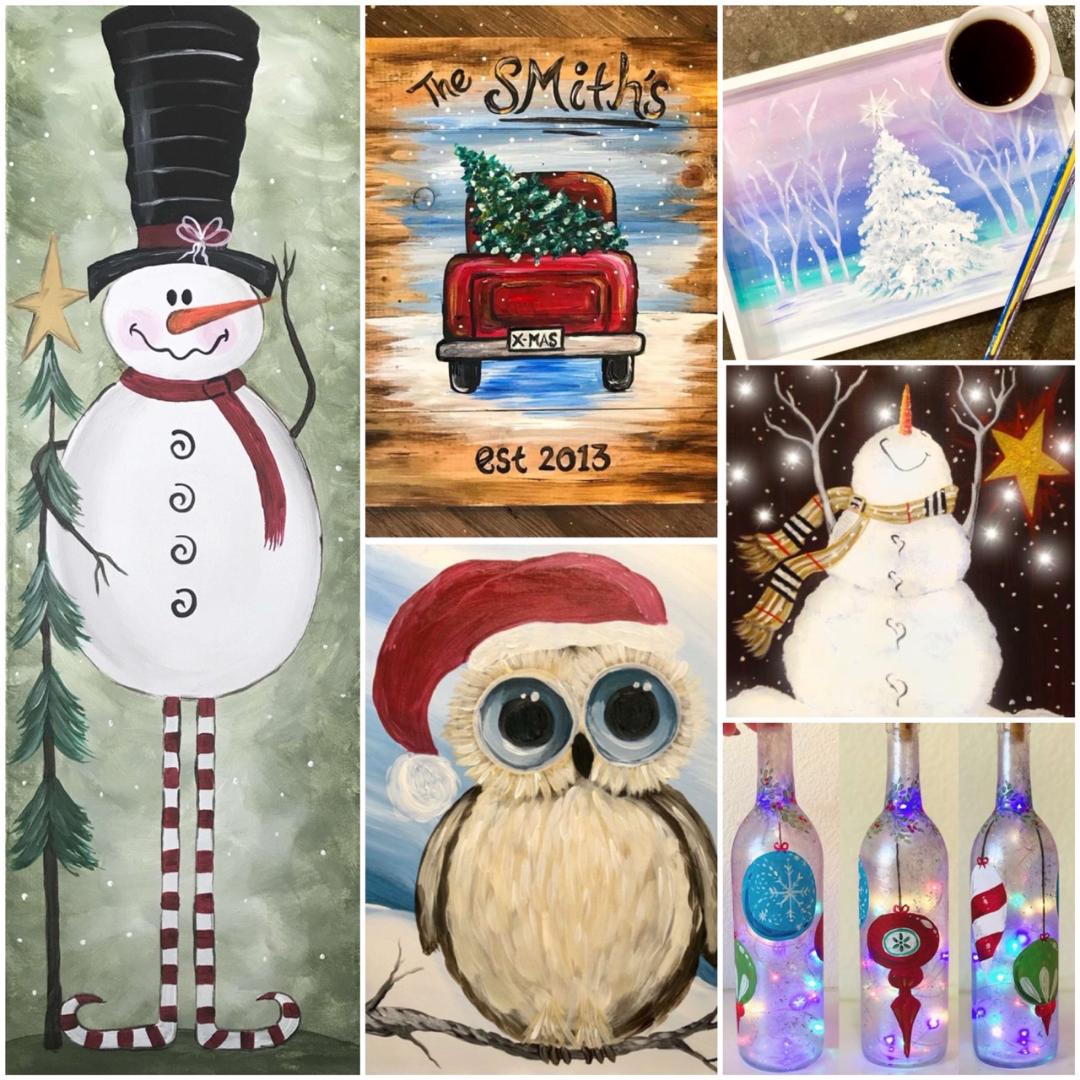 There seems to be quite the debate going on about whether or not to start decorating for Christmas.
While studies have proven that decorating early can make you happier, many people feel that it's tradition and the right thing to let Thanksgiving have it's special time of year, before putting up the tree.
Whichever side you're on, we've got you covered! You can join us all month long to make some fun and festive decorations to hang up in your home now, or hang on to for when turkey day is over.
It's such a special and meaningful thing to have some handmade treasures to add in with your other holiday decorations; Taking the time to get in touch with your inner-artist, while making memories with loved ones is always a wonderful thing, and having a hand-painted souvenir to remember the fun is the best part!
Join us for some of the many Christmas and winter-themed artwork we're offering this month and use it to hang in your home after and always treasure. Attend a few different classes and not only will you get really good at making art, but you'll also have a collection of gifts for your friends and family this holiday season!
Who doesn't love a handmade gift from the heart?!
!!AND GUESS WHAT?! We have a great deal going on all month long where you ca reserve 5 Seats, and get 1 Free!
Use code: FRIENDS at checkout!
***Join us for some of the following classes:
(More paintings can be seen on our calendar!)
11/11 'Crimson River' - WOOD ROUND
*This is our first-ever large, round wood surface that we're painting on! It's sure to be a popular class and tons of fun!
https://www..../event/374871
11/13 DIY Chunky Knit Blanket
During this one-of-a-kind event, we will guide you step-by-step through hand knitting a warm, soft chunky knit blanket. No needles or knitting experience is required and all supplies will be provided.
https://www..../event/375493
Note: *There will be another blanket class on 11/26
https://www..../event/392598
11/16 'Little Red Truck' - WOOD PALLET
*Customize this popular painting with your family's last name!
https://www..../event/351035
11/17 'Vintage Snowman' - LONG CANVAS
This charming vintage snowman's personality just jumps off this canvas!!
https://www..../event/351002
11/19 'Snowflake Dance'
Celebrate the winter season by painting this cold weather goddess!
https://www..../event/370552
11/20 'Frosty Ornament' - WINE BOTTLE
Frosted wine bottle with four festive and totally customizable ornaments.
https://www..../event/375138
11/22 'Perfect Tree'
Enjoy making this painting a little more personal with the addition of a family name, initial, or quote on the back of the truck!
https://www..../event/375334
11/23 'Hootie Christmas' - FAMILY DAY
Let's make celebrating Christmas a hoot with this cute little winter owl!
https://www..../event/376522
11/24 'White Christmas' - TEA TRAY
This cute tea tray makes you want to cozy up with a good book and treat yourself to day in from the cold.
*What a cute gift this would make!!!
https://www..../event/375136
11/27 'Hanging With Rudolph' - FAMILY DAY
Rudolph is so endearing with his quirky expression. This is such a fun painting for people of all ages.
https://www..../event/377346
11/29 'Cheerful Moment'
Get into the holiday spirit with this joyful snowman ornament. The warm glow from the colorful lights will fill you with Christmas cheer!
https://www..../event/351033
11/29 'Winter Lights' - BLACK LIGHT CLASS
This painting offers a beautiful, winter take on the Northern Night Lights. This snowy, bright, eye catching painting looks great on its own, but what makes it even better is it can glow in a black light, or you can string lights through it for some extra glow!!
https://www..../event/375326
11/30 'Snowman's Bliss' - ILLUMINATE IT!
Add LED Lights for just $5
This snowman is livin' his dream! A beautiful snowfall on a dreamy winter's night, with only a gingerbread star to light the sky. He can play until his heart's content, while little ones are tucked in bed! This charming painting will put a smile on your face and brighten your heart!
https://www..../event/376531
11/30 'Under The Mistletoe' - DATE NIGHT
Nothing is cuter than painting these Snowmen for a Christmas date night.
*Enjoy creating half of the painting on your canvas, while your date paints the other half on theirs!
https://www..../event/374873
11/30 'Wishful Snowfall' - ILLUMINATE IT!
Add LED Lights for just $5
The trees have lost all their leaves; the skies have turned gray and cold. As we lay warm in our beds we are wishing for that very first winter snowfall!
*This is a beautiful, neutral painting that will fit perfectly into any room!
https://www..../event/377331
We look forward to seeing you for some of these classes, and be sure to check out the December calendar, as it's already filling up with some great events!
If you're looking for a great place to hold your holiday party this year, Pinot's Palette makes the perfect place! From corporate parties to family and friends get-togethers, a unique and creative experience is always a good time!
Learn more about these private parties:
https://www....inotspalette-
**And be sure to keep our gift certificates in mind as thoughtful gifts, too! :)
A painting class is great fun for anyone so give someone the gift of an experience this year!
Cheers!
Share View our full calendar! | Gift certificates make GREAT GIFTS!