Holiday Outfit Ideas For 2019!
Fa La La La Fashion!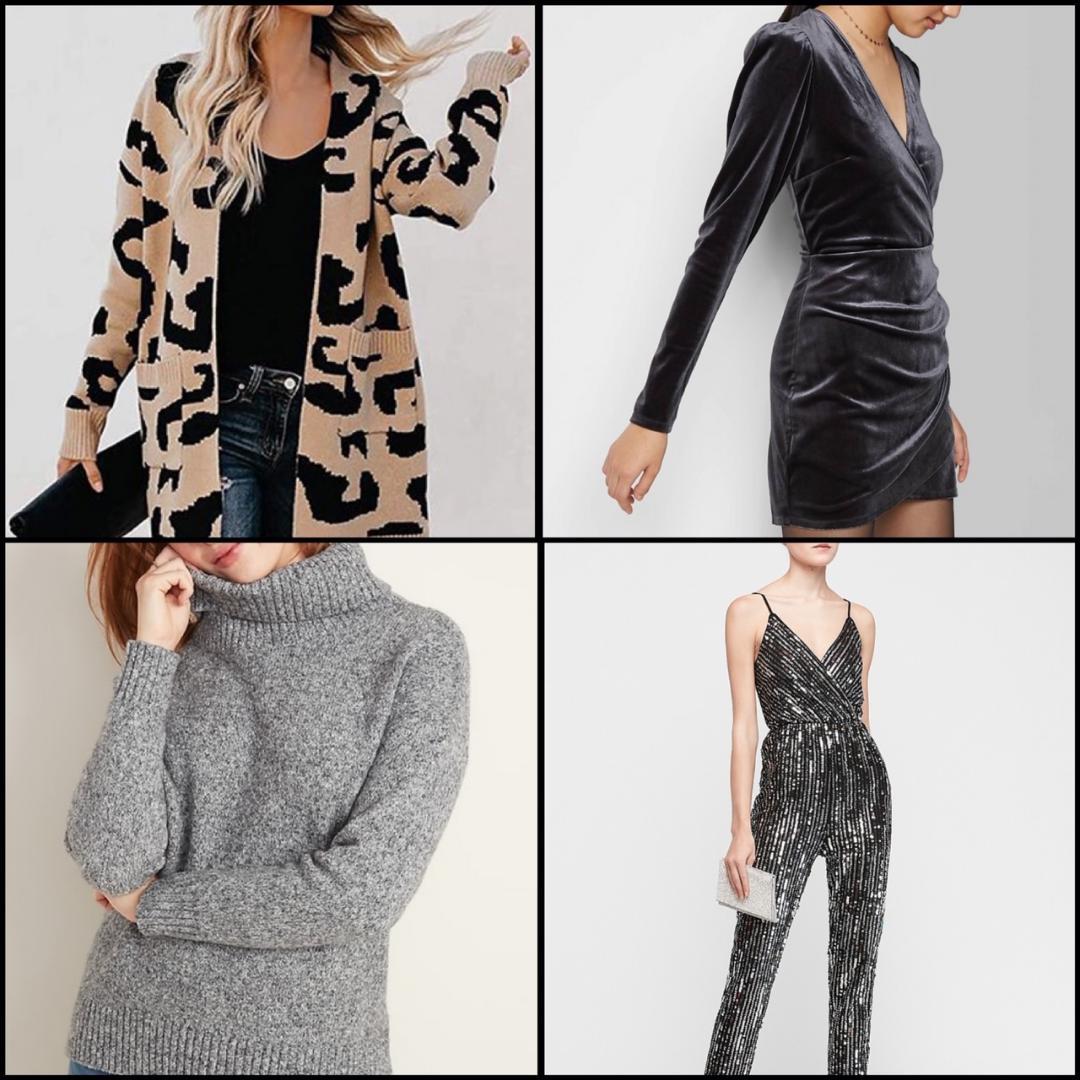 This season, we're typically out and about more than usual with shopping, tackling those to-do lists, attending events, and other traditional activities with loved ones.
We've listed some super cute outfit ideas that require little to no effort and look really stylish and put together. The pieces we're highlighting today will work for the planned outing that we've suggested, AS WELL AS any other day for the rest of Fall and Winter! You can mix and match them with other staple pieces in your wardrobe to wear them over and over again, without looking the same each time!
Have fun getting dressy and festive this season and check out these ideas for outfits:
------— Black Friday Weekend SHOPPING ------—
Think comfy layers! You'll be moving and walking a lot and the temperature changes throughout the day (& depends on whether you're outside or inside a store with a lot of people).
- Denim Leggings
https://www....-leggings?p=2
- Soft Long Sleeved Shirt
https://www....-page-content
- Warm Knit Cardigan
https://www....-page-content
- Comfy, Yet Stylish Shoes:
(Booties):
https://www....&gclsrc=aw.ds
(Slip-On Loafers):
https://bird...aAm57EALw_wcB
**************************************************************
------— STAYING AT HOME ------—
Whether it's wrapping gifts and sipping cocoa, or decorating the house and spending quality time with family, you want to be comfy and cozy, inside away from the cold!
If there's one thing that we've seen in many store this season, it's the oversized leopard print cardigan. From Target to Nieman Marcus, this seems to be the hit of the season and for good reason! It's warm and comfy, easy to take off and on with the temp changes, and since leopard print is to be treated as a 'Neutral', will look great with just about anything! Search for one online or check out the link for the one you'll see in the photo above! Pair it with a comfy white T-shirt, some leggings and cute boots and this outfit will work on many levels!
* Leopard Cardigan
Step up your sweater game this fall with a fun animal print cardigan.
There are two different versions of the cozy, knit cardigan — there's a longer maxi style that falls around mid-calf and another shorter version that hits just above the knee. Both sweaters feature two large pockets on the front and drape perfectly over the shoulders. Customers say the cardigan's material is knit thick enough to keep you warm on those chilly fall evenings.
— Buy it:
https://www....anguage=en_US
* Slouchy Turtleneck Sweater for Women
Warm, comfy, and stylish, this sweater (shown above) is a great addition to your favorite pants or skirt!
— Buy it:
https://oldn...-page-content
**************************************************************
------— CHRISTMAS EVE ------—
Many people dress up to spend time with family, enjoy a dinner, night at church, or other traditions! Have fun with these festive and stylish ideas:
*Pleated Midi Skirt
This stunning and comfortable skirt is perfect for the holiday season. Pair it with a plain t-shirt and your outfit is complete.
— Buy it (*Green):
https://us.s...aAsHnEALw_wcB
— (*In Red):
https://www....&gclsrc=aw.ds
*A Wrap Dress
A loosely fit wrap dress is great for the holidays. It's simple, but you can still dress it up with fun accessories.
https://www....Dress?id=5449
**************************************************************
------— CHRISTMAS DAY ------—
Snuggly, warm, and comfy, while looking put together is easy with the right combination of pieces! It you're going more casual with your outfit, throw on some fun earrings or a necklace to dress it up a bit!
*Turtleneck Sweater Pullover
Comfy - Check! … Stylish - Check! … Can Be Dressed Up or Dressed Down? - Check!
This sweet, chunky sweater dress is perfect with some leggings as an over-sized sweater, OR, paired with tights and boots! It's the perfect blend of casual and dressy for any occasion!
Pair this oversized sweater dress with your favorite tights and booties and you'll be as festive as can be on December 25th!
— Buy it:
https://www....[src|[ch|[lt|
**************************************************************
------— NEW YEAR'S EVE ------—
Get dressed up for a night out on the town, a party with friends, or just for a fancy night in with your significant other! Happy 2020!
*Side Slit Velvet Dress (photo above)
Rock this velvet material which is very in right now and look sleek while doing it!
Think this dress is too much for Christmas Eve or Day? It's actually perfect when paired with a cardigan.
— Buy it:
https://www....&gclsrc=aw.ds
*Sequin Wrap Front Jumpsuit
Sequins have held their own for as log as they've been around, never NOT being in style! When it comes to glitz and glam, these sparkly outfits will work perfectly while you dance the night away!
— !! Grab this specific one (photo above) at a big discount:
https://www....&gclsrc=aw.ds
**************************************************************
------— BONUS:
Fall and Winter is the time for Plaid (or 'Tartan') to shine!!!!
This timeless pattern has been gracing us with it's lovely presence for centuries, but paired with the right ensemble, it will always stay modern! The amazing thing about this pattern is that you can look rustic and rugged, or glammed and classy, depending on the size of the plaid, the colors, and how you wear them! How versatile!
Pair some plaid pants or a skirt with a solid colored top, some great jewelry and shoes for whatever occasion they call for and you're sure to look perfect in any family photos!
- Skirt:
https://www....tedColor=8351
* Pants:
https://www....aAo6sEALw_wcB
- Blazer:
https://www....&gclsrc=aw.ds
* Flannel button up:
https://oldn...-page-content
- Earrings:
https://www....aAvQCEALw_wcB
_____________________________________________________________________
If you're looking for some fun ways to spend the holiday season, come in for a painting and wine class! Our studio makes a great place to spend time with friends and family as you catch up with one another and bond over a creative experience! Make some artwork AND great memories with one of our classes, and be sure to keep us in mind for gift ideas, Balck Friday Weekend deals, and even your holiday party this year!
*Black Friday Weekend:
https://www....alsjustforyou
*Gift Certificates:
https://www....-certificates
*Book you party with us:
https://www....inotspalette-
See you soon and have a wonderful holiday season! Cheers!
Share View our class schedule! | Buy some gift certificates!