Find Your Happy Place
You deserve a vacation!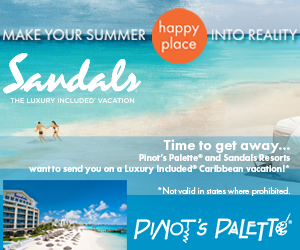 Pinot's Palette and Sandals® luxury resort want to make your #HappyPlace a Reality!
Let us send you on a trip for two to a Sandals® luxury, fully-inclusive, resort in any of the 15 Sandals locations in Jamaica, Antigua, Saint Lucia, The Bahamas, Barbados or Grenada, for Four Days and Three Nights. Airfare included up to $900.
To be automatically entered for a chance to win, simply sign up for one of our Summer Happy Place Series painting events from June 2nd to August 17th. We are featuring SEVEN (7) paintings for June and July. Look for more on our August calendar. These paintings are marked with a banner and description that indicate "Summer Happy Place Series." Each time you register and attend a Happy Place Summer Series event, you will be automatically entered for a chance to win! The more Happy Place events you attend, the more chances to win! Winners will be announced on August 17th.
For more contest information, go to
http://www.p...om/happyplace