Snacks that pair well with our wines!
When you come and paint with us at Pinot's Palette, why not bring some snacks to pair with your wine?!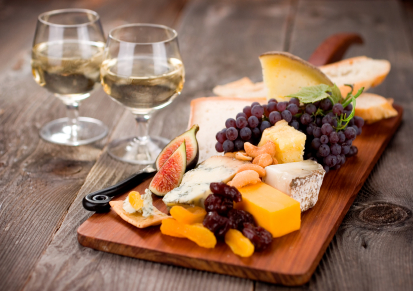 At Pinot's Palette in Tustin, we offer a large variety of delicious wines, where there's something for everyone. Whether you like something sweet, light, medium, or bold, we've got a wine for you! But sometimes, just sipping wine isn't enough. Sometimes, snacking on some delicious small bites that pair perfectly with your wine, helps to make your night out perfect!
We have chosen a few of our best-selling wines from our menu, and suggested some tasty snacks that pair well with them. These are super easy to grab at any grocery store and really complete your wine-drinking experience!
(White Wines):
Light & crisp- "Rosetello Moscato"
*Pair this wine with soft to medium cheeses (examples--Brie; Fontina; Gouda)
*Bruschetta is always an easy app to make and goes great with light, white wines
*Raw, crisp veggies like carrots, celery, red & yellow bell peppers, etc...
Full & Lush- "Cuvaison Estate Chardonnay"
*Fresh fruit
*Toasted pita and hummus
*Chicken salad (esp. with fruit and curry mixed in for flavor); pair with pita bread or crackers for dipping
*Mild Cheddar Cheese
(Red Wines):
Light & Earthy- "Rodney Strong Pinot Noir"
*Cheeses: Gruyere; Swiss; Fresh or aged Gouda
*Fresh fruit: berries, cherries, apples
*Milk chocolate
Medium Bodied- "Wente Merlot"
*Soft-semi hard cheeses: Gorgonzola; Gouda; Garlilc & Herbed Cheese
*Roast beef (ask any deli counter to carve or thinly slice it for you!)
*Dark Chocolate
Full & Rich- "Graffina Malbec"
*Hard, robust cheeses: Asiago; Romano; sharp/extra sharp cheddar
*Berries
*Dark Chocolate
Click on the link below to view our menu and see what wines look delicious to you! Check out Pinterest or any wine/food pairing and party websites for ideas of great snacks to pair with your wine and bring them on in when you come to paint!!!
We offer some small bites at the bar, as well. Hummus & pretzels... And also...... Meat, cheese,, & cracker platters, if you don't bring your own snacks.
We can't wait for you to join us! See you soon!!!