Bar Menu
Pinot's Palette Bar Menu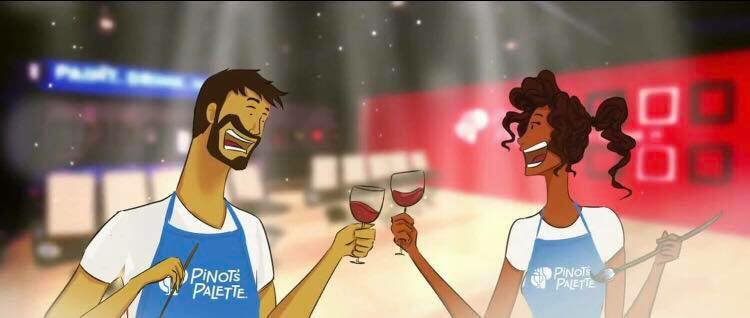 We will frequently change our beer and wine menu to offer fun specials, highlight seasonal favorites and keep things refreshing and fun!
We pride ourselves in our craft beer, that's available for $5 a bottle and those offerings change each week, with lots to choose from- with IPAs, Blondes, Ciders, and many more- there's something for everybody!
We also offer non-alcoholic options of sodas and tea with several choices there, too. We serve small bites of salami, cheese and crackers and hummus and pretzel chips in case you get hungry during class.
We offer Mimosas on the weekends that are mixed fresh each class!
Our wine menu offers something for everybody from a sweet and sparkly Moscato to a big, bold red!
White Wines
House White
22 Bottle, 6 Glass
Chateau St. Michelle Riesling
22 Bottle, 6 Glass
Rosatello Sweet Moscato
25 Bottle, 7 Glass
Coppola Pinot Grigio
29 Bottle, 8 Glass
Color Wine Chardonnay
32 Bottle, 9 Glass
Ferrari Fume Blanc
35 Bottle, 10 Glass
Ferrari Tre Terre Chardonnay
42 Bottle, 12 Glass
Stag's Leap Karia Chardonnay
60 *Bottle Only *
Sparkling Wines
Campo Viejo Brut
25 Bottle, 7 Glass
Mezza Prosecco
38 Bottle, 10 Glass
Steorra Sparkling Pinot Noir
42 *Bottle Only*
Red Wines
House Red
22 Bottle, 6 Glass
Color Wine Chilled Sweet Rose
32 Bottle, 9 Glass
Rainstorm Pinot Noir
29 Bottle, 8 Glass
Meomi Pinot Noir
34 Bottle, 10 Glass
Saved Red Blend
32 Bottle, 9 Glass
Color Wine Red Blend
32 Bottle, 9 Glass
Wente Merlot
29 Bottle, 8 Glass
Seven Falls Cabernet
29 Bottle, 8 Glass
Chateau St. Michelle Cabernet
42 Bottle, 12 Glass
Graffigna Malbec
35 Bottle, 10 Glass