Valentine's Dinner At Home! Delicious Recipes To Try This Year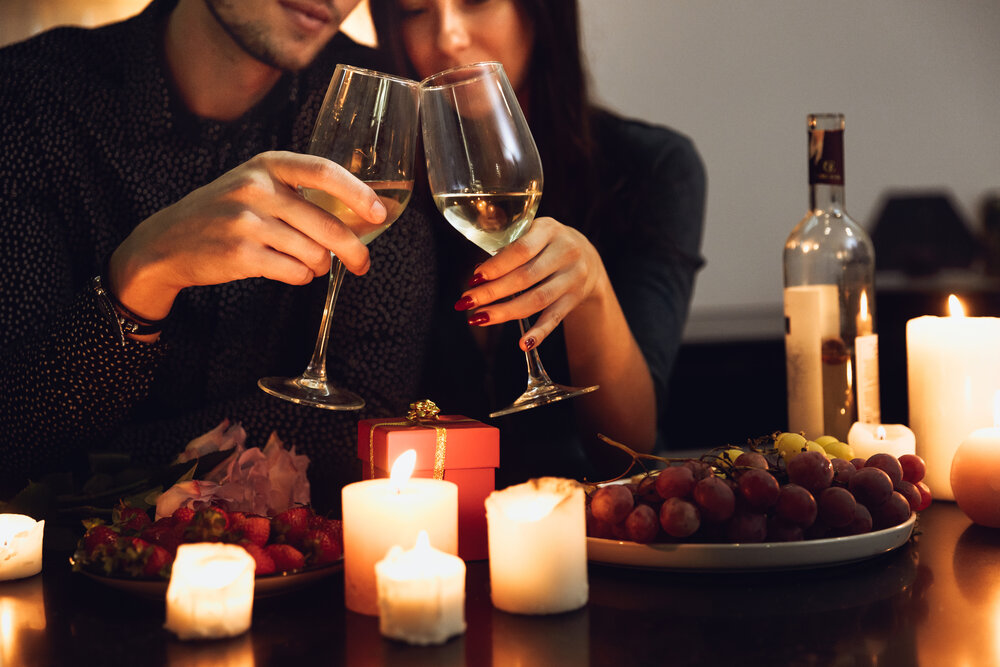 Whether you're celebrating alone, with your partner, family, or friends, these Valentine's Day dinner ideas will make your heart skip a beat.
While romantic dinner dates are also okay, some would rather spend Valentine's Day at home and cook for loved ones; It's a very personal way of showing them just how much you love them.
Why wait for hours to get a table and have complete strangers cook your meal when you can whip up your own at home, for free?
You CAN cook a Valentine's Day-worthy meal without going through that much trouble; These recipes have you covered.
Love is in the air… or is it just the aroma of these dishes cooking in the stove or oven?
Linguine with Clam Sauce
Ree's linguine with clam sauce is both light and creamy, thanks to a white wine-based sauce and a healthy helping of freshly shaved Parmesan!
https://www....sauce-4708778
Filet Mignon
The days of only having an excellent steak at a steakhouse? Over. Whether you're looking to simply treat yourself or plan a fancy date night this Valentine's, you can't go wrong with filet mignon. With our recipe, you can recreate the steakhouse classic in the comfort of your own home—no bougie restaurant required.
https://www....filet-mignon/
Chicken Cordon Bleu
Tyler rolls pounded chicken breasts with prosciutto and Gruyere cheese before dunking them in a breadcrumb mixture and then baking until browned. The rolled chicken will result in elegant pinwheels to feature on your dinner platter.
https://www....cipe2-1952383
Spinach and Mushroom Ravioli
Giada uses frozen spinach since quite a bit of the greens are needed to get the proper texture for her homemade ravioli. Don't blend it too much, so when you take a bite you can taste the individual ingredients.
https://www....cipe2-1953189
Carbonara Pizza
If you can't get enough of Rome's famous spaghetti carbonara, then we have a sneaking suspicion you'll love this extra-cheesy pizza version. Keep it simple with a side of peppery aruguladressed with olive oil and lemon juice to cut the richness of the pie!
https://www....pizza-recipe/
Marry Me Chicken
This simple chicken is one of our most romantic recipes ever. If you (or your boo) is a sun-dried tomato hater (we feel you), use fresh ones instead. It won't have as much of a tangy kick, but it'll still be just as impressive.
https://www....icken-recipe/
Mushroom, Spinach & Gruyere-Stuffed Pork Tenderloin
This ultra-stuffed mushroom, spinach, and Gruyère pork tenderloin is already jam-packed with vegetables, so we suggest pairing it with a carb-y side like our jeweled saffron rice or our best mashed potatoes.
https://www....ecipe-1973702
Homemade Shoyu Ramen
Braised pork belly, aka a little slice of heaven, is the star in this amazing homemade ramen. Making ramen from scratch is pretty darn elaborate, but we promise your patience will be more than rewarded.
https://pinc...-belly-ramen/
Lobster Risotto
Here, a simple combination of fresh aromatics, white wine, and seafood stock transforms humble Italian rice grains into the dreamy, cheesy, luscious rice porridge that we've all come to love. Adding fresh, faintly sweet lobster meat is all that's needed to take your risotto over the top.
https://bake...sotto-recipe/
Honey-Garlic Glazed Salmon
A longtime favorite of Delish readers, this savory-sweet salmon never disappoints. Hot tip: Let the fillets cook undisturbed for a few minutes. That, and super-high heat is how you get that delicious crust here.
https://www....lazed-salmon/
Share Join Us For Some Valentine's Paintings! | Valentine's Day Desserts!