Pinot's Palette Is Here For All Of Your Wedding Celebration Needs!
If you're looking for a fun way to celebrate the bride in-person, our studio is just the place!
Though, if a virtual event is more your style, we've got you covered there too!
Whatever you're looking for in terms of celebrations this wedding season, Pinot's Palette is your one-stop shop for all thing wedding bliss!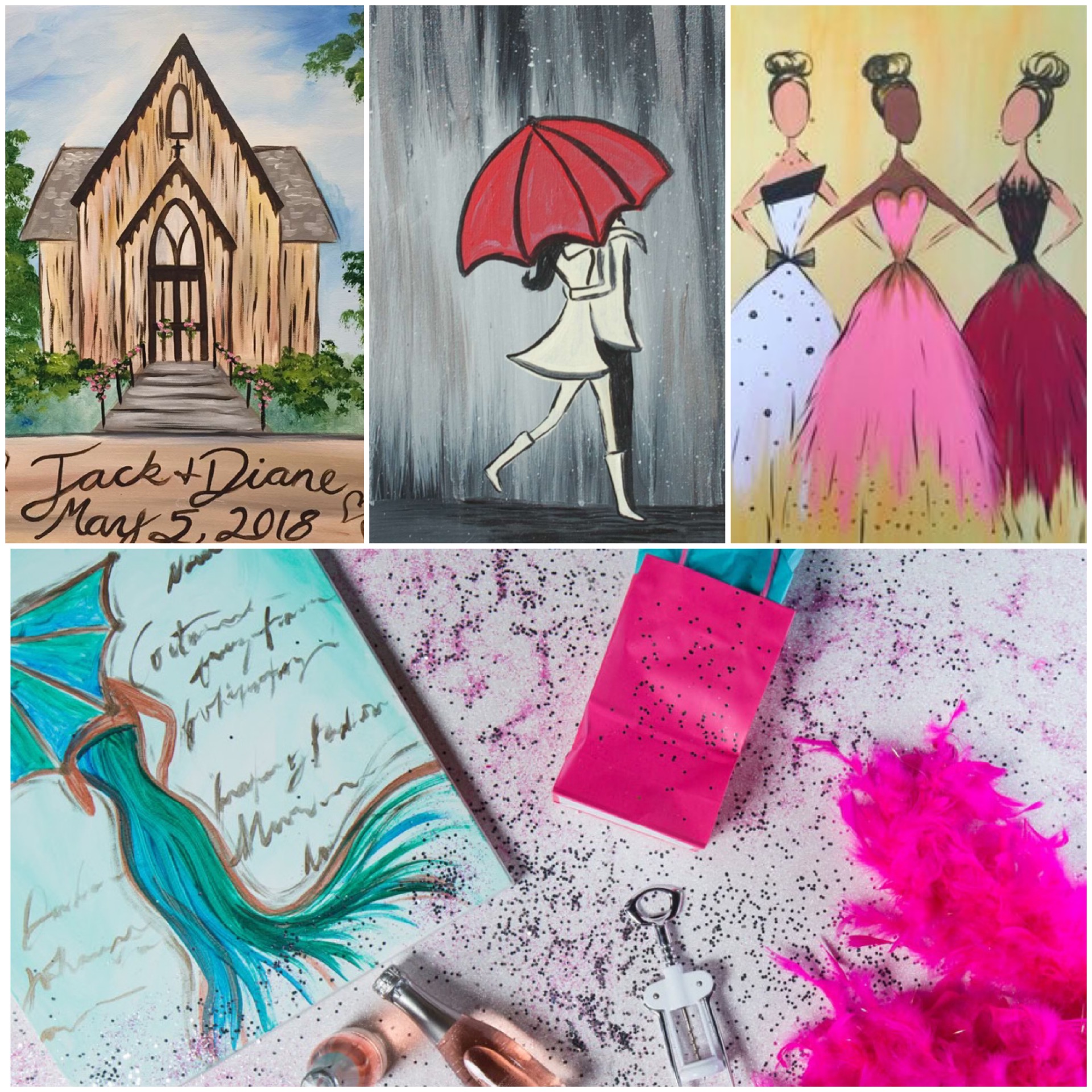 Whether you're newly-engaged with the wedding still a ways off, about to be married in a few weeks, or the friend of someone about to get married, our paint and wine studio can help! We offer bachelorette parties, bridal showers, and more for you to enjoy your special day with ease.
Pinot's Palette is a fun and unique event for a special occasion like a bridal shower and everyone leaves with a souvenir masterpiece that they created! Your guests will always remember the fun they had, in honor of the bride-to-be (or groom to be) at their shower or other wedding event. We offer private parties where YOU are in charge of how it goes! You get to select the date and time, as well as the painting for the class. Bring in food, have it catered, choose the wines you want to serve, the music for the party, and more!
** There are so many fun ways to celebrate:
-Bridal Shower
-Bachelorette Party
-Engagement Party
-Girls' Night Out
-Attend a public class where you and your BFF come in for a relaxing evening of wine and painting
Painting and wine parties are such a great way to spend time, celebrating the ones you love and catching up with them as you sip wine and paint along with the instructor! Remember that you're in charge of deciding everything you want for your party and we're here to help you. You get to choose the length of time you want for the event, which is typically about 3 hours. (Most of our private parties want to do a 2 hour painting and have an extra hour built in for food, drinks, mingling, games, photos, and more!) You can bring food however you want, decorate the tables and studio to make it extra special, and invite anyone you want to join in on the fun!
If you've never been to a painting and wine class, you're in for a treat! We have a helpful staff and an encouraging instructor who will walk you through the painting, step by step. We have a wide selection of wine and beer, great music, and a HUGE library of paintings that we offer. If you're interested in having your private party with us but would like to see what we're all about, stop on in to see the space or sign up for one of our public classes and give it a try! Join us in creative environment, full of other people, where you'll paint along with the choose painting for the class. Have fun, relax, and enjoy you time, getting in touch with your inner-artist! At the end of the class, you'll be amazed that YOU created a stunning masterpiece, starting with a blank canvas and painting a full picture onto it in just 2-3 hours. We're sure you'll love this experience so much that you'll be overjoyed to use our studio as a venue for your next, big event!
See some photos from one of our bridal showers, including some great ideas for the class like having everyone us an apron as a modern take on the guestbook, signing names and writing their well-wishes to the bride. This bride even created a painting for her guests to add their thumbprints and sign for a truly special work of art, she will always cherish:
https://www....andsipwedding
We hope to see you soon, whether it's for a private event or a public class! Have a great time planning the wedding and surrounding events, and remember to keep Pinot's Palette in mind for your next, big event! If you live in or around the Pierce County & Puyallup area, we're the perfect spot for you!