Luminous Landscapes To Adorn Your Home
Let the light shine through your home in the greyest of days with some beautiful landscape artwork that YOU can make and display!
Whether you're painting inside our studio or from home with one of our virtual classes, we've got tons of awesome paintings!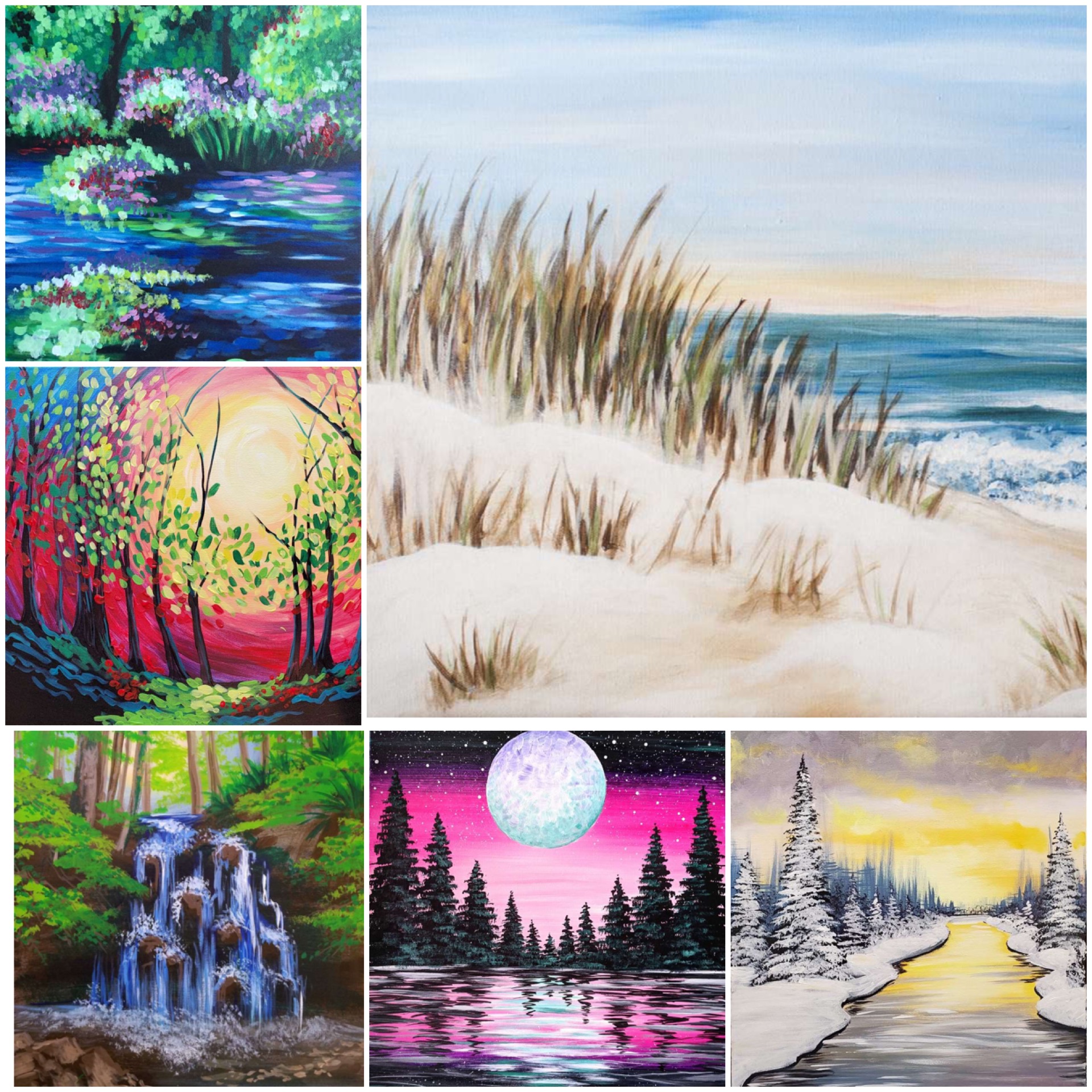 One of the oldest subjects (and most-popular to be painted), "Landscape paintings" are the depiction of natural scenery in art.
Landscape paintings may capture mountains, valleys, bodies of water, fields, forests, and coasts and may or may not include man-made structures as well as people. Although paintings from the earliest ancient and Classical periods included natural scenic elements, landscape as an independent genre did not emerge in the Western tradition until the Renaissance in the 16th century. In the Eastern tradition, the genre can be traced back to 4th-century-CE China.
Showing the world in all of it's natural beauty, these popular paintings have always been a wonderful theme to paint and a subject that works in ANY room it hangs in!
*** Here are some landscape paintings that are coming up:
2/23 A Walk On The Beach (In-Studio)
A beautiful walk along the shore
https://www..../event/511990
(*Virtual:
https://www....event/516789)
2/26 Green Forest Falls (In-Studio)
"Green is the prime color of the world and that from which loveliness arises." Pedro Calderon de la Barca
https://www..../event/511993
(*Virtual:
https://www....event/523930)
2/27 Vibrant Moon Forest
Though the In-Studio class is sold out, we're offering this virtual event for all!
https://www..../event/516793
2/27 Colorful Path (In-Studio)
The colors of this landscape are rich and vibrant.
https://www..../event/518248
(*Virtual:
https://www....event/518249)
3/2 Monet's Wonderland (In-Studio)
A beautiful spin off of a Monet Impressionistic painting, inspired by his water lily garden in Giverny, France.
https://www..../event/522897
(*Virtual:
https://www....event/524052)
3/4 A Day At The Dunes (In-Studio)
Kick back and relax as you drift away to the waterside and enjoy A Day At The Dunes!
https://www..../event/522899
(*Virtual:
https://www....event/524054)
3/5 Moonrise Lake (*In-Studio)
Nothing is more peaceful than relaxing by a lake as the moon rises and the sounds of the forest begin to sing their songs. This is a fun and easy painting that will have everyone leaving happy.
https://www..../event/522900
3/6 Dusky Lake (In-Studio)
Cool colors on a calm lake for a chill evening at Pinot's!
https://www..../event/523818
3/6 A New Winter (In-Studio)
Step into a new winter and enjoy this refreshing nature scene.
https://www..../event/522933
(*Virtual:
https://www....event/524056)
3/6 Colorful Copse (In-Studio)
Escape to the forest in this colorful group of trees!
https://www..../event/522868
(*Virtual:
https://www....event/524075)
Throughout the month of March we'e offering lots of fabulous paintings, both in the studio and out! From gathering with friends in-person (in small numbers of course), to painting virtually from your own home, we've got it all! Get in touch with your inner-artist and make some amazing artwork to display in your home OR to give out as gifts! Between birthdays, Anniversaries, Mother's Day, and more, there's nothing like a handmade gift to show someone just how much they mean to you!
Check out our full calendar on the link below!
Enjoy all that this holiday has to offer and we hope you'll keep our in-person and virtual classes (and take home kits) in mind as a great way to spend time, too. We're always here to help out with anything you need, including any questions you may have.
Thank you all so much for being there for our small Puyallup business and we can't wait to see your smiling faces in the studio or even vistually!
Stay safe, stay heathy, and continue to support your small local buinesses in the Pierce County area… and all over Washington State!