Light & Delicious Spring Recipes You'll Love!
Fresh and Colorful Dishes Paired With The Perfect Wine Will Make Your Spring Extra Special!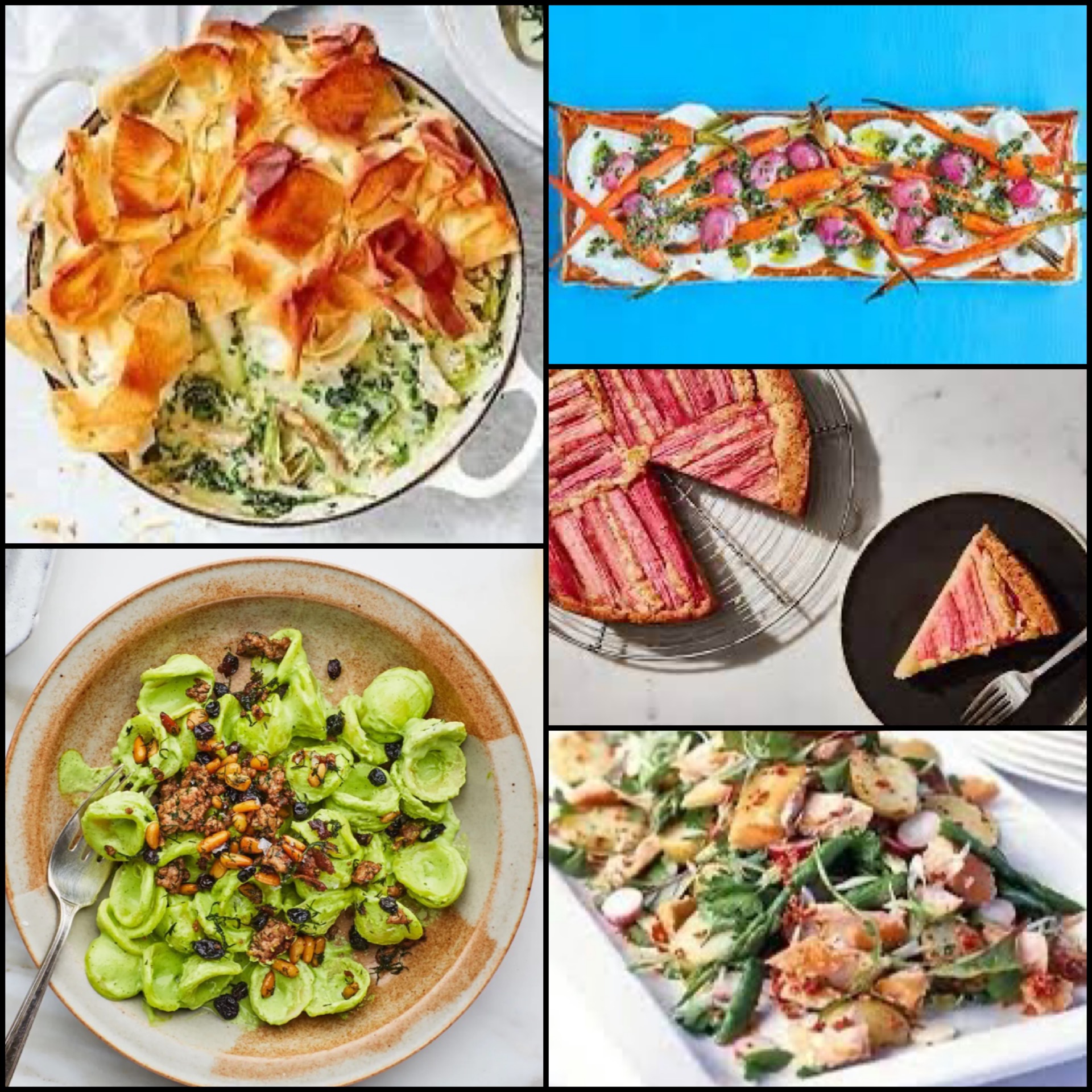 Spring brings delicate produce like English peas and asparagus, but choosing wines to accompany these season openers isn't as simple as "think light." Asparagus is particularly tough to pair because it clashes with many wines, especially reds.
Meats commonly served this time of year have special considerations, too. Ham's salty-smoky combination calls for a fruity, slightly sweet wine (to balance the sodium) that won't get lost in the smoke. And gamey lamb calls for a red with just the right amount of body and earthiness.
Pasta Primavera
A healthy spaghetti dish full of broad beans, leeks and asparagus tips. Make the most of spring greens with this vibrant, filling pasta recipe:
https://www....sta-primavera
(*Wine): America's Italian darling, pinot grigio, is a good match for this dish.
Spiced Lamb and Dill Yogurt Pasta
You'll find all the flavors of Middle Eastern shish barak (tiny lamb and pine nut) dumplings here, but made simpler and brighter with help from dried pasta and plenty of fresh dill.
https://www....-yogurt-pasta
(*Wine): Medium-bodied red wines, like malbec, shiraz, tempranillo, or grenache, have rustic qualities to match lamb's gaminess.
Baked Ham (with brown sugar)
Baked Ham with Brown Sugar Glaze made with brown sugar, orange juice, honey, and spices is the PERFECT sweet and savory holiday dinner, and bakes in only 90 minutes!
https://dinn...om/baked-ham/
(*Wine): Riesling's apple, apricot, and pineapple flavors have a natural affinity with ham.
Asparagus Risotto
Creamy asparagus risotto, cooked with fresh herbs, Parmigiano-Reggiano and a touch of lemon. Perfect Spring meatless main dish or wonderful topped with grilled shrimp or scallops.
https://www....agus-risotto/
(*Wine): The herbaceous quality of sauvignon blanc works well with asparagus dishes
Herby Spring Chicken Pot Pie
Minimise your washing-up with this delicious one-pan chicken pie with spinach and herbs and topped with crispy filo pastry. It's ideal for busy weeknights!
https://www....icken-pot-pie
(*Wine): The flaky crust of a Pot Pie is also a source of fat that will bind with any oak tannins in a Chardonnay.
Spring tarts with watercress salsa verde & whipped lemon feta
Transform a sheet of shop-bought pastry into this stunning tart, piled with beautiful spring vegetables including radishes, baby carrots, peas and asparagus
https://www....ed-lemon-feta
(*Wine): These colorful, crunchy and healthy tarts are perfect enjoyed with a zesty white or Rosé.
Hot-smoked salmon salad with a chilli lemon dressing
This delicious salad is thrown together in minutes to make a fresh, seasonal dish that's stylish enough for entertaining
https://www....emon-dressing
(*Wine): The light and crisp flavors of a Pinot Gris or Riesling matches the spice and smoked flavors of the salmon delightfully
Rhubarb Custard Cake
This custardy cake requires no mixer and comes together in minutes. Seriously, it's easy!
https://www....-custard-cake
Little Lemon Drop Glazed Mini Cupcakes
These delicious bite-sized treats that start with a lemon cake mix! The easy lemon glaze soaks into the inverted mini cupcakes and is a simple, incredibly delicious lemon cake mix recipe!
https://butt...-spring-eats/