Celebrate 'National Mimosa Day' On May 16th!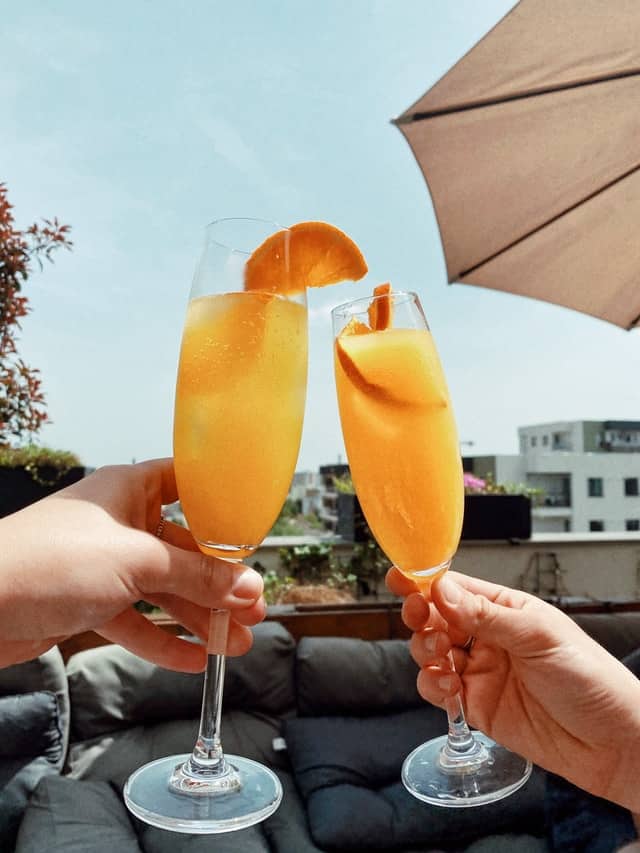 Equal parts orange juice and champagne, the mimosa is raised and toasted today. They are commonly served in champagne flutes, and any type of sparkling wine can be used if champagne isn't available. Mimosas were invented at the Ritz Hotel in Paris in 1925, by the head bartender, Frank Meier. Their name comes from the mimosa flower, a yellowish Australian shrub that was popular with French gardeners. They are a less alcoholic version of a Buck's Fizz, which was invented four years prior by Pat McGarry at Buck's Club in London. The Buck's Fizz is two parts champagne and one part orange juice. Early mimosa recipes included Grand Marnier—these drinks are now called Grand Mimosas. Mimosas that use mandarin orange juice are called puccinis. Mimosas are common brunch drinks, and are also popular on Easter, Mother's Day, at morning weddings, on cruises, and on first-class flights.
We've listed some DELICIOUS mimosa & snack pairings for you to enjoy with friends, family, or to bring into a painting class at Pinot's Palette! We serve mimosas on Saturdays and Sundays each week for our morning and afternoon classes!!
Most usually, your reservation includes a mimosa!! You can also upgrade to 'Bottomless Mimosas' For just $12… Now that's a deal!
If you're taking advantage of our Paint at Home Kits, OR our Private Virtual Parties, you can pair your painting experience with mimosas, snacks, and great friends from the location of your choice! While many customers prefer the in-person experience that the studio classes provide, sometimes a virtual event is just what you need.
The great thing about these at-home experiences is that you can do it YOUR WAY! Set up the art supplies, get the instructional video ready to play, and enjoy some music, snacks, ad of course the "liquid creativity" (wine, beer, or a mimosa!) of your choice!
How to make the perfect Mimosa…
Mimosas made with bubbly sparkling wine instead of expensive champagne adds one more reason to toast "cheers" to lazy weekend brunches or any special occasion.
https://www....rfect-mimosa/
MORE Drink Recipes For Sparkling Wine + Juice:
https://www....uice-cocktail
Our Fave Snacks:
One of the best ways to make your mimosa pop? Serve it with a side dish to soak up the fruity drink and complement its flavors.
There are tons of delicious options out there, but we've gathered some of the best side dishes to serve with mimosas that you can easily whip up for your next brunch, painting class, or just for yourself to enjoy as you relax on the weekend…
Baby Brioches with Chicken Salad and Bacon.
These two-bite snacks take just 25 minutes to make.
https://www....lad-and-bacon
Mushroom Pomponnettes.
This simple, tasty appetizer originated, I think, with Daniel Boulud -- but there are probably dozens of variations. It is, essentially, a little mushroom and cheese quiche. I have served this as part of a Sunday brunch, as a dinner appetizer, and as a side dish.
http://www.g...onnettes.html
Country Ham and Pickle Crostini.
Fancy meets savory with these two delectable Ingredients coupled together for brunch.
https://www....Wine-Magazine
Other super simple snack ideas:
- Dark chocolate covered almonds
- Berries
- A charcuterie board
- Mixed olives
- Southern Heat Snack Mix
- Figs