Palm Trees, Flowers, & Christmas In July!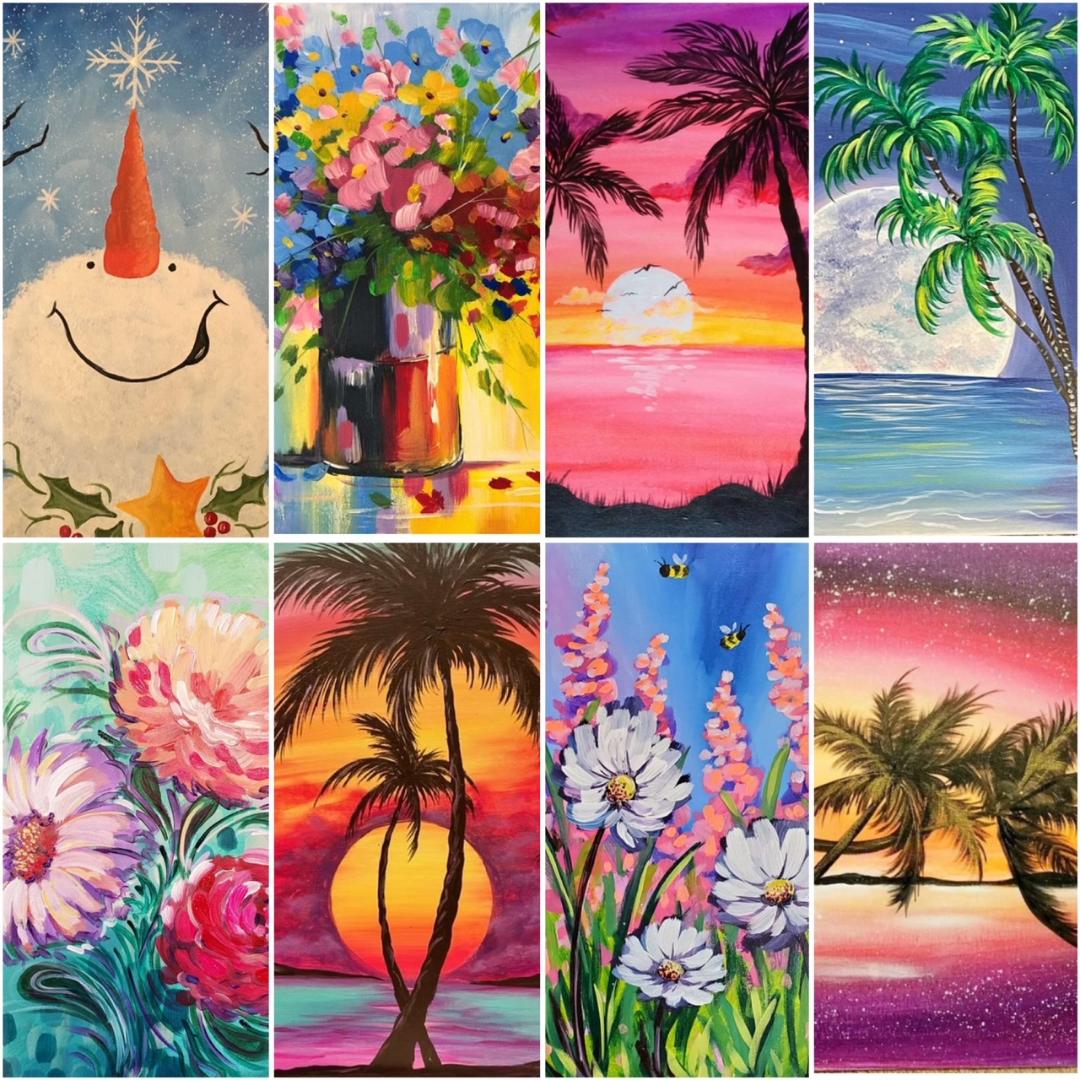 Throughout the calendar year, there's holidays, seasons, and other special occasions. Here at Pinot's Palette, we're all about celebrating every one of the special days of the year and that reflects in our artwork! From holiday-themed paintings to seasonal artwork, we've got something for everyone, any time of year!
Summer is all about nature! From the wonderful things you see on hikes and camping trips, to tropical locations, and just the stunning outdoor scenery in general, we've got a lot artwork on the calendar to reflect it.
Beaches and palms trees… Brightly-colored flowers and of course, some holiday decor way ahead of schedule. we've got some fabulous things you're sure to love!
Here's what's coming up:
*** Tropical Palms ***
The very essence of Summertime, warm weather, and the beach!
7/8 'Moonlit Palms'
Create your own paradise escape to a warm breezy beach where the palm trees dance in the moonlight.
https://www..../event/623695
7/15 'Vacation Time'
Tranquil blue waters and picturesque beaches, relaxing under a palm tree in the warm sand. The perfect vacation.
https://www..../event/626462
7/16 'Sunset Palms'
Have an evening in paradise with this bright fun painting of palms by a sunset.
https://www..../event/621075
7/23 'Love On The Beach'
Let this painting take you away to paradise!
https://www..../event/623704
7/29 'Tropical Twist'
A twisted take on a classic summer seascape.
https://www..../event/623707
*** Stunning Flowers ***
Who doesn't love bright-colored, cheerful flowers?! Whether they're alive or painted, bouquets are the perfect way to add happiness and charm to your home.
7/3 'Blossoming Charm'
These charming flowers can be admired and enjoyed by all your friends and family. Customize this painting to match with your decor.
https://www..../event/623832
7/10 'Sunflower Gnome'
In a world full of roses be a sunflower!
https://www..../event/623833
7/10 'Springtime Meadow'
A colorful impression of Springtime blooms.
https://www..../event/626403
**Paint This One VIRTUALLY!
https://www..../event/628084
7/16 'Floral Delight'
Relax and paint this bright, fun, & colorful bouquet. With bright pops of color, and abstract flowers - this painting is sure to be a hit!
https://www..../event/623834
7/30 'Modern Bouquet'
Enjoy this modern take on a this floral trio!
https://www..../event/625002
*** Christmas In July ***
According to legend, Christmas in July was first celebrated at a summer camp in 1933, when Keystone Camp in Brevard, N.C. decided to dedicate two days (July 24 and 25) to the holiday—complete with cotton fake snow, a decked-out tree, a gift exchange, and, of course, Santa. (Southern Living has the full story of how Christmas in July started.)
It first hit pop culture in 1940, when the movie Christmas in July arrived in theaters. The plot? A man's colleagues prank him into thinking his work won a $25,000 prize—and he goes on a jolly spree of generosity (including finally proposing to his longtime love). By the 1950s, retailers had hit on the concept, and now, Christmas in July sales are a big phenomenon.
7/16 'Catching Snowflakes'
We just love this painting for wintertime! It really allows you to get creative with your painting by changing the scarf and creating different snowman faces. It's fun for everyone!
https://www..../event/623700
*** MORE Summertime Favorites ***
7/8 'Message In A Bottle'
Paint A Glass Wine Bottle!
https://www..../event/615483
7/8 'Sea Serendipity'
https://www..../event/621081
7/9 Boho Plant Garden'
https://www..../event/626513
7/9 'Calming Tides'
https://www..../event/615504
7/16 'Moody Beach'
https://www..../event/615505
7/16 'Swimming The Sea'
https://www..../event/626475
7/20 'Ship In A Bottle'
https://www..../event/623701
7/21 'North Shore At Sunset'
https://www..../event/623702
7/22 'Romance On The Beach'
Date Night!!!
https://www..../event/623703
7/23 'Beach Gnome'
https://www..../event/626468
7/24 'The Good Ol' Summertime'
https://www..../event/626405
7/31 'Mermazing'
https://www..../event/626406