Check Out These Special Events On The Calendar!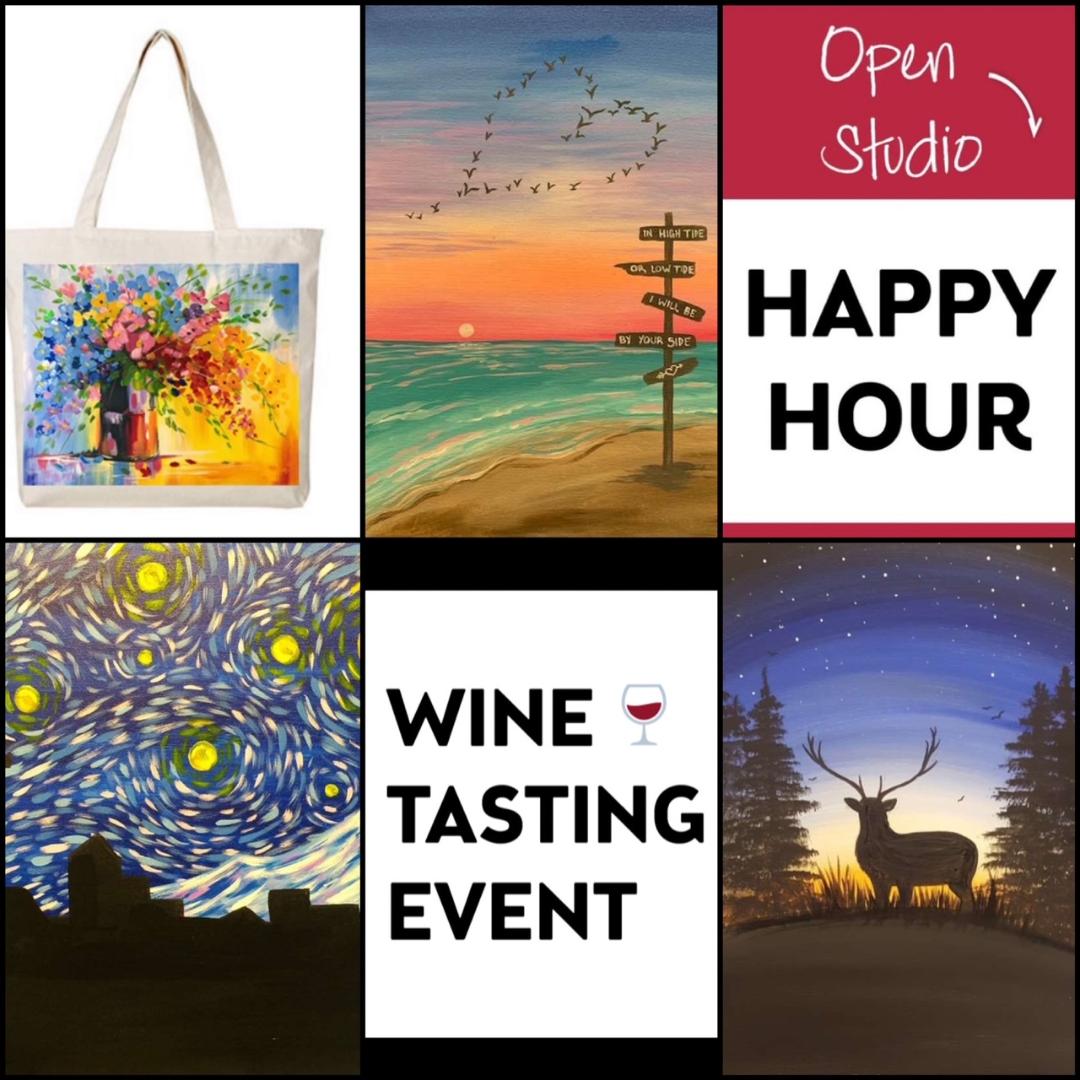 While we're always excited about the classes coming up on the schedule, we've put together a particularly stellar group of events for the rest of March and throughout April!
From springtime beauties, to old favorites and new masterpieces, we're offering A TON of fabulous classes these next few weeks!
Here's what's coming up:
*** SPRING IS IN THE AIR ***
Spring certainly IS finally in the air! With the longer days and the warm sunshine, we are getting into a happy mood, ready to throw open the windows and dress in brighter colors and lighter layers!
In addition to the way we (and the world) feels this time of year, we can't ignore the way it looks, too! Stunning blooms are popping up in an array of colors and shapes, ready to make us smile and add some color into this fabulous season!
JOIN US to paint some of your very own springtime artwork, making your home even more alive and happy this time of year!
*Learn More:
https://www....inots-palette
*** BELOVED CLASSICS ***
We're always bringing back some of our guests' most-favorite paintings throughout the year! Check out some of the ones on the calendar this month…
3/27 Fallen Feather
https://www..../event/600907
(*This class is almsot sold out so be sure to sin up, ASAP). If you're unable to get a seat or can't attend the date and time of the painting, you can paint from home!)— Learn More:
https://www....paint-at-home
4/2 Japanese Rising Sun
https://www..../event/596358
4/2 Beach Signs At High Tide
CUSTOMIZE THIS ONE! Add the names of your favorite places!
https://www..../event/596320
4/9 Lilacs In A Glass
https://www..../event/596359
*** NEW ARTWORK ***
3/27 Floral Stag
https://www..../event/596338
3/29 Onyx Moon Stone
https://www..../event/596306
4/2 Girlie Gnome
Make It A GIRLS' AFTERNOON OUT!
https://www..../event/596349
4/3 Maggie Moo
https://www..../event/607114
(**Paint Virtually):
https://www..../event/609696
4/8 Sleepless Night In Seattle
https://www..../event/607819
4/9 Deer On The Horizon At Dusk
https://www..../event/607836
*** MYSTERY PAINTING ***
Friday, April 1st
It's No April Fool's Joke… We're offering a differnce type of class where you;ll join us at the studio BUT no one knows what we will be painting until the class starts!
Watch the magic unfold with our mystery painting! We've got the painting all ready for you, but you won't see the final masterpiece until you finish it. Stay on the edge of your seat until the very last brush stroke!
https://www..../event/596309
*** OPEN STUDIO + HAPPY HOUR ***
Unlike our traditional step-by-step instructor-led paint sessions, Open Studio is designed to give you more flexibility and freedom to choose what you want to paint and when you want to arrive,
DIY...Your Way, and Your Pace.
While an instructor WILL NOT be leading you step by step in person, we will have help in hand to assist you with anything you may need.
April 1-
https://www..../event/600733
April 8 -
https://www..../event/607988
April 15 -
https://www..../event/607989
— Check the calendar for even more dates!
*** WINE TASTING EVENT ***
JOIN US on April 6th for a special wine tasting event!!!
Invite friends and family to sign up for this class, too! The more, the merrier — and seats WILL sell out, so be sure to sign your group up, ASAP!
With their lacey like flowers, the lovely hydrangea brings awe across the face of all admirers. Create a version that will last a lifetime.
https://www..../event/596287
*** PAINT OFF THE CANVAS! ***
Join Us on April 4th to paint one of our most-loved Springtime paintings!
'Floral Delight'
Relax and paint this bright, fun, & colorful bouquet. With bright pops of color, and abstract flowers - this painting is sure to be a hit!
YOU CAN PAINT THIS ON A CANVAS BAG!!!
https://www..../event/607913