Spring Paintings to Brighten Your Home
What better way to celebrate this fresh, new season than by creating your own artwork at Pinot's Palette?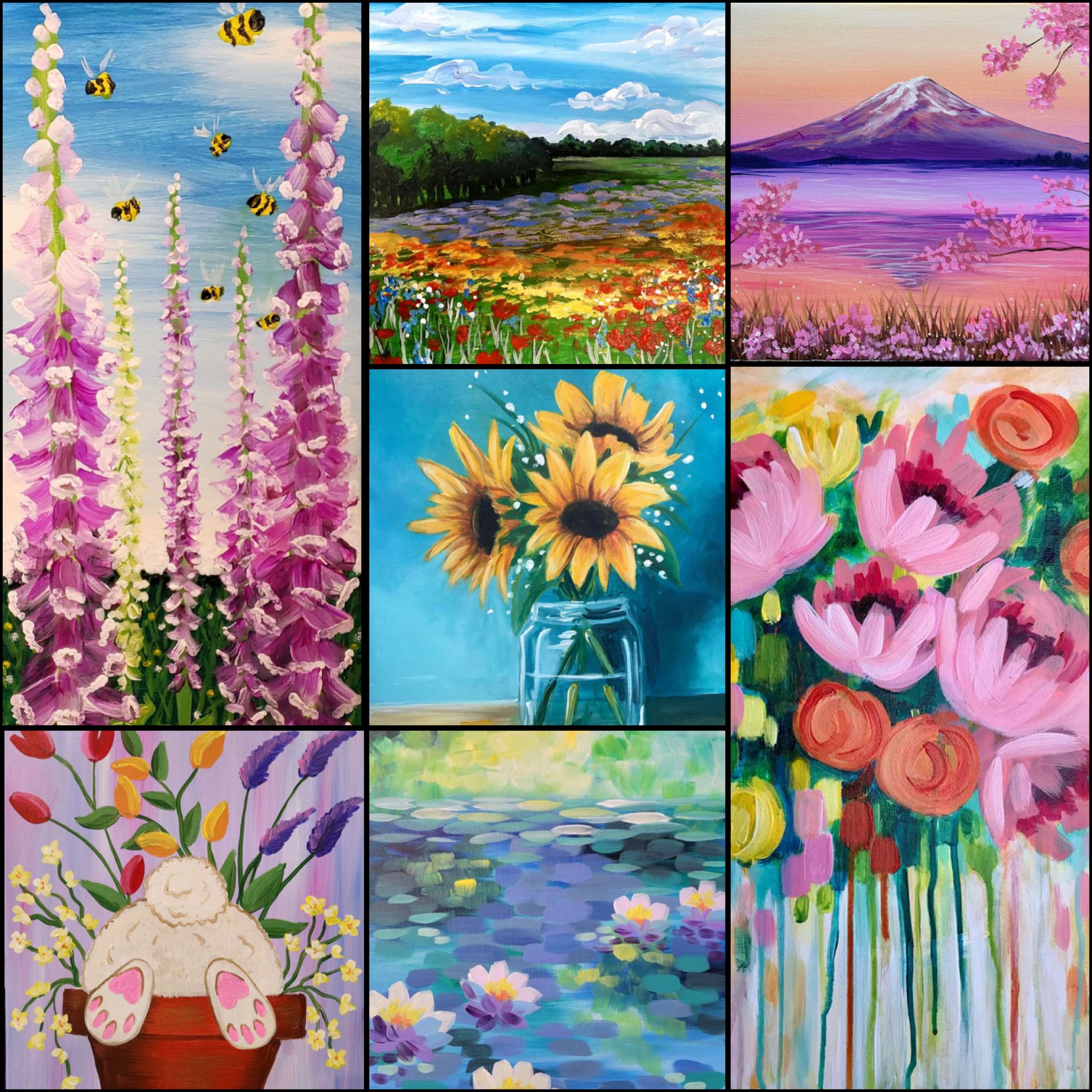 Springtime is all about renewal, growth, and beauty. A fabulous way to bring this into your living space is with some artwork.. And art that YOU made?? Well, that's the best kind!
At Pinot's Palette, Federal way, you'll get to paint in a creative and relaxing environment, while enjoying a glass of wine and the company of friends or family.
This season, we're offering so many beautiful spring landscapes, colorful bouquets of flowers, and other whimsical springtime artwork. These paintings can be a wonderful way to bring a touch of the season into your home and to brighten up your living space.
----> Here's what's coming up:
3/19 Sunflowers In A Glass
Sunflowers are the perfect way to brighten up anyone's home! Paint these sunny sunflowers with us for your home or as a gift to bring some cheer to someone special.
https://www..../event/665627
3/19 Waterlilies, Monet Style
Our favorite aquatic flower with the colors and style of Claude Monet!
https://www..../event/665628
3/25 Country Meadow Foxglove
A colorful homage to summer days in the Pacific Northwest country made on a canvas with unique and accommodating dimensions. Bright foxgloves in bloom always come hand-in-hand with the buzz of busy bees. While the clouds on these hot days remain wispy and few. This is a great painting for spring and summer or just for when you need a little more sunny days in your world.
https://www..../event/670954
3/25 Spring Mountain
A tranquil lake at the base of a picturesque mountain surrounded by cherry blossoms. A perfect reminder of the renewal of spring.
https://www..../event/675079
3/26 Abstract Floral
Whether hoping to capture bright colors, movement, textures or overall atmosphere, abstract flowers help painters let loose and unleash their creativity in the most fun ways.
https://www..../event/675097
3/26 Field Of Flowers
Blue skies and a scene of wildflowers, escape into this beautiful landscape.
https://www..../event/675103
4/1 Bunny Got Back
Who is that digging in my potted flowers?? It's the cutest fluffy-bottomed bunny around.. And just in time for Easter!
https://www..../event/684867
Remember that adding spring-themed artwork to your home is a wonderful way to celebrate the season and bring some new energy into your living space. Whether you opt for a single statement piece or a gallery wall of different artworks you've bought, made, or have been passed down, there are plenty of options to make your home feel and look it's best! Keep in mind the colors, themes, and placement of your artwork to create a cohesive and visually appealing look.
Happy Painting!
!!! And keep in mind that SPRING BREAK will be here before you know it! You and the kids can enjoy painting from the comfort of your home OR your vacation spot with our virtual options! Use our pre-recorded videos or printed instructions, along with the materials we'll provide you for the artwork, to make masterpieces galore!
https://www....paint-at-home