Wonderful Resolutions For 2021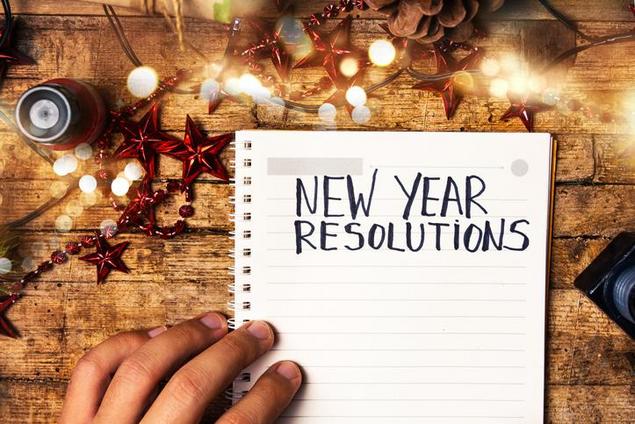 2020 is almost gone and good riddance, Am I Right?
We are here to welcome 2021 and all that it brings, with open arms.
While most of you already have ideas of what your resolutions for the new year will be, we've listed a few additional ones that are common and really beneficially for everyone! Adjusting your schedule and mindset in just the smallest of ways can lead to big changes in the long-run, and what better time to start than in the fresh, new year?!
Here Are Some Wonderful Resolutions To Live By For 2021:
(1) Take Some Time For Yourself
When you have a busy schedule, no matter if you're an adult or a teen, you should be able to relax once in a while. This can seem hard with demands of work, school, and family life. But it's also important to your overall well-being. No matter how busy you are, it's important to take time from your schedule to focus on yourself.
If you spend all day telling yourself you're too busy and have no time, I guarantee you'll attract and manifest more busyness and have no time in your life. However, if you change your thoughts and focus on what's in your control — the present moment — you'll find that you'll achieve more in your day, and with less stress too.
*Make it happen:
https://intr...for-yourself/
(2) Come Up With A Money Management System
Having a sound money management plan can be the light at the end of the tunnel for people trying to get their financial life in order
A good portion of Americans don't properly manage their money. Some sources report that Americans are pretty bad when it comes to their finances as compared to other developed countries. However, there is hope for you if you find yourself among this group.
Managing your money, like anything, takes time to understand and to improve on.
...And to master, it also takes commitment and a solid understanding of your financial situation. These are the first steps in effective money management. Everyone and anyone who ever took control of their finances went through this; and getting your financial life in order, sooner rather than later, is of utmost importance
*Make it happen:
https://life...-g-1703892260
(3) Be More Positive
We hear it over and over: "It's the little things that count". It turns out the cliché is dead-on. Research shows that one of the most important secrets to a happy life is to relish the many small moments that bring delight.. perhaps the ones you may not even notice. When you start calling attention to them, your mind becomes more inclined toward joy. Over time, joy and happiness become increasingly effortless.
The best part? Getting there is ridiculously easy.
When something goes horribly wrong, our emotions hardly feel like a choice.
It's logical to feel upset, angry or guilty about a negative situation, so it only makes sense to react accordingly, right?
Not entirely...
Research suggests that our happiness is more of a choicethan purely influenced by circumstance. And as the Shakespeare quote above implies, the nature of our situations may just be determined by how we categorize them. In other words, a negative attitude may appear to be the logical reaction, but that doesn't mean we have to adopt one.
It isn't hard to be one of those people who looks on the bright side of life, but it might take some practice and what better time than at the start of the new year?!
*Make it happen:
https://tiny...e-in-5-steps/
(4) Read More
How many books do you read per year? Chances are, it's not nearly as many as you'd like. Fortunately, there are a few easy ways to up your reading intake. Like with any habit, once you form a reading routine and stick with it, you'll be amazed at how many titles you're crossing off your 'To-Be Read' list.
In today's fast-paced world, it's hard to find time for ourselves, especially time to sit in silence and dive into a book! But reading is one of the past times that we need to try to keep in our schedule, as often as we can. There are so many benefits of reading, including mental stimulation, stress relief, better memory, and increased concentration. Take a break from the craziness of life and step into another world for a bit!
*Make it happen:
https://www...._6153350.html
(5) Spend Time With Loved Ones
Just spending a little time with someone shows that you care, shows that they are important enough that you've chosen to find the time for them (out of all the things to do on your busy schedule); If you go beyond that, and truly connect with them, through good conversation, that says even more. Many times its our actions, not just our words, that really speak what our hearts feel.
This is a resolution that will require much dedication and hard work on your part. It is going to mean making a change to your lifestyle. As we all know, anything worth having is seldom easy, however, the rewards you will receive in return will be truly worth it.
*Make it happen:
Schedule it. If you think about it, you schedule many other things in your life, so why not friends and family time.
There are lots of excellent ways to take advantage of modern technology; From phone calls and video chats, to virtual experiences online, we can all do pleanty of the following:
-Girls' night out with friends
-Family game night.
-Dinner and a movie or game night with other couples.
-Date night with your spouse or partner.
*Just as with adults, children need attention and affection. In fact, they usually need it even more.
Show your love to them daily – even if it's in the smallest way.
(6) Try New Things
Whether you realize it or not, you spend the majority of your day doing things you've already done hundreds or thousands of times before. Very rarely do you actually try new things for the purpose of engaging a unique experience. But what if you made it a point to do exactly that? There are many benefits to doing new things – don't cheat yourself out of them.
**AND — Speaking of trying new things, why not try out a painting and wine class at our studio! If you live in or around the Naperville area or will be visiting us during the holiday season, stop in for a class and learn something new WHILE doing something creative — Which brings us to our final resolution:
(7) Be More Creative!
Whether you're a first-time painter or a seasoned pro, you'll love to paint, drink, and have fun in our classes! It's been proven that both, trying new things AND being more creative, are both positive ways to improve your life and overall well-being! Plus.. think about the health benefits that a glass of wine (or two) can provide! Relax and sip your cares away as you enjoy a glass of some delicious wine and paint with loved ones!
**No matter how old we are, creativity is a form of self-expression of feelings and experiences. For a lot of us, as we grow older, we tend to censor our creativity as we begin to conform to social referencing, often as a means of fitting in and surviving. Some of us may become afraid to freely express ourselves due to not wanting others to judge us, which then leads on to judging ourselves and making decisions based on what we think someone else would approve of; It's likely at this point, that a lot of us quash our creativeness.
Some of the benefits of creativity include: self-awareness ad expressionism, stress relief, and confidence.
We're here to urge you to keep trying new things, including expressing yourself creatively and see how you will grow in your confidence, personal development, and in so many other ways.
We hope you have had a wonderful holiday season this year and we hope to see you soon, whether virtually or (eventually) in-person. We're here to help out with anything you need, including any questions you may have, so feel free to reach out.
Thank you all so much for being there for our small Puyallup business and we can't wait to see your smiling faces back in the studio again in the new year!
Stay safe, stay heathy, and continue to support your small local buinesses in the Pierce County area… and all over Washington State!
From our family at Pinot's Palette to yours, Happy Holidays!