The History Of 'Pride Month'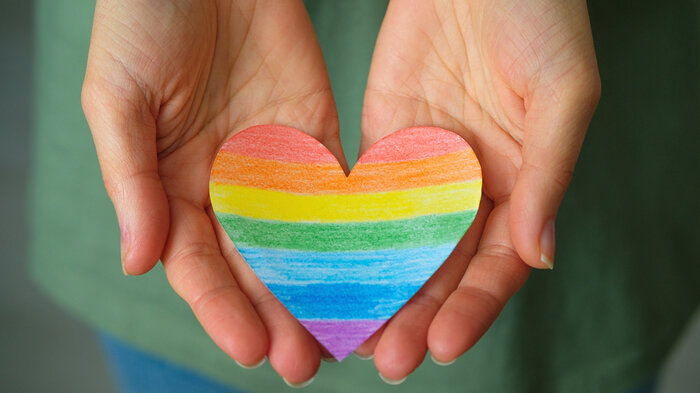 *** What Is Pride Month? ***
Lesbian, Gay, Bisexual, Transgender and Queer (LGBTQ) Pride Month is celebrated each year in the month of June. Throughout the years, in major cities across the nation the original (single) 'Pride Day' soon grew to encompass a month-long series of events. Today, celebrations include pride parades, picnics, parties, workshops, symposia and concerts, and LGBTQ Pride Month events attract millions of participants around the world. Memorials are held during this month for those members of the community who have been lost to hate crimes or HIV/AIDS. The purpose of the commemorative month is to recognize the impact that lesbian, gay, bisexual and transgender individuals have had on history locally, nationally, and internationally.
*** Why Is It Celebrated In June? ***
LGBTQ+ people had for many years faced social discrimination and legal harassment for their sexual orientation, which had been criminalized on the pretexts of religion and morality.
Marie-Amélie George, an expert in LGBTQ+ history, explains that when Stonewall occurred, the LGBTQ+ community had "had enough of being harassed, arrested and prosecuted simply for being who they were. New York's LGBTQ community swarmed to the bar to help with the fight, launching bottles, cans, loose change and other objects at the police."
Pride is celebrated in June to coincide with the month in which the Stonewall Riots occurred. Although there had been instances of individuals protesting and standing up to police discrimination and harassment of LGBTQ+ individuals before, Stonewall became the most well-known uprising and protest of this kind, helping to kick start the LGBTQ+ rights movement and leading to the emergence of Pride Month and Pride celebrations.
—> More On The History Of The Riots:
https://www....onewall-riots
*** Who Are The Notable Figures In This Celebration? ***
Marsha P. Johnson is often credited with throwing the first punch at the Stonewall Inn (though there are many prominent figures who are also rumored to have done so). She was a Black trans woman celebrating her 25th birthday at the time of the riots and a tour de force in the gay community. She died in 1992 at just 46 years old after police found her body in the Hudson River — her death was initially ruled a suicide, despite friends and loved ones insisting that could not be the case.
Sylvia Rivera was an activist and self-professed drag queen who also played a part in the Stonewall Riots. She fought for transgender rights alongside Marsha P. Johnson, creating S.T.A.R. (Street Transvestite Action Revolutionaries) to help house homeless LGBTQ youth. She advocated for transgender rights until her death in 2002.
Stormé DeLarverie was a gay rights activist and drag performer who was also at Stonewall when it was raided that night. Her friend, Lisa Cannistraci, told the New York Times upon her death in 2014, "Nobody knows who threw the first punch, but it's rumored that she did, and she said she did. She told me she did."
*** The Symbol Of Pride ***
During Pride Month, it is not uncommon to see the rainbow flag being proudly displayed as a symbol for the LGBTQ rights movement. But how did that flag become a symbol of LGBTQ pride?
It goes back to 1978, when the artist Gilbert Baker, an openly gay man and a drag queen, designed the first rainbow flag. Baker later revealed that he was urged by Harvey Milk, one of the first openly gay elected officials in the U.S., to create a symbol of pride for the gay community. Baker decided to make that symbol a flag because he saw flags as the most powerful symbol of pride. As he later said in an interview, "Our job as gay people was to come out, to be visible, to live in the truth, as I say, to get out of the lie. A flag really fit that mission, because that's a way of proclaiming your visibility or saying, 'This is who I am!'" Baker saw the rainbow as a natural flag from the sky, so he adopted eight colors for the stripes, each color with its own meaning (hot pink for sex, red for life, orange for healing, yellow for sunlight, green for nature, turquoise for art, indigo for harmony, and violet for spirit).
*** How Can You Get Involved? ***
---> Attend an event and have some FUN.
The month of June is filled with Pride marches, runs, festivals, concerts, and more exciting activities to participate in.
Look for local events, attend a drag show, or simply gather some friends and dance. Consider investing in some Pride merch like rainbow flags, these beautiful Disney-themed options, or HRC's Make America Gay Again hat, and get ready to celebrate.
---> Learn how to be a better ally
The Human Rights Campaign has a great online resource called Coming Out as a Supporter. It outlines ways to be a better ally when someone comes out to you, which you can use to support members of the LGBTQ community during and long after Pride Month. You can learn more here.
If you're looking for ways to be a better ally to transgender women of color or harmful phrases to remove from your vocabulary, we've got you covered.
---> Donate to organizations working to make a difference
There are some truly great organizations out there fighting for LGBTQ equality, and they need your help.
If you're looking to donate on a national level, some places to start are the Anti-Violence Project, Human Rights Campaign, Sylvia Rivera Law Project, GLAAD, the National LGBTQ Task Force, Immigration Equality, Service & Advocacy for GLBT Elders (SAGE), the Transgender Law Center. and The Association of LGBTQ Journalists.
MORE:
https://mash...-celebrations
*** COME PAINT WITH US! ***
Paint Colorfully:
6/12 Happy Little Painting
Transport yourself to a tranquil mountain view of a beautiful sunset.
https://www..../event/607843
**Paint this one virtually:
https://www..../event/615460
6/17 Ascending Into The Night
Ascending into the night on a beautiful sunset evening
**Painted on a long canvas
https://www..../event/607839
6/18 Flamingo Beach
Splash in the color of this beach bash with beautiful and fun flamingos! Everyone loves the perfect beach scene!
https://www..../event/621088
6/18 Eventide
Bright sky, misty mountain range, tranquil forest. You can't lose.
https://www..../event/615516
6/25 Colorful Mountains
Paint all the colors of the mountains!
https://www..../event/615517
6/25 Rainy Day Chic
Embrace the shower of nature while strutting your gorgeous style!
https://www..../event/621089
6/25 Dock On The Bay
A stunningly warm sunset on a warm Summer night.
https://www..../event/621084
6/26 A Bouquet For The Bees
Paint this beautiful bouquet to celebrate all the bees we can't live without!
**NEW artwork!
https://www..../event/615479
6/26 Serene Beauty
The water, sky and tree are simply breathtaking. This painting will make you want to be stranded on this island.
https://www..../event/615490
6/29 Tropical Twist
A twisted take on a classic summer seascape.
https://www..../event/622967
6/30 Groovy Jelly
Get mesmerized by the dance and colors of this groovy jellyfish
https://www..../event/622968
MORE CLASSES:
https://www....thhill/events
Come June, parades and other activities take place in order to commemorate the events at Stonewall in 1969 and for the LGBTQ+ community to stand up in pride for who they are as people. Even with social distancing measures still in place for some, families have many options for celebrating Pride Month with their children and relatives.
**Here are some ideas of traditions to start with the family:
https://www....ly-traditions
**All about the Tacoma Pride Festival:
Tacoma Pride's main event (just called "Tacoma Pride") is on Saturday, July 9 in downtown Tacoma on Pacific Avenue between South 9th Street and South 7th Street. There will be live performances, a beer garden and a kids' zone.. AND MORE
http://tacomapride.org
https://www....PrideFestival