St. Patrick's Day Lucky Traditions, Explained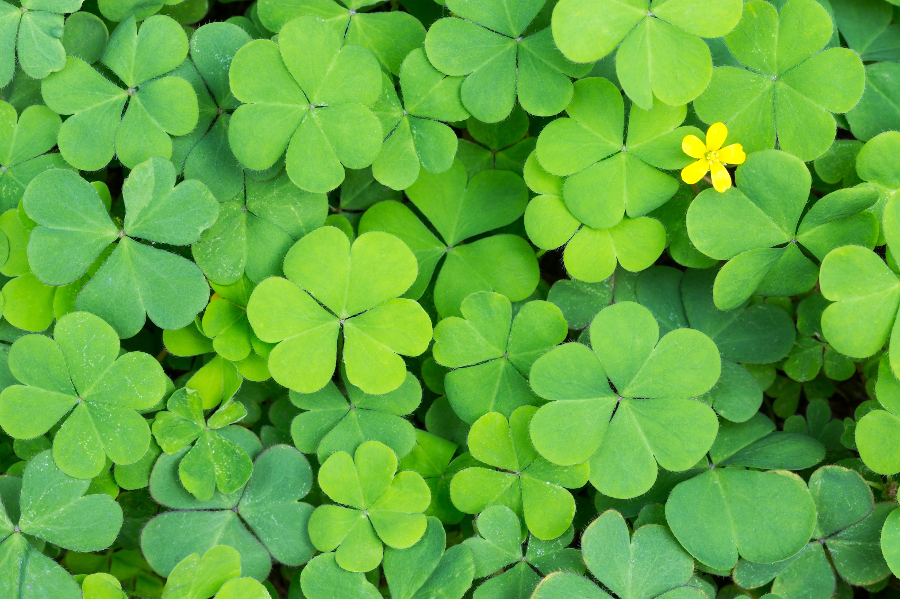 Before you get dressed up for the big day, consider the color of choice for the man himself. Spoiler alert: it wasn't green. And those shamrocks you're face painting? They're more significant than you might expect.
St. Patrick's Day isn't just a celebration of the patron saint of Ireland. It's also a demonstration of Irish pride and a welcome bit of green-fueled joy to kick off the spring season and shake off our winter blues. From shamrocks to snacksto step dancing, historically, St. Patrick's Day traditions are widely varied, but one thing's for sure: They're all a lot of fun. Here are 17 St. Patrick's Day traditions in honor of March 17!
———> THE REASONS BEHIND THE TRADITIONS <———
*** Why is a shamrock is a token of good fortune?
Nowadays organizations find memorable logos to represent their brand. Back in the fourth century, it was no different. When St. Patrick came to Ireland as a missionary, he chose the shamrock to symbolize Christianity. Why? Its three leaves were the ideal symbol of God, the Son, and the Holy Spirit. As for the fourth leaf — legend has it Eve carried such a clover in the Garden of Eden.
* (The rarity of a 4 leaf clover):
There are likely 10,000 three-leaf clovers for every four-leaf clover. Since four-leaf clovers are so rare, finding one makes anyone feel lucky, and the best of all St. Patrick's Day traditions may be scouring a patch of lawn for one.
*** Wearing Green
One of the lucky St. Patrick's Day traditions in Ireland is to don the color green, as the hue symbolizes Ireland's lush landscape
*** Pinching Those NOT Wearing Green
Another reason to wear green for luck is that legend has it leprechauns can't see you if you're wearing the verdant color. And if they do see you, they will pinch you! Likewise, tradition says you can pinch someone on St. Patrick's Day who isn't wearing green—but this may be more an Americanization than a true Irish custom. In fact, leprechauns originally wore red in Irish folklore.
*** Why you could wear BLUE instead of green?
what if everyone wore blue on March 17 each year instead? After all, the earliest depictions of St. Patrick show him clothed in blue garments, not green, and that when George III created a new order of chivalry for the Kingdom of Ireland, the Order of St. Patrick, its official color was a sky blue, known as 'St. Patrick's Blue'.
*** Why is there a Pot-of-gold at the end of a rainbow?
The Origin of the Pot of Gold:
The most well-known origin story of the leprechaun's pot of gold at the end of the rainbow involves a couple of poor farmers in Ireland. When this husband and wife pulled their very last carrot out of their garden, they found a leprechaun dangling from the roots. Being captured, the leprechaun promised one wish in exchange for his freedom.
The husband and wife could not decide on just a single wish, so they began wishing for everything—new tools, a house, jewelry—and the list continued until the leprechaun interrupted them. Dismayed by their greed, the leprechaun told the couple they might have all they wished for and more if they could find his pot of gold hidden at the end of the rainbow. The leprechaun winked and left the farmers to chase rainbows forever, looking for a fictitious fortune.
Why, out of all the Irish folklore, is the leprechaun's story of deception the one that people perpetuate? Well, like all great fables, there is a moral to the story.
This cautionary tale reminds us that relying on luck, magic, and greed can be a recipe for disaster. Instead of working hard and making strategic moves to build financial stability, people can be tricked into wasting their precious time and resources searching—metaphorically—for a pot of gold at the end of a rainbow.
———> WAYS TO INVITE LUCK INTO YOUR HOME <———
You can invoke good luck with little effort. There are so many mays to invite good luck to your lives, but most of us don't know how.
** Find a Four-Leaf Clover:
Christian communities all over Ireland follow the theory of Saint Patrick's Trinity and represent it with a three-leaf shamrock. But finding a four-leaf clover is symbolic to good luck, just remember, finding a four-leaf clover is as tough as finding water in a desert.
** Burn Sage:
Burning a sage is a symbol of burning all the negativity from your surroundings. It's perceived to have a special energy that fights against evil.
** Wear Green:
This tradition is associated with the myth of the pinching leprechaun, who pinches people not wearing green outfits. To avoid the annoying pinching, people wear green head to toe on that day. It is believed to get them good luck in life.
** Kiss an Irish:
On St. Patrick's Day kissing someone who is Irish can bring you good luck. That's why people wear "kiss me, I'm, I'm Irish" written t-shirts on that day
** Take a Shamrock Shot:
Tossing a shamrock in a glass of whiskey is a symbol of good fortune. But don't eat the shamrock, only drink the shot. Tossing it over the left shoulder is a sign of good fortune.
** Carry a Cinnamon Stick:
Although carrying a cinnamon stick is weird, it is perceived as a good sign, and is popular throughout Ireland. People usually carry a cinnamon stick in their wallet to get prosperous.
** Irish Soda Bread:
The bread is made with flour, eggs, buttermilk, and baking soda. The delicious item pledges to bring you happiness in your life, filling your life with positivity and joy. It is believed to help you get rid of the negative entities.
** Chant Irish Blessing:
If you are not able to follow all these traditions, don't worry! You can chant the special Irish blessing, and that will make your day fresh and enlightening.
———> CREATE SOME St PADDY'S ARTWORK <———
Looking For A Fun Way To Celebrate This March 17th?
We're paintings, 'Shamrock Gnome' on Friday, March 17th
Celebrate the luck o' the Irish with this cute gnome! Customize the hat for added fun!
https://www..../event/675075