Pinot's Palette Fun - What's Going On For Valentine's Day 2022?!
Make a valentine for your special someone that they're sure to love!
Join us for a painting and wine class to celebrate Valentine's Day!
Create some artwork to display in your home for this holiday of love!
Grab your gal pals and come in to celebrate Galentine's Day!
Heck, even join us to celebrate the big game and make some artwork!
Whatever you're looking for these next few weeks, we've got it!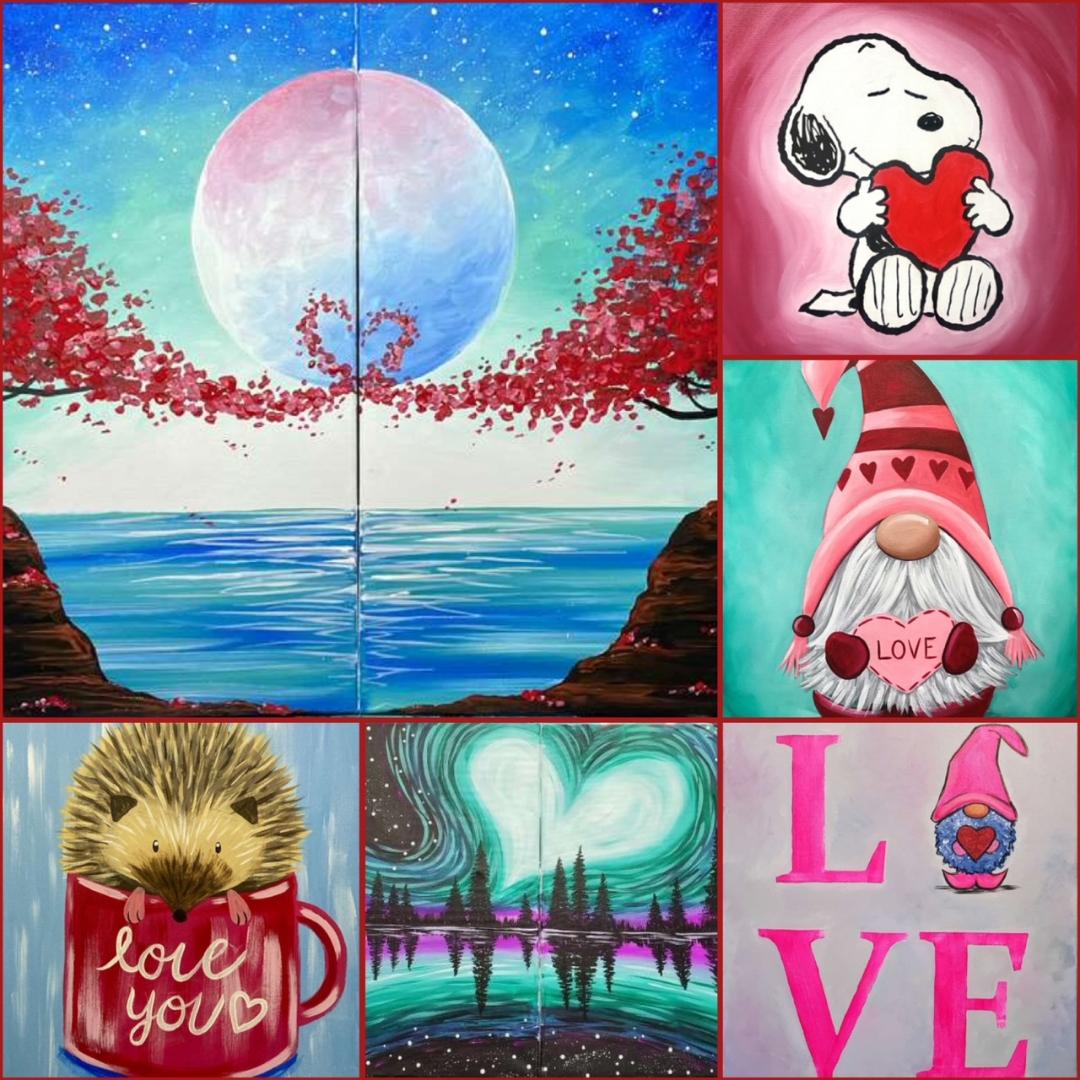 Whether you're looking for something unique to do to celebrate, OR something to add to the usual dinner out tradition, we've got your covered!
From plans on 2/14, to classes before and after the holiday, Pinot's Palette is offering some amazing artwork these next few weeks and we hope you'll join us for them!
Come in to the studio for an in-person class OR paint from anywhere with our virtual classes! Gift certificates are also a great option for your Valentine, letting them paint anywhere, anytime ((*and choose any painting)) that works best for them!
*** ART AS A VALENTINE ***
Remember the days of those hand-made valentines, covered in glitter and handmade markings? Think back to crafts from elementary school where you get to use your creativity to make soemthing special in art class and design it with someone special in mind.
2/5 Magical Rainbow Moon-
https://www..../event/589162
2/6 Santorini Sunset-
https://www..../event/592282
2/6 Monet's Water Lilies-
https://www..../event/589154
2/8 Radiant Red Roses-
https://www..../event/583135
2/9 Spring Mountain-
https://www..../event/583133
2/10 Eventide-
https://www..../event/581270
2/12 Be Mine, Charlie Brown- 2/12 Be Mine, Charlie Brown-
https://www..../event/592229
*** DIY DECORATIONS FOR YOUR HOME ***
Sure, there are plenty of cute deocrations in the stores to buy for your home, BUT what about a work of art that is truly a one-of-a-kind decoration?! Pull it out each February and smile, knowing that YOU made it!!! Display it with pride.
1/30 Cup Of Love-
https://www..../event/589153
2/5 I Love Snoopy
— Paint In The Studio:
https://www..../event/588704
— Join From Home:
https://www....i-love-snoopy
2/5 Valentine Gnome-
https://www..../event/583137
2/6 Gnome Love-
https://www..../event/592288
***VALENTINE'S DAY ***
((Couples' Paintings))
Enjoy these 2-canvas works of art where you'll create on your canvas while your date paints on theirs! Push them together at the end of the class to reveal one large, collaborative work of art!
Not into painting half and half? Totally fine! Our artists will help you make your painting the way that YOU prefer!
2/11 Colorful Elephants-
https://www..../event/581268
2/11 To The Moon And Back-
https://www..../event/581271
2/12 Romance On The beach-
https://www..../event/592230
2/12 Cosmic Nightfall-
https://www..../event/581269
2/12 I Love You. I Know-
https://www..../event/581272
2/13 Couples Love Birds-
https://www..../event/589158
2/14 Northern Love Lightst-
https://www..../event/583171
2/14 Carved In Love -
https://www..../event/592226
2/18 Sunset Beach Landscape-
https://www..../event/594077
*** GALENTINE'S DAY ***
Galentine's Day, formed by a blend of gal and Valentine's Day, is a day in which women celebrate their female friendships. The new holiday debuted in a 2010 episode of Parks and Recreation. The term is also seeing increased use in celebrating any kind of friendship, not just those among women.
Many people have a kind of love-hate relationship with Valentine's Day: the holiday is disparaged as a manufactured holiday forced upon us by greeting card companies, and there's often a sense that it's only for people who are romantically paired, making it feel rooted in exclusion.
All of which sets the stage perfectly for Galentine's Day.
That's right: Galentine's Day—a day for women to celebrate their friendships with their lady friends. It's Valentine's Day with your gals.
The word—a blend of Valentine's Day and gal—was introduced to the world by the chipper and dedicated Leslie Knope, the fictional Deputy Director of the Parks and Recreation Department of the also-fictional city of Pawnee, Indiana, in the NBC comedy Parks and Recreation, which ran from 2009 to 2015.
"What's Galentine's Day? Oh, it's only the best day of the year. Every February 13th, my lady friends and I leave our husbands and our boyfriends at home, and we just come and kick it, breakfast-style. Ladies celebrating ladies. It's like Lilith Fair, minus the angst. Plus frittatas."
— "Galentine's Day," Parks and Recreation, 2010
JOIN US!!!!
2/13 Paris In the Rain-https://www.pinotspalette.com/southhill/event/592227
2/13 Sweetheart Gnome-
https://www..../event/589155
*** PAINT FOR THE BIG GAME!!! ***
February 13th is Super Bowl Sunday! If you're not into the holidays of Valentine's and Galentines, we've got the perfect artwork for you to create! Enjoy painting this one YOUR WAY!
2/12 Sporty Gnome
Customize your colors to represent your favorite football team. Paint with your bff or significant other for Valentine's classes and then this one with friends for the big game! Something for everyone!
https://www..../event/592231