Paint Like The Masters
"Good artists borrow, great artists steal."
— Pablo Picasso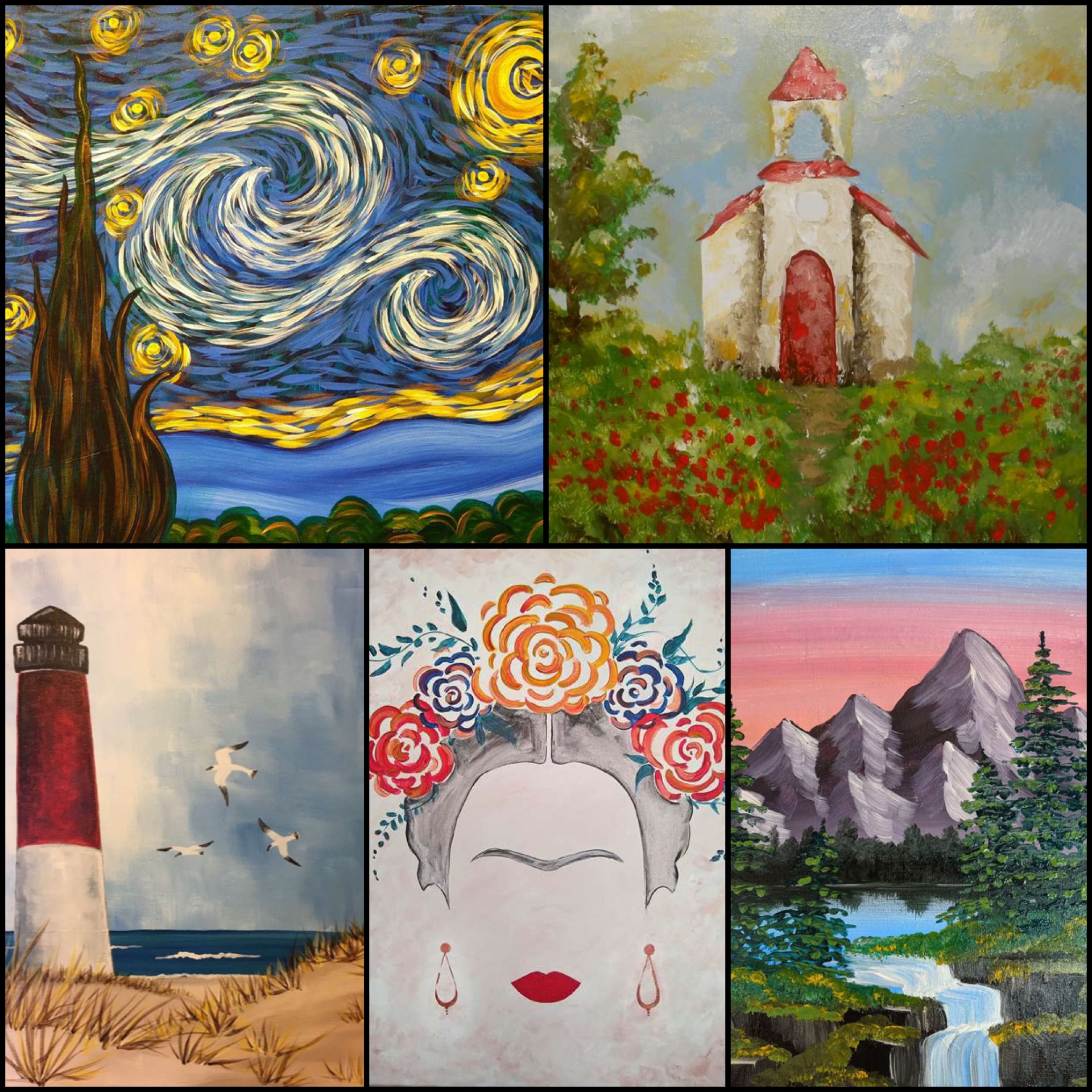 We're always offering tons of excellent paintings! Our artists, far and wide, have created some fun and colorful masterpieces for you and your loved ones to come in and paint on your own! These paintings are created with you, the customer, in mind and often consist of landscapes, flowers, wine themes, animals, the human body, and abstract or modern styles!
While we LOVE the paintings that our creative artists come up with, some of the time they look to the great artists of the past for inspiration. This is actually a very common occurance for artists as we're trying to figure out what to create and how it should look. There's nothing worng with drawing inspiration from others, especially when we admire them and their talent so much.
Some of our most popular paitnings of all time are the Van Gogh recreations, as those are the most-recognizable pieces to our customers. People have seen 'Starry Night' or 'Sunflowers' time and time again throughout their lives, from art classes in school, museum tours, to even postcards in a gift shop, boutique, or the local pharmacy!
From magnets and posters to blankets, clothing and more, some of the world's most famous artists have become steadily more popular with time, and people want to paint what they know.
We're offering some great classes these next few weeks, and they're all relating to some of our favorite artists and their style! Chefck out some of them and sign up ASAP to reserve your spot!
Here's what's coming up:
VAN GOGH
May 26 - Psychedelic Starry Night
This vibrant take on Van Gogh's Starry Night is just as fun to paint in the daylight as it is under blacklight. The glowing color palette is easy to customize, and the simple design is very beginner-friendly. Join us and paint your own technicolor masterpiece!
https://www..../event/535193
June 8 - Simply A Starry night
A simplified version of Van Gogh's Starry Night focusing on the beauty in the stars and sky. This painting uses greens, blues, and yellows to create a simply beautiful Starry Night!
https://www..../event/543133
BOB ROSS
May 28 - Foothill Falls
Create a gorgeous mountainside waterfall. Join us for TRIVIA NIGHT!
https://www..../event/535195
EDWARD HOPPER
June 5 - Summer's Point
Take a walk on the beach and feel your soul awaken.
https://www..../event/540871
More about Hopper's Famous Work:
The Lighthouse at Two Lights,, 1929
https://www....search/489258
FRIDA KAHLO
June 6 - Frida's Flowers
Join us for this new painting and bring your inner-Frida to life with the colors and style of this strong female artist!
https://www..../event/543016
HENRI ROUSSEAU
Flamingo Beach
Splash in the color of this beach bash with beautiful and fun flamingos! Everyone loves the perfect beach scene !
https://www..../event/535199
June 13 -
Happiness In Bloom
This colorful floral piece will have your happiness blooming in no time!
https://www..../event/543017
THE STYLE OF CLAUDE MONET (*And other impressionism)
May 30 - Country Chapel
An idyllic little chapel inspired by Monet
https://www..../event/535202
Use these codes to Save!
Buy2Save10 ***Buy 2 Reservations in the same class, get $10 off your Purchase!
Buy3Save15 ***Buy 3 Reservations in the same class, get $15 off your Purchase!
Buy4Save20 ***Buy 4 Reservations in the same class, get $20 off your Purchase!
We hope you have lots of fun making art and spending time with your friends and family in some of these classes. We're always here to help out with anything you need, including any questions you may have. Thank you all so much for being there for our small Puyallup business and we can't wait to see your smiling faces back in the studio or virtually!
Stay safe, stay heathy, and continue to support your small local buinesses in the Pierce County area… and all over Washington State!